Orthopaedic Surgery
The University of South Alabama opened its Department of Orthopaedic Surgery in 1976. Our small yet robust academic program flourishes with support from the community and local physicians and provides excellent surgical training in orthopaedic surgery. The information included here is designed to furnish a quick look into our program, and we appreciate the opportunity to provide it to you.
Angus McBryde Graduation Symposium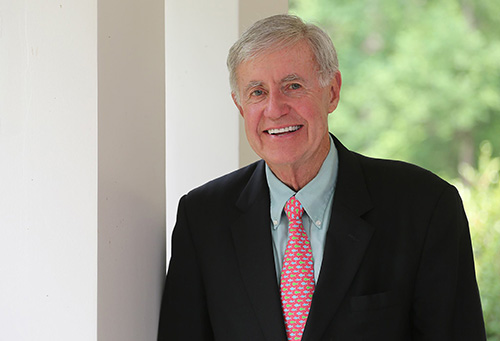 June 22, 2018, was the Department of Orthopaedic Surgery's first Angus McBryde Graduation Symposium. Dr. McBryde was serving his second tenure as Chair for the department when he unexpectedly passed away in October 2016. In honor of his service to the University, the department has chosen to dedicate its research endeavors to Dr. McBryde.
Dr. Robert Anderson was selected to serve as the keynote speaker for the Graduation Symposium. Dr. Anderson is a world-renowned orthopaedic foot and ankle surgeon, with a large experience in treating sports related injuries in the elite athlete. Born and raised in Milwaukee, Wisconsin, he attended the University of Mississippi, where he was inducted in their Hall of Fame. Dr. Anderson completed his medical degree at the Medical College of Wisconsin, followed by an orthopaedic surgery residency at Charlotte Memorial Hospital and Medical Center. He returned to MCW to complete a foot and ankle fellowship under Dr. John Gould, before returning to Charlotte, where he established the O.L. Miller Foot and Ankle Institute at OrthoCarolina, and is a founding surgeon of their foot and ankle fellowship. He is a past president of the American Orthopaedic Foot and Ankle Society.
Dr. Anderson served as a team orthopaedist to the Carolina Panthers from 2000-2017 and now is an associate team physician to the Green Bay Packers. He has served as the chairman of the Foot and Ankle Subcommittee for the NFL since 2003, and was recently named the co-chair of the NFL's Musculoskeletal Committee, overseeing all orthopaedic injuries and research in professional football. He also serves as an active consultant to a number of NFL/NBA/NHL/MLB teams and colleges. He has recently joined the Titletown Sports Medicine and Orthopaedic Clinic in Green Bay, Wisconsin.
We wish to extend an invitation to any alumni who would like to present at the Symposium. Please contact Rhonda Smith, GME Program Coordinator, for more information at RhondaSmith@health.southalabama.edu or (251) 665-8251.
Contact Us
Department of Orthopaedic Surgery
University of South Alabama College of Medicine
1601 Center Street, Suite 3A
Mobile, AL 36604
Phone: (251) 665-8200