South Honors Senior Awarded Prestigious Fulbright Teaching Assistantship
---
Posted on April 23, 2019 by Alice Jackson
Alice Jackson
---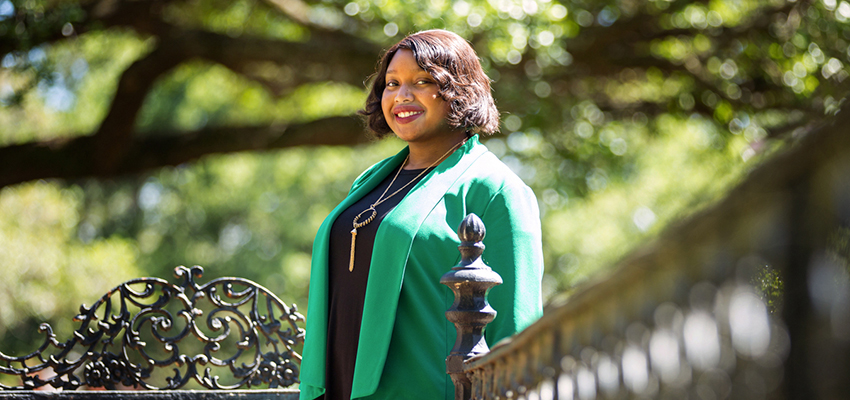 Senior Raven McShan is one of only 10 recipients of a prestigious teaching assistantship that will take her to France to teach English. Although guidelines for the assistantship state preference for applicants with master's degrees, McShan's background of community service and interest in multicultural diversity contributed to her selection.
---
University of South Alabama senior Raven McShan is one of only 10 recipients of a prestigious teaching assistantship awarded by the Fulbright Commission and the International Agency of the French Ministry of Education. The Teaching Assistant Program in France, or TAPIF, provides English language teachers to French classrooms.
Twenty-two-year-old McShan will receive her bachelor of arts degree from South on May 4 with a double major in secondary teaching — with a focus in language arts — and English. She will leave for the Caen School District in the Normandy region of France in September, begin her teaching assignment in October and continue through April 2020. The award includes a monthly stipend, a housing allowance where applicable, Fulbright enrichment programs and guidance from fellow educators.
"I applied for a lot of different scholarships, including the Fulbright, and this one was a part of that program," said McShan, who is also a member of South's Honors College. "This opportunity will combine two of my favorite things — teaching and French. I will facilitate English learning for French students, and I'll also teach them about American culture, so I'll take all the social norms I've internalized from my society to use there."
Although guidelines for the assistantship stated preference for applicants with master's degrees, McShan's outstanding background of community service and interest in multicultural diversity – two other requirements – contributed to her selection. The Mobile native's community involvement includes membership with the West Mobile Literacy Council, volunteering at the Mobile Public Library and being a board member of the Friends of the Mobile Public Library.
"I help with the library's summer reading program, and I serve on the social media committee of the board for the Friends of the Mobile Public Library," said McShan. She added that "typically in the summer I would get the urge to be a librarian," but teaching is in her blood. Both her grandmother, who graduated from South in 1993, and her mother are teachers. McShan completed her student teaching in Mobile at Murphy High School and the Denton Magnet School of Technology.
Even as a youngster, McShan was an avid reader who loved the best-selling Percy Jackson series written for young readers by educator Rick Riordan. She also consumed African American classical literature, poetry and historical fiction, which introduced her to French history.
"The best part of summer when I was younger was always that I got to go to the library and read," McShan recalled. "I began French in middle school, and I loved it. The pronunciations were always easy for me, and I wanted to keep learning more because of my desire to learn more about people. Plus, I was interested because of Mobile's history with the French."
A comment about how her first name, Raven, also has a strong literary connection brings a quick smile to her face.
"In middle school, Edgar Allen Poe (author of the poem 'The Raven') was my favorite," McShan said. "My parents named me Raven because my dad's favorite football team was the Baltimore Ravens, and my mother liked Raven-Symone, who was on the 'Bill Cosby Show.'"
McShan, who graduated from Davidson High School in Mobile, said she had "wanted to go and explore places" after high school, but she chose USA because "I knew the education program was amazing because a lot of my teachers went here."
Her older sister, Shala, who is a nurse, also graduated from South, and younger sister Rachel may also attend.
"I guess I wanted to stay comfortable too," said McShan, who continued to live at home with her parents, Randy and Cabrina McShan, while earning her degree. "It's kinda been like I've been living on my own because I've spent so much time in my room studying."
McShan is obviously close to her family. Her grandmother, godmother and mother will accompany her to France to help her get settled and to tour the region before McShan begins teaching.
McShan said she also came to South "because of its scholarship program and the honors." The USA Honors College offers a curriculum of interdisciplinary excellence designed to stimulate analytical and critical thinking of exceptionally qualified and highly motivated students. The Honors College challenges its students with scholarly creative activities, exposes them to cultural enrichment and requires them to engage in community service. It also emphasizes the intangible responsibilities of supporting one another throughout the College. The Honors College is located in the historic Seaman's Bethel building on USA South Drive.
"Since the honors program became the Honors College, our community outreach and our community service has grown. I feel like the Honors College has a lot more to work with now. We have more of a footprint on campus, we are more of a community and I feel like we have a really strong foundation now. For the past three years, that's where I did a lot of my studying, but it's not all about academics. We can take a break and watch Netflix or play pingpong," McShan explained.
One of McShan's passions is writing poetry. That's why her English honors thesis was a collection of about 30 poems titled "Writing Nooks and Reading Crannies."
Before leaving for France, McShan will spend the summer working for the Kumon Math and Reading Center in Mobile.
"Teaching is what I love," McShan said. "I feel like if you are in education, you have a desire to make the world a better place."
---
---