USA Officially Opens Honors College
---
Posted on September 7, 2017 by Bob Lowry
Bob Lowry
---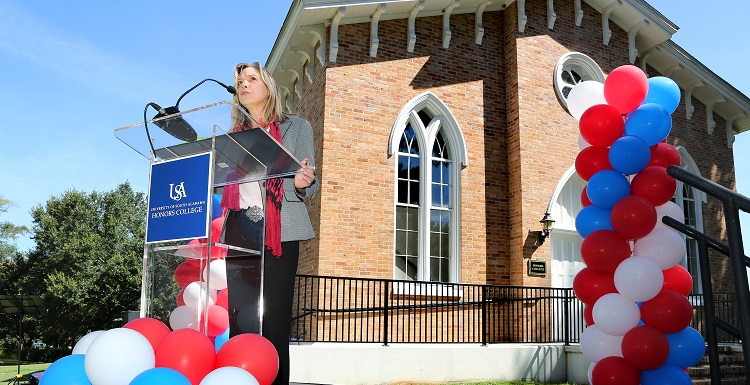 Dr. Kathy Cooke, dean of the USA Honors College, speaks at the official opening at the Seamen's Bethel, which serves as the College's headquarters.
---
The University of South Alabama has officially opened its new Honors College, with 248 academically talented students enrolled. Opening ceremonies were held today at the Seamen's Bethel building, a historic structure that serves as the Honors College headquarters.
Dr. Kathy J. Cooke, the college's first dean, has been on the job for six weeks. When her appointment was announced earlier this summer, she indicated she would first "immerse" herself in the South experience so the Honors College could better serve its students and the greater University community.
"I think the immersion has to continue for several months, at least, but what I am learning is that the community is eager to engage with the Honors College and its students through leadership opportunities, interdisciplinary activities, research, and international learning, both by bringing students here and sending students abroad," Cooke said. "The students are looking forward not only to developing intellectual skills and their sense of honors community, but also to sharing their love of ideas and culture with the larger campus community."
USA's Honors College operated previously as an Honors Program, but was expanded in both size and scope to accommodate increased interest among students and faculty.
"It is gratifying to see our University community come together with a commitment to develop an especially challenging, yet rewarding, academic and cultural agenda for our honors students," said Dr. Tony Waldrop, University president. "We anticipate our Honors College will serve as a stimulating, exciting venue for students and faculty."
Cooke said the honors students have wasted no time in getting active, with many taking in a University play and traveling to see the total solar eclipse in Tennessee, where they experienced more than the short, dramatic blackout.
"When we learned that there were others nearby who were not part of our group, we asked them questions—to learn from them—but also offered to let them look through our telescopes—to share with them," Cooke noted, saying the honors students "made new friends from Boston, Atlanta and Milwaukee."
"This sort of interaction and openness is key to the mission of the Honors College: to learn as much as possible by listening, reading, writing and conversing," Cooke continued. "And we need to go beyond our community to be successful. We were able to do that at the eclipse in many ways; we went with the physics club, for instance, and then made sure to meet the people that crossed our paths."
Honors College freshman Davina Ho of Mobile anticipates a sense of community similar to her International Baccalaureate program in high school. "From study groups and classes, to countless ping-pong matches and late nights in the Bethel, I expect the Honors College will give me a strong support group, life-long friends, and ultimately a network of connections providing me the necessary tools to succeed in life."
One of the first group activities the Honors College students engaged in was a retreat at nearby Camp Grace. "We all learned a little bit more about what we are made of—thanks to the high ropes course, honors students cooking the meals, discussions with sophomore, junior, and senior students, and fishing—while we also learned more about what it means to be an Honors College student at South," Cooke said.
"In essence, we set the foundation for the year ahead. Our goal as a community is not to be separate from the larger campus, but instead to use our strong interrelationships to connect with the larger community at South as we share our own desire to engage as much as possible with different ways of thinking and being—learning from others as well as ourselves."
Something the returning honors students learned this fall is that their old hangout received a facelift. The Seamen's Bethel, built in the 1860s, was renovated to facilitate better access between students and faculty, with two loft seating areas for students, new furniture, glass writing boards, and even a coffee and tea machine.
"We wanted an environment that will encourage collaboration, innovative thinking and the creation of knowledge and culture," Cooke said.
---
---