How one MCOB student made her entrepreneurship dreams come true.
---
Posted on March 25, 2020 by USA Mitchell College of Business
USA Mitchell College of Business
---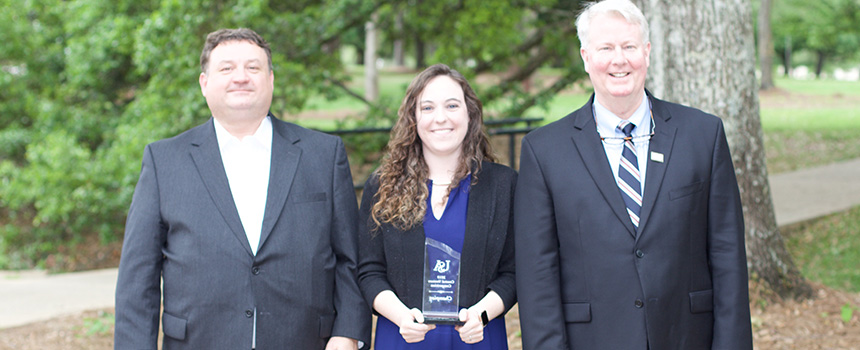 With the help of the Melton Center for Entrepreneurship and Innovation and her family, Bailey Duos turned her dream into a reality. Port City Pups officially opened their doors on November 11th, 2019.
---
From a young age, University of South Alabama Mitchell College of Business alumnus, Bailey Duos, has always had one dream- to start a business where she could work with dogs. Duos has always had a fondness for dogs that extended beyond the average dog lover. Her father, David Duos, recalls having to keep a close eye on her as a child, "I can remember having to guard the front door when Bailey was a toddler because she would run out to pet everyone's dogs." Duos had a plan: go to college, learn the skills needed to be a successful entrepreneur and start a business where she could spend time helping dogs.

Duos attended an art based high school in Montgomery, Alabama, where she grew up. While hunting for colleges, she came across the University of South Alabama. "I really enjoyed Mobile and knew I wanted to make it home." For Duos, Mobile was just close enough to home without being too far. She also enjoyed the city and its close proximity to the beach.

During her freshman year, Duos discovered the Mitchell College of Business and knew it would provide her with the skills to make her dream a reality. During her time at the Mitchell College, Duos noticed a surge in doggie day cares. She identified the need to have a facility that could service the downtown Mobile area. This gave birth to the idea for Port City Pups, a doggie day care that would provide daycare, boarding and grooming for your pets, "I wanted to provide a one-stop-shop for your pup's needs while you are busy. And there was no one doing that downtown."

While in school, Duos learned of the Melton Center for Entrepreneurship and Innovation's (MCEI) pitch competitions. The MCEI competitions give students the opportunity to pitch their ideas to real entrepreneurs who challenge their ideas. Students can win up to $4,000 to make their dream a reality. Dr. Donald Mosley, Director of the Melton Center for Entrepreneurship and Innovation believes Duos was well prepared for the competitions, "Bailey's experience in high school theater and line memorization gave her the skill to craft her pitches, which she executed extremely well. Bailey won both of our MCEI competitions held during her senior year - the Coastal Pitch Competition in the fall and the Coastal Venture Pitch Competition in the spring." The Coastal Venture Competition is a deeper dive, similar to that of Shark Tank. These experiences along with developing her business plan prepared Duos to participate and win second place in United Bank's Home-Grown Pitch Competition. Dr. Mosley emphasized, "We are very proud of Bailey and all her accomplishments and wish her the best in her venture!"

Duos shared, "I was hesitant at first. I wasn't really comfortable in front of people and I knew my idea wasn't exactly new. The pitches taught me how to fight to communicate my competitive advantage, to identify exactly what made me different. It only got easier from there. They made me more confident in my plan." Duos's confidence and hard work paid off. She won $6,200 to help start her business.

Now it was time to put the plans in action and make her dream a reality. Duos said her biggest challenge was the age factor while trying to secure the funding and location. "No one wants to lend a 21-year-old, without any existing experience, the kind of money it takes to start a business." Thanks to the Coastal Venture Pitch Competition and six co-signers, Duos had enough earnest money and support needed to purchase the building.

Port City Pups officially opened their doors on November 11th, 2019 and is located at 650 St Anthony St. in downtown Mobile. " Business has been much better than I could have imagined. We are blowing my initial financial projections out of the water…in a good way!" Duos shares her plans to expand the business to include assistance with rescue centers, "We work closely with rescue centers in Mobile. We've provided free boarding and baths, as well as food donations when we can. We hope to incorporate a full rescue program at Port City Pups in the future."

Duos is grateful for the education she received, "My education at the Mitchell College of Business was everything. It was the only reason I was able to do this at all. MCOB does a good job at making you well-rounded. When you leave, you leave with a pretty good understanding of all aspects of business." Duos had many professors that helped her along the way, "Dr. Don Mosley and Dr. Thomas Nelson took an interest in helping me succeed. They went out of their way to help me attend other competitions and were always there pushing me."

Duos says her life will never be the same, "This has made me grow up really quickly. I went from having all the time in the world to working every day. It is my dream and I am getting to live out my dream at 22 years old." Duos also wanted to thank her family, "My family has been fully invested in my success. My Dad retired and my brother moved down here to help me." Duos' mother, Brenda, also helps with the office management and bookkeeping. "I can't thank them enough," says Duos.

If you want to learn more about Port City Pups you can find Port City Pups at portcitypups.com. Check them out on Facebook @portcitypup and Instagram @port_citypups.
---
---