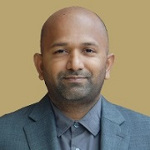 Prakash Duraisamy
Assistant Professor Computer Science

---
Education
Ph.D. - University of North Texas, Computer Science and Engineering, 2012.
M.S.E.E. - University of South Alabama, Electrical Engineering, 2008.
B.E. - Bharathiar University, Electronics and Communication Engineering, 2002.
---
Research Interest
Computer Vision
Computer Graphics
LiDAR
Robotics
Bio - Medical
---
Teaching Experience
Positions Held:
Assistant Professor, University of South Alabama (Fall 2018 - Present)
Visiting Assistant Lecturer, Cleveland State University (Fall 2017 - Spring 2018)
Assistant Professor, University of Central Missouri (Fall 2016 - Spring 2017)
Visiting Assistant Professor, Miami University (Fall 2015 - Spring 2016)
Visiting Lecturer, Rochester Institute of Technology (Fall 2014 - Spring 2015)
Adjunct Asst Professor, Old Dominion University (Fall 2013 - Spring 2014)
Courses Taught:
CSC 331 - Software Engineering Principles
CSC 413 - Computer Graphics
Courses taught at other colleges and universities include Java Programming, Software Engineering, Multimedia, System Analysis, Data Mining, Algorithms, Database Systems, Fundamentals of Prog, Data Structures, Computer Vision, Computer Graphics, C++, Computer Information Literacy, Information Theory, Communication Systems, Television Engineering, Communication Systems, Network Analysis and Systems, Television Engineering, Display Systems, and Digital Signal Processing.