Summer Camp Handbook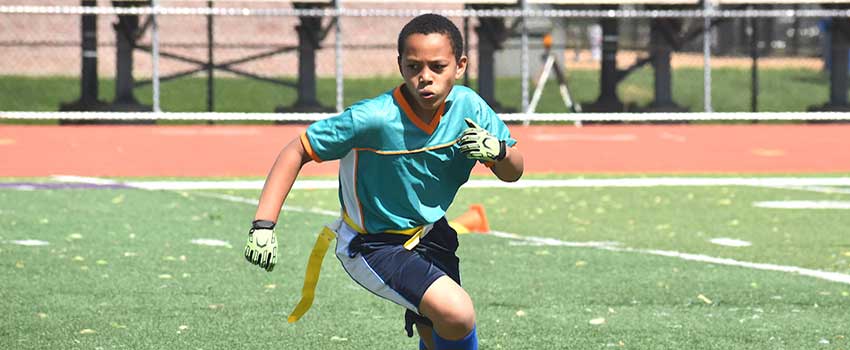 The 2022 handbook below provides you with general information and policies for our camps.
Welcome
We are excited that you are interested in our summer camps! Please carefully read our camp policies. If you have any further questions, please contact us at srcsummercamps@southalabama.edu. You may also call 251-460-7268, however email is the preferred method of contact.
---
Location
The summer camps are held at the University of South Alabama Student Recreation Center located at 51 Jaguar Blvd on the corner of Old Shell Road and Jaguar Blvd. The SRC is building #12 on the campus map.
---
Content
Our recreational camps provide fun, physically active programming. We use many Department of Campus Recreation facilities including the outdoor pool and vortex, indoor rock climbing wall, ping-pong tables, basketball and indoor soccer courts, the Glenn Sebastian Nature Trail, racquetball courts, and intramural fields. By registering your child for camp, you attest that your child is able to be physically active for the duration of the day.
---
Ages
Camps are for children going into the 1st-8th grade in the upcoming school year. Children must have completed kindergarten and may not be going into 9th grade. No exceptions.
---
Camp Readiness
Please make sure your camper is ready for camp by asking yourself the following:
Is my child able to change his or her own clothing and swimsuit?
Is my child able to tend to personal needs such as toileting and eating? Camp staff is not able to assist with personal needs.
Does my child generally follow simple directions and rules in a structured setting? Most rules are set to ensure the safety of all campers, and children must be able to follow these rules.
Does my child have any regular behavior problems including (but not limited to) kicking or hitting others, running away from a group, or yelling at others? Children who regularly display these behaviors are not ready for our camp. Campus Recreation reserves the right to dismiss any camper for inappropriate or unsafe behavior at any time.
Please note that the Department of Campus Recreation does not employ school counselors or child psychologists; our staff may not have the skills to assist children who are in poor mental or emotional health.
Camp Staff
Camp counselors are current USA students who are certified in American Red Cross CPR/AED/First Aid, have completed our in-house staff training, and have passed a background check. American Red Cross certified lifeguards are present for all pool activities. The Outdoor Adventures staff assists at the rock wall.
Our required counselor: camper ratio is 1:10. To maintain this ratio, parents should not ask for their child(ren) to be added to a full camp or to switch groups.
---
Camp Hours
Camp activities are planned for 7:45am-3:00pm. All children must arrive by 8:30am each day. Any late arrivals or early check-outs must be communicated at least one day prior so the camp staff can be informed and prepared.
---
Pricing & Payment

Member pricing is only available to children and grandchildren of Student Recreation Center members.
Members who join the SRC after registering for camp at the non-member price can have the difference in price refunded. Membership must be current during the registered camp week(s); no refunds on previous camp weeks that occurred prior to joining.
Payment is due in full at the time of registration. All registrations are made online via usacampusrec.southalabama.edu. Only credit and debit cards are accepted. Your receipt will be emailed to you and should be kept for tax purposes.
Per university policy, we cannot accept credit card payments over the phone.
Regular registration for each session closes the prior Thursday at 11:59 PM. We do not accept registrations the Friday, Saturday, or Sunday before a camp session so we can adequately prepare and keep our counselors informed.
If you missed regular registration, and there is space in your child's age group, you can register late the Monday of each camp session in-person for an additional $25/child.
---
Cancellation and Refund Policy
The last day to cancel your registration with a full refund is one week in advance on the Monday prior to each camp session. Email srcsummercamps@southalabama.edu to request a cancellation and refund. Please see your session receipt for the specific cancellation date. No refunds will be given after that date.
Illness, injury, or extraneous circumstances with documentation from a third-party provider may be submitted for consideration of a refund; each request will be reviewed on a case-by-case basis and may or may not be granted.
Within one week of your camp session, you may reschedule to another week based on space availability in your child's age group. Camp fees cannot be transferred to another Campus Recreation program such as swim lessons or birthday parties. Once a camp session begins, there are no refunds or rescheduling.
There is no pro-rated cost if your child cannot attend the entire week.
COVID-19 refund policy: If you find out in advance of the start of your child's camp session that your child must quarantine due to COVID-19, you will receive a refund for missed days of that session pending documentation from a third-party provider. If you find out that your child must quarantine due to COVID-19 during a camp week for which s/he is registered that has already started, you will receive a pro-rated credit that may be used toward our 2023 camps. This policy is only applicable for COVID-19.
Drop-Off and Pick-Up
Any individual bringing a child OR picking a child up must complete the daily attendance log, which includes the time and a full, legible signature. Parents must escort their child(ren) into and out of the Student Recreation Center every day; children will not be allowed to sign themselves in/out or leave the building to meet parents in the parking lot.
During drop-off, children should be brought to the Student Recreation Center lobby, and counselors will then escort them to the outdoor pool. Children must be dropped off between 7:45-8:30am each day.
Pick-up takes place in our classroom near the lobby beginning at 2:40pm. All children must be picked up by 3:00pm. The only individuals who may pick up a child from camp are those listed as an authorized pick-up person. You may add unlimited authorized pickup persons via your Campus Recreation Portal account. Staff will not release a child to anyone not listed. We may ask a pick-up person to present a valid driver's license.
Pool Safety
All children will be given swim tests on the first day of each session and throughout camp as needed. Children who do not pass the swim test must wear a life jacket during all pool activities. Campus Recreation provides life jackets.
Age Groups
Children will be put into an age group. There are 10 children and 1 counselor per group. All groups will do some activities together including swimming, snack times, and lunch time. During other activities, the age groups may be separated based on facility space or the age-appropriateness of the activity.
Snacks and Lunch
Parents should send two snacks per day and an inexpensive, reusable water bottle. We do not have refrigerators or microwaves available for camper use.
Campers are provided lunch each day in the Fresh Food Company, the all-you-can-eat dining hall on campus. There is a wide variety of food offered.
During registration, please note if your child has any food restrictions or food allergies. Please also detail if the child would require an EpiPen or other medication. Your child is welcome to bring his/her own lunch if s/he has dietary restrictions or food allergies; however there is no pro-rated camp cost.
Health Packet & Waiver
All children must have a current complete health packet and waiver on file.
---
Accommodations
If your child has a special need that requires accommodations, please contact us at srcsummercamps@southalabama.edu. We work with the university's Office of Risk Management, Center for Educational Accessibility & Disability Resources, and attorneys on a case-by-case basis to determine if we can provide reasonable accommodations for a requested need.
We cannot provide one-on-one attention throughout the day for any need including but not limited to physical, medical, intellectual, emotional, or behavioral. Each counselor is responsible for 10 children.
Camper Rules
Campers are expected to participate in all activities and adhere to these daily guidelines, in addition to USA's code of conduct for university-sanctioned camps. Continued non-compliance with the rules of the program will result in immediate dismissal from camp and forfeiture of program cost.
Listen and follow all directions from counselors.
Stay with assigned group and counselor.
Athletic shoes/sneakers are required in all areas of the Student Recreation Center except the pool.
Walk and use a quiet voice in the hallways and in the classroom.
Wear name tag at all times, except in the pool.
Do not deface or vandalize any equipment or facility.
Show respect for others and their belongings.
Clean up dishes, food, and table in the dining hall after lunch.
No electronics are allowed at camp, as they disrupt daily activities. This includes cell phones, tablets, smart watches, activity trackers, games, and any other form of electronics. Parents are responsible for making sure electronics are left at home each day.
HAVE FUN!
---
What to Bring to Camp
Children should arrive each day in their swimsuits, flip-flops or water shoes, and bring a towel. Please put sunscreen on your child prior to arrival. Children may also bring a hat, sunglasses, and swim goggles. Children should bring a small bag with a change of clothes including shorts, shirt, underwear, socks, and athletic shoes. Non-aerosol sunscreen and insect repellent can be included. No large bags are allowed. Athletic shoes MUST be worn in all areas of the Student Recreation Center and during all outdoor activities excluding the pool. Socks are required each day at the Rock Wall.
Please mark all of your camper's items with their full name using permanent marker or label. Lost-and-found items will be kept for the duration of the summer. Unclaimed items will be donated to charity one week after the final day of camp.
---
Electronics and Personal Belongings
Children are prohibited from bringing toys, money, tablets, games, trading cards, electronic items, weapons, etc. to camp. These items will be confiscated. NO CELL PHONES OR SMART WATCHES ARE ALLOWED.