Five for Five: Zimlich Quintuplets Prepare to Graduate
---
Posted on May 2, 2022
Thomas Becnel
---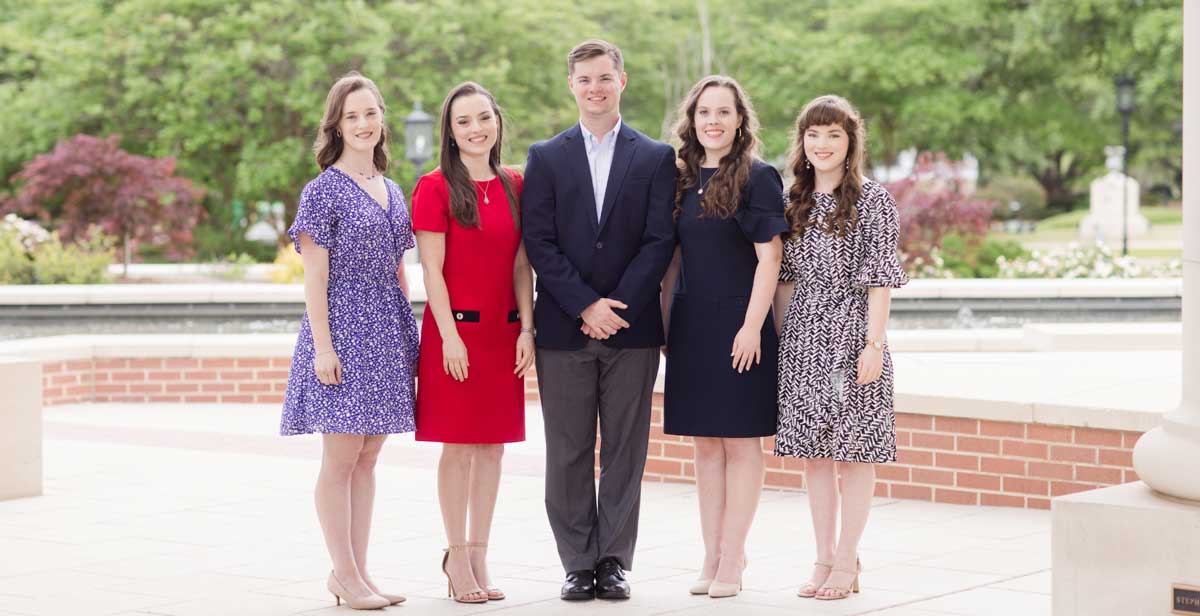 Zimlich quintuplets, from left, Hallie, Isabella, Shipley, Amelia Rose and Sophia, were offered scholarships to the University of South Alabama after they were born at USA Health Children's & Women's Hospital.
---
The Zimlich quintuplets – Amelia Rose, Hallie, Isabella, Shipley and Sophia – enrolled at the University of South Alabama together. They took some of the same classes together. And now they plan to graduate together in May.
After all these years, having grown up in Saraland and attending South, they know one another pretty well. They're part of a close family. Similar, but different.
Shipley, a lifeguard at the Student Recreation Center, thinks Amelia Rose might be the funniest one of the quintuplets.
"She's very sarcastic," he said. "I'm the same with sarcasm, but not as witty."
Amelia Rose, editor of The Vanguard student newspaper at South, says Hallie is the most artistic and adventurous.
"She's playful and driven about the things that she cares about," she said. "She's stubborn, but in a good way."
Hallie, who majored in visual arts with a concentration in photography, calls Sophia a natural teacher.
"She's sweet, she loves children," she said. "She's really enjoying her job as a paraprofessional."
Sophia, who is already working at Council Traditional School in Mobile, thinks Isabella has the best study habits.
"She's the most organized person, besides our mom, and she's very much like our mom," she said. "She has everything planned out. She's very much a planner. And she likes dressing up and being girlie."
Isabella, who studied elementary education, says Shipley has the thickest skin.
"He's the only boy with four girls, so we overpower him, but he's a good sport about it," she said. "He's really tough. He takes a lot."
The Zimlich quintuplets, who are 22 years old, enrolled at South in the fall of 2018. They are scheduled to graduate May 7. They will be joined nearly 2,500 degree candidates who will be recognized at Commencement ceremonies May 6 and 7.
South runs in the family. Their grandfather, Dr. Eugene Aromi, was an education professor at the University. Their father, Mark Zimlich, earned a bachelor's degree in criminal justice, while their mother, Jeannette Zimlich, earned a bachelor's degree in education.
When the quintuplets were born prematurely at USA Health Children's & Women's Hospital in 1999, each of them weighed less than two pounds. They spent months in the Neonatal Intensive Care Unit, but all of them survived and thrived.
Gordon Moulton, president of South at the time, promised them all full scholarships. Nearly 20 years later, the Zimlichs accepted that offer. They've always been close.
"When we were home-schooling, it was like having one big class," Shipley said. "I'd say we're all goal-oriented. We're very supportive of one another."
Close-knit Family
Shipley's sisters range in height from 4-foot-9 to 5-foot-1. Shipley is the tallest of the quintuplets at 5-foot-7, so he easily towers over them. They have an older sister, Temple, who graduated from South with her master's in elementary education in 2021 and a younger brother, Julius, who is a freshman at South.
The Zimlich family members are active in their church, Cathedral Basilica of the Immaculate Conception.
At home in Saraland, the quintuplets enjoy -watching movies and television series. Old favorites include "Sherlock," "Agents of S.H.I.E.L.D." and "Downton Abbey."
When the Zimlichs started school at South, they carpooled from Saraland. Now they have different schedules, different interests and different internships.
Several of them have had part-time jobs at the Student Recreation Center. Some worked with Jaguar Productions. Others were involved with the Catholic Student Center.
Isabella, who was named 2021-2022 Outstanding Undergraduate in Elementary Education at South, has worked at the Center for Academic Excellence.
"I love it – it's such a fantastic community," she said. "I started out as a Jag Pal and then I became a subject tutor and now I'm a success coach."
Isabella this spring passed her edTPA Teacher Performance Assessment, the certification that will allow her to apply for elementary school teaching jobs. She'd love to stay in Mobile County, teaching children from her community.
Sophia, who was named 2021-2022 Outstanding Undergraduate in Early Childhood Studies, doesn't need to look for a job. She was hired at Council Traditional School prior to starting her spring internship there.
"I got hired over Christmas break and it was such a surprise," she said. "I thought I was living in a dream for a little bit. I didn't think it would go so smoothly for me."
Plans for the Future
Shipley, who is graduating in exercise science, already has his pilot's license and 60 hours in the cockpit. He enjoys flying over Mobile Bay, Dauphin Island and the Gulf of Mexico. He dreams of becoming a Navy pilot.
"Both of my grandfathers were in World War II," he said, "and I loved hearing their stories."
Hallie, the artist, got the idea for her major from Amelia Rose.
"It snowed in Mobile one year, and I took some pictures, and she said I should think about photography," she said. "So I was like, OK. I had thought about doing ceramics, but I don't think I would have been as passionate about that."
Hallie is planning to apprentice with a local photographer. She wants to learn more about art and business.
Amelia Rose, the Vanguard editor, might be the most prominent Zimlich on campus. She writes news stories and opinion columns, but isn't interested in clickbait.
"The goal isn't to be controversial," she said. "The goal is to be truthful."
Amelia Rose started at South as a music major. She enjoyed playing the guitar and writing songs, but not enough to make it her career. She began taking communication classes, became a reporter and editor, and will graduate in interdisciplinary studies; she was the program's 2021-2022 Outstanding Undergraduate Student.
In January, she got to interview Jo Bonner, the new president of South.
"I stressed all through Christmas break, wrote down a bunch of questions, and went over it again and again, but when it came down to it, he made it easy as he was very talkative, very personable, and it went well," she said. "I always wanted to do a Q-and-A interview, so I got to do that."
Wanting to have a broad experience in her field, Amelia Rose started out her internship at Elevator World, an international trade magazine. For spring semester, she's enjoying internships at WKRG-TV5 and Mobile Bay Magazine.
"In my broader plan, I would love to write," Amelia Rose said. "If I can't do that, I'll find another position in the field of communications"
---