Majors and Minors Home
About the Major
The Bachelor of Science in Marine Sciences provides opportunities to explore coastal and ocean environments in a variety of ways. The program prepares students for job opportunities related to the marine environment in government, academic, commercial and industrial settings.
Jobs in the field of Marine Sciences
Marine biologist
Marine educator
Aquarist
Marine conservation and resource manager
Research technician
Fisheries observer
Related Majors, Minors and Programs
Marine Sciences Major Defends 'Supercool' Sharks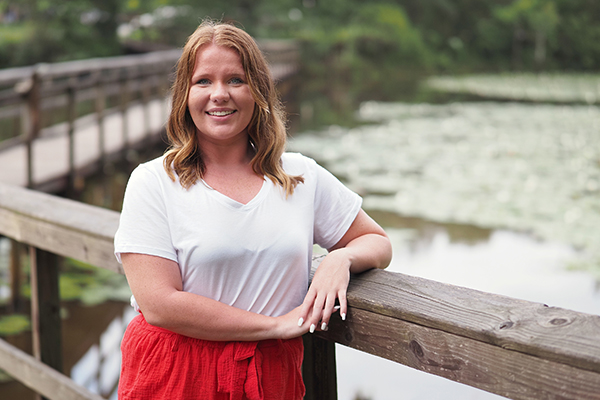 Leah Townsend would like to put in a good word for a misunderstood creature.
"A bunch of people are scared of sharks," Townsend said. "They don't realize that sharks aren't out to get them or attack them when they go swimming. Most of the time, sharks are just doing their thing, and we're the ones getting in their way."
She conceded that sharks do look mean. "That's what throws everybody off."
Growing up in Tuscaloosa, Alabama, Townsend became obsessed with sea animals while watching Shark Week programs on the Discovery Channel with her dad. She came to the University of South Alabama for the marine sciences minor and switched to the major program as soon as South created it.
She loved the opportunity to take classes at the renowned Dauphin Island Sea Lab. Marine sciences majors spend a Semester at Sea there with the option of living at the lab. "What really got my attention was being able to be on the island, just surrounded by water and in that environment. That's what drew me to South."
"What really got my attention was being able to be on the island, just surrounded by water and in that environment."
Marine sciences encompasses everything from fisheries management and marine ecology to ocean physics. Students physically and virtually explore the world of marine animals and plants. They learn how to use increasingly sophisticated technology to gather and interpret data.
Townsend's studies at South got her interested in two possible career paths: rescuing and rehabilitating marine mammals or researching sharks. She planned to take a gap year between undergraduate and graduate school to gain experience, possibly as a volunteer, at aquariums or research facilities.
In the meantime, she loved her coursework, in and out of the classroom. A turtle conservation class included a trip to the Florida Keys.
"We got the chance to see some sharks while we were snorkeling," she said. "Yeah, they're supercool."
Did You Know?
---
Students participate in a Semester by the Sea at the Dauphin Island Sea Lab during their junior or senior year, with the option of living in residence.
Students come face-to-face with marine systems ranging from muddy salt marshes to coastal reef communities in the Mobile Tensaw Delta, Mobile Bay and the Gulf of Mexico. They use cutting-edge marine technology and sampling techniques.
The specialized skills and experiences gained from this program will give students to the rapidly expanding opportunities generated by the so-called blue economy, which involves the sustainable use of ocean resources.
Contact:
Email Marine Sciences
Stokes School of Marine and Environmental Sciences
(251) 460-7136