Majors and Minors Home
About the Major
Mechanical engineers are versatile problem-solvers. They design systems of all sizes, from nanoparticles for delivering drugs to vehicles for space exploration. They develop new, sustainable sources of energy and invent safer and more efficient vehicles for land, sea and air.
Jobs in Mechanical Engineering
Aerospace engineer
Biomedical engineer
Automotive engineer
Manufacturing engineer
Reliability engineer
Related Programs
Turns Out, the Professor Was Right — and She Was Prepared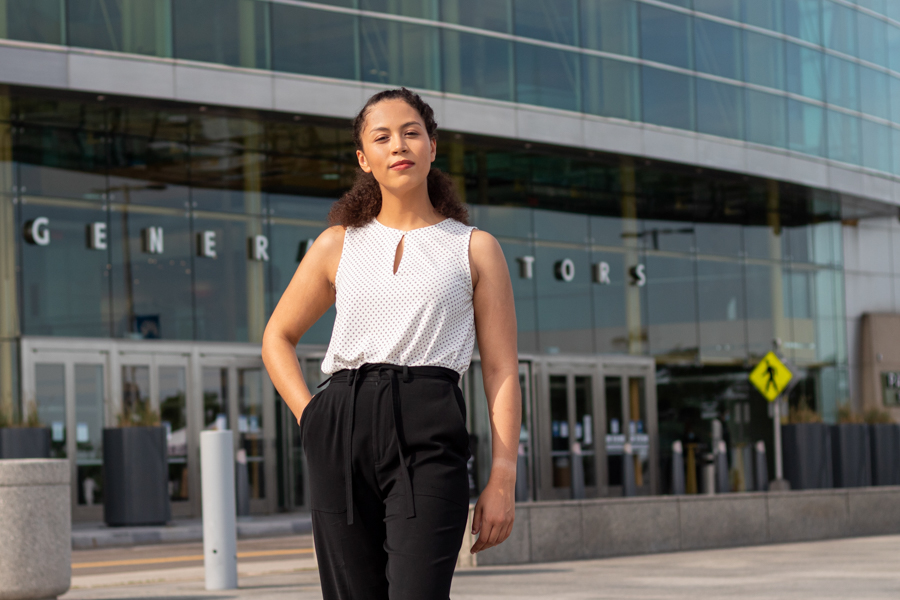 It's funny how your teachers can seem so much smarter once you're out of school. Gaelyn Angus-Barker remembered telling one of her University of South Alabama professors about her frustration with a class in thermodynamics (the transformation of heat to and from other forms of energy). She wanted nothing more to do with the subject.
"He told me that, since I'm going to be working for an automotive company, there's not an insignificant chance that I'll have to deal with thermodynamics in, for instance, HVAC. I told him there was no way."
Less than two years later, after earning her degree in mechanical engineering, Angus-Barker was working for General Motors and loving it. The company was starting her off by giving her experience in several different departments. She began with a six-month rotation in, yes, HVAC — heating, ventilation and air conditioning.
"It goes to show you can sometimes struggle in class," she said, laughing, "but that doesn't mean you wouldn't actually like that job in the real world."
"I feel like I fit in. I'm very happy."
Angus-Barker, a Los Angeles native who went to high school in Ocean Springs, Mississippi, took some time to find her path. She first majored in chemical engineering, switched her interest to biomedical engineering, then took a year off from South for an internship at a paper mill. She had little interest in motor vehicle mechanics before joining GM.
"I've really enjoyed my time so far," she said. "I really think the company is great. I really believe in it. There are so many good people here."
As a woman and an African American, she's a double minority in the auto engineering world. "The company really, really focuses on being an inclusive company," she said. "Even when I'm the only person who looks like me in the room, I feel like I fit in.
"I'm very happy."
Did You Know?
---
Mechanical engineering is an extremely broad field, covering broad technical areas. As a result, graduates have many different career options.
The program offers optional concentrations in aerospace engineering and biomedical engineering. Students can use the biomedical engineering concentration to prepare for medical school or other health professions.
By the time they graduate, the vast majority of mechanical engineering students have research, co-op or internship experience.
Contact:
Dr. David A. Nelson
Chair, Professor
Department of Mechanical, Aerospace and Biomedical Engineering
(251) 460-6168
Curriculum and Degree Requirements