Majors and Minors Home
About the Major
Recreational therapists work in a range of environments, including healthcare and community settings. Therapists use life skills, expressive arts, aquatics, adaptive sports and other techniques to treat and maintain the health of individuals with disabling conditions.
Jobs in Recreational Therapy
Physical rehabilitation therapist
Long term care/assisted living/adult day care worker
Behavioral health counselor
Practitioner at nonprofit agency serving people with disabilities
Community parks and recreation worker
Children's or veterans hospital therapist
Related Programs
Finding a Career Where Her Heart Is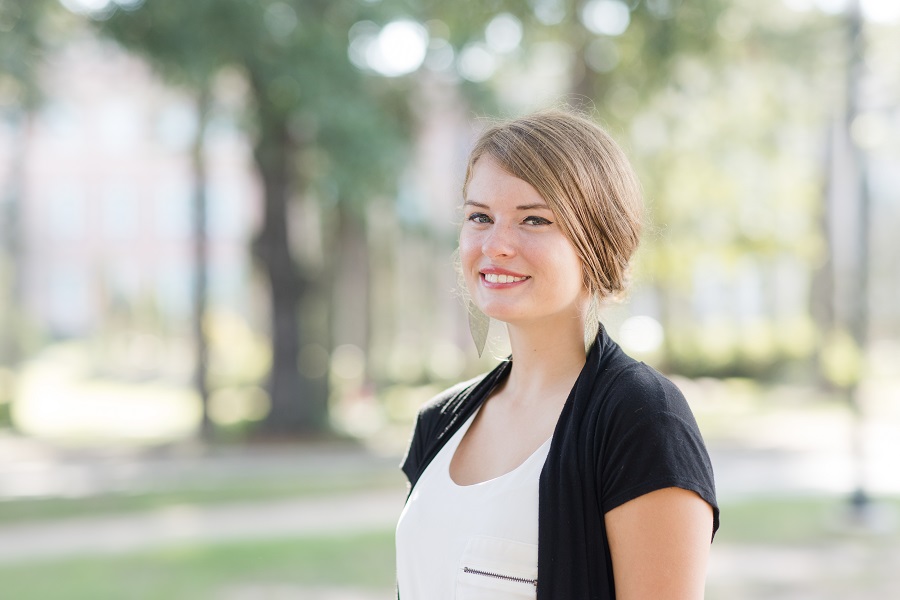 When Margaret Barnard was 15 years old, she spent the summer working at Alabama's Special Camp for Children and Adults, one of the largest therapeutic recreation programs in the world.
"I absolutely fell in love with it," she said. "My family and I still work with them."
Barnard chose the University of South Alabama because she wanted to major in recreational therapy. She wants to improve the quality of life for people with intellectual disabilities.
She grew up in Houston, a small town in north Mississippi. She was one of 36 seniors who graduated from the Tupelo Christian Preparatory School.
"Coming to South was a big adjustment," she said. "My residence hall here was bigger than our whole school."
When Barnard lived on campus, her favorite spot was a picnic table near the cafeteria. When she got an apartment, she still did homework on that table.
"I started out at a camp and I'd like to end up at a camp."
At South, she paid for school with the help of three part-time jobs. She worked as a personal care assistant for a patient with a brain injury. She worked in the activities center at Kaleidoscope, an adult day care program in Mobile. And she worked as a lifeguard at the Student Recreation Center.
She wanted to gain experience in recreation and patient care. It's an important part of her education.
"That's the goal," she said. "Building up the resume and making sure I'm prepared for whatever comes in my career."
Barnard planned to do an internship with an adaptive program in Colorado, teaching people with physical and intellectual disabilities how to ski and snowboard. At some point, she'd like to work at a facility with summer programs.
"I started out at a camp and I'd like to end up at a camp," she said. "That's where my heart is."
Did You Know?
---
The recreational therapy program incorporates labs, practicums and an internship for students to learn and practice skills
South's recreational therapy faculty are nationally recognized for their teaching and research in the field.
Alumni have built successful careers as recreational therapy practitioners, directors and teachers as well as in related fields such as occupational therapy, physical therapy and physician assistantship.
Contact:
Susan Montgomery
Instructor
Department of Health, Kinesiology and Sport
(251) 341-3856