Alan Borg: Rock & Mineral Collection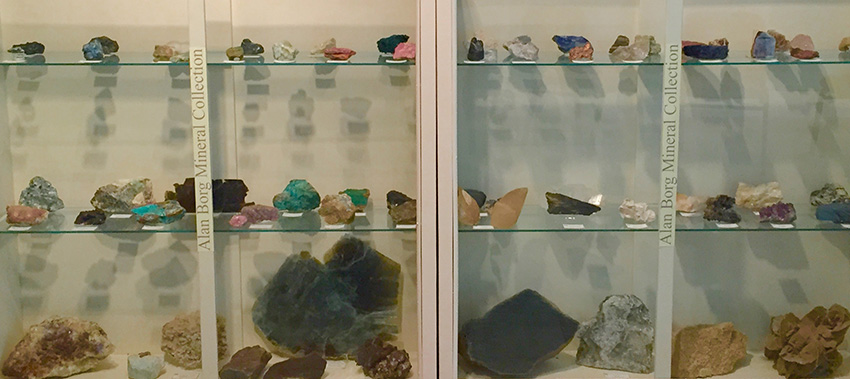 Alan J. Borg was born on July 16, 1938 in Nassau County, NY. He graduated from SUNY in NEW Paltz, NY and taught earth science for 34 years at Monroe Woodbury School District in Orange County, NY. He was an avid rock and mineral collector and spent countless hours hunting for specimens across the country, particularly those with fluorescence characteristics. Alan retired from teaching in 1995 and along with his wife Betsy, elected to move to Hendersonville, NC in 1997. While there, he continued to collect, catalog and study rocks and minerals. He was a member of the Rock and Mineral Club of Hendersonville until his death in 2009.
In the summer of 2010, his wife Betsy offered the University of South Alabama Alan's collection of several thousand minerals, testing equipment, books and teaching materials. The shear number and variety of fluorescent minerals in the collection makes this one of the largest collections of its kind anywhere along the Gulf Coast. This exhibit represents only a small portion of the complete donation.
A stipulation of the donation, one that we were more than happy to honor, was that the specimens would have to be used for both teaching and undergraduate research purposes. So even after his passing, Alan Borg continues to promote geoscience and mineralogical education for a new generation of students.