Remote Patient Monitoring (RMEDE™)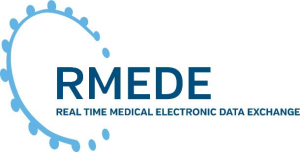 The Realtime Medical Electronic Data Exchange System (RMEDE™), developed by the Center for Strategic Health Innovation (CSHI), is a secure, web-based, life-state management system that enables in-home monitoring of patients with chronic disease, as well as interventional health informatics reporting.
The RMEDE™ Home Monitoring Program is used to track physiological parameters of patients diagnosed with chronic diseases and report non-compliant ranges to healthcare providers in order to improve clinical outcomes. Benefits include:
Innovative Interactive Voice Response (IVR) Technology
Reduced Emergency Department Visits
Shortened Inpatient Stays
Consistent EHR of Patient Admissions, Discharges, and Transfers (ADT) Among Clinics and Providers
Minimized Number of Avoidable Hospital Admissions
Improved Compliance with Provider Plan of Care
Earlier Intervention for Uncontrolled Disease
Increased Patient Satisfaction
▼ How the Program Works
Referral: ADPH Biomonitoring Nurse receives referral and provider-set data limits for the monitoring measures
Enrollment: ADPH Biomonitoring Nurse contacts the patient to set up a home visit to place equipment and provide instruction
(CSHI provides a speaker telephone, blood pressure monitor and scale as needed; patients use their own glucometer and strips)
Alerts: Readings outside of provider-set parameters produce a threshold violation and an alert is automatically e-mailed from RMEDE™ to the ADPH Biomonitoring Nurse. The nurse then follows up as needed; making contact with the patient, evaluating what action is needed and providing education, reassurance and/or referral. Reports can be faxed to the provider.
Reports: Periodic graph reports of patient data are sent to the Provider Ongoing Contact; ADPH Biomonitoring Nurse makes contact with patient at least monthly
Renewal: Provider orders are renewed yearly
▼ Benefits for Both Patients & Providers
Potential Benefits for Providers:
Earlier intervention for uncontrolled disease
Reduced need for alternate provider visits
Reduced need for Emergency Department visits
Shorter length of stay, if admitted to hospital
Improved compliance with the provider's plan of care
Increased patient satisfaction
Optional web portal to view patient data
Potential Benefits for Patients:
Potential for improved outcomes
Lowered healthcare-related expenses
Improved compliance with provider's plan of care
Education and reinforcement of healthy behavior changes
Increased satisfaction with care
▼ RMEDE™ On the Go: Mobile Applications
RMEDE™ features cross-platform support and is available for iOS/Apple through the App Store.
Download RMEDE™ for iOS/Apple from the App Store