Student Spotlight: Adam Stephens
---
Posted on July 24, 2023 by CAHP
CAHP
---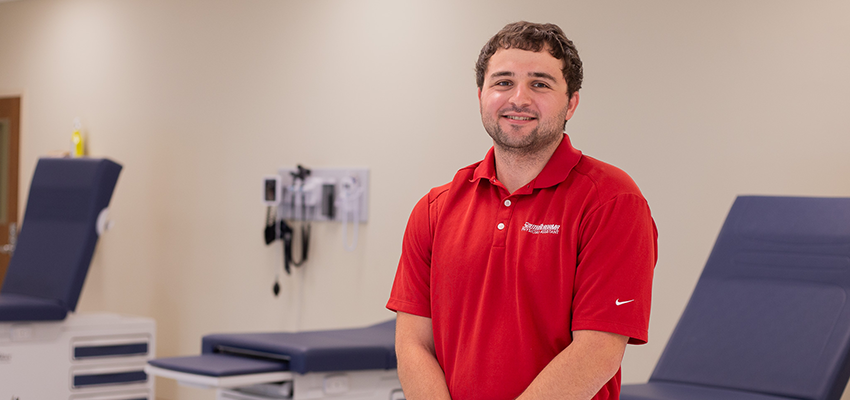 ---
From a small town in Collins, Georgia, Adam Stephens came to the University of South Alabama to pursue a master's degree in physician assistant studies. After interviewing with several schools and being accepted into the program, Adam chose South because of the faculty and staff that he met throughout his application process. Because of the friendly atmosphere and campus, Adam was excited to enter the program in May of 2021 and is on track to graduate in July.
With his mom and sister both working in healthcare, Adam knew that this was the route he wanted to take. Collins, Georgia has a population of nearly 500 people, so he was comforted by the fact that South's campus and PA program is such a welcoming, tight-knit community. It reminded him of home.
Adam is a part of the National Health Service Corps Scholarship Program, a program that awards scholarships to students pursuing eligible primary healthcare degrees and training. In return, these scholars commit to providing their healthcare services in rural communities where there are health professional shortage areas. Adam felt a connection to this scholarship in particular because, coming from a small town, he understood what it was like to need more healthcare providers in smaller areas.
As Adam navigated through his first year, being in class every day learning from 8 a.m. to 5 p.m., he quickly mastered easier study habits along with the balance of taking time for himself. In a large community of physician assistant students, Adam learned the importance of sticking together and learning from his peers inside and outside of the classroom.
"Mr. Kersey may not know it, but some of the little tidbits that he would give during a lecture from his experience really helped out a lot. He would say little things during lectures or when we're practicing for a physical exam, and he'd be giving little tips along the way," Adam said about Jeremy Kersey, assistant professor of physician assistant studies. "He makes it a point to learn everyone's name and that's just the little things that make you feel more welcome."
Adam got to experience his first Mardi Gras parade in downtown Mobile with a few of his classmates in 2022. Although Adam may not have as much free time as your average student would, he knew that being in Mobile, the birthplace of Mardi Gras, would be a worthy experience worth sharing.
In addition to the National Health Service Corps Scholarship Program, Adam is also a part of the Christian Medical Ministry of South Alabama, a discipleship-based interdenominational ministry focusing on training a new generation of healthcare providers.
Adam has been able to travel to several different parts of the world through various mission trips and has had the opportunity to build relationships with others working in healthcare. However, visiting the Dominican Republic has had the largest impact on him.
"The biggest reason I want to stay in Mobile is CMMSA. I got involved with them by doing a little small group during my didactic year. I went to the Dominican Republic with them in December on a mission trip," Adam said. "I absolutely love it there. I've been on a cruise to the Dominican Republic and been there on a mission trip, and it's two completely different worlds that I've seen."
With his experience gained through clinicals, classes and more, Adam knows that his heart belongs with helping others. After graduation, Adam hopes to stay in the Mobile area and continue to work with the Christian Medical Ministry of South Alabama doing mission trips and mentoring future healthcare professionals.
What is your best advice for incoming PA students?
"Having a good foundation and learning that first little bit of foundational knowledge is maybe the most important thing to start with. I was probably a little too intense with studying coming into the program, but it has helped me later on in school because it helped them make a lot more sense. It was easier to understand, I didn't have to spend as much time studying."
What is a fun fact about yourself?
"My family and I will go on cruises and in the Bahamas they have these little woodworking figurines that I like to collect. My first one was a little dolphin from Jamaica and ever since then I try to find one thing from each place we go. I think the last thing I got was a turtle from the Dominican Republic. Some are here but some are back home in Georgia, but I plan to put them around my own place once I get it. I probably have somewhere around eight to 12."
What is a hidden talent or skill people generally wouldn't know about you?
"It has kind of gone away since being in PA school since I haven't had time to practice it, but at one point I had learned to play some guitar. I haven't done that in a couple years though, so I probably can't play that well right now. I started to learn to play in undergrad but now I don't really have much time now, I don't know how many of my classmates actually know that about me either."
---
---