Continuing Education at the Inaugural Alabama Dysphagia Conference
---
Posted on June 9, 2022 by CAHP
CAHP
---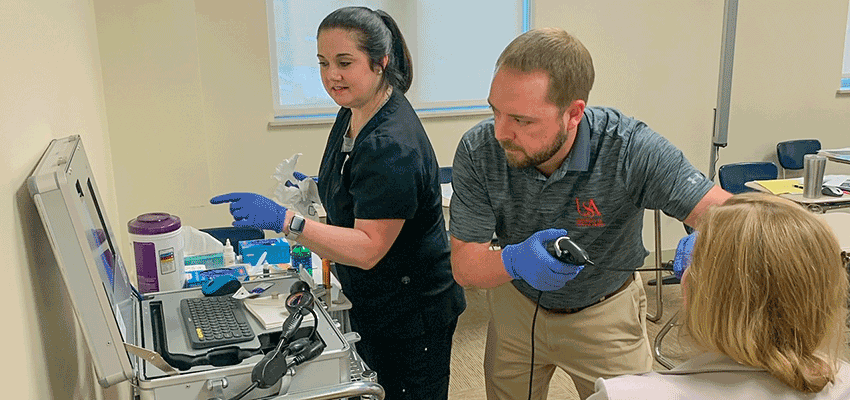 ---
The Alabama Dysphagia Collective hosted the inaugural Alabama Dysphagia Conference on June 3-5, at the Student Center on the University of South Alabama main campus. 29 clinicians from around the Gulf Coast region attended the event to hear from dysphagia experts Dr. Neina Fergusion, Tubes2Tables, and Dr. Debra Suiter, University of Kentucky, along with other clinicians from the University of South Alabama and The University of Alabama.
Collective Co-Founders and Co-Directors Dr. Kendrea Garand, University of South Alabama, and Dr. Memorie Gosa, The University of Alabama, collaborated to create this conference in an effort to offer continuing education to clinicians around the Southeast. This year's theme focused on foundational considerations for providing dysphagia services across the lifespan - from assessment to treatment.
Dr. Garand shared, "We initially started planning this event in 2019, so to see it come to fruition was a dream come true. And what better timing as it is Dysphagia Awareness Month in the United States! Feeding and swallowing problems in our area are highly prevalent, and to have targeted continuing educational opportunities to address caring for such individuals remain desperately needed."
The conference highlighted current best available evidence to support commonly used evaluation methods, including bedside and instrumental assessments. Mrs. Grayson Hill and Mr. Brent Wiles from the University of South Alabama presented on clinical supervision and ethical practices in dysphagia services, and an optional hands-on clinical training course was offered on the third day.
Clinicians interested in attending the Alabama Dysphagia Conference still have time to sign up for the same event coming up later this year on Sept. 30-Oct. 2 at The University of Alabama. Dr. Garand said, "We, the ADC, are grateful to have had the opportunity to do our part. We are so grateful to our ADC volunteers and to our sponsors for providing the necessary resources to make this event a success, which included keeping registration costs extremely low for our attendees."
Initial discussions are already taking place for the next conference's theme with plans to take a deeper dive into the evidence to best support clinical practices. More information about the Alabama Dysphagia Collective is available on Facebook and Instagram.



---
---