Alabama Dysphagia Conference 2022
---
Posted on May 11, 2022 by CAHP
CAHP
---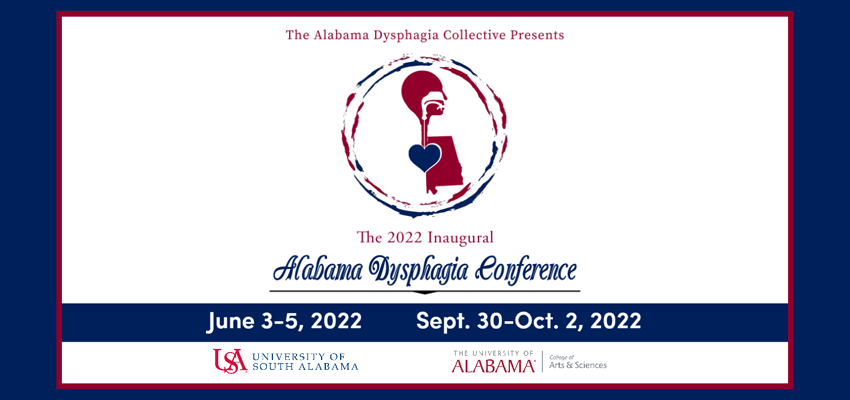 ---
Expand your knowledge and professional skills with a review of foundational concepts and evaluation methods for the assessment and treatment of dysphagia at the inaugural Alabama Dysphagia Conference presented by the Alabama Dysphagia Collective, a collaboration of academicians, clinical investigators, clinicians, students, and related stakeholders from the University of South Alabama and The University of Alabama.
The three-day conference will take place once in the summer and again later in the fall. The first event will be held at the University of South Alabama in Mobile, Alabama, on June 3-4, 2022, with an optional third day on June 5. The second event will take place at The University of Alabama in Tuscaloosa, Alabama, on Sept. 30-Oct. 1, 2022, with an optional third day on Oct. 2.
Registration for both events is available online or by mail.
Specifically, the conference will highlight current best available evidence to support commonly used evaluation methods, including bedside and instrumental assessments. Participants will also learn theoretical foundations of various treatment methods and how to apply when developing individualized dysphagia treatment plans. Further, the conference will discuss ethical and supervisory considerations in dysphagia management. Portions of the conference will also include hands-on experience for audience members.
Any speech-language pathologists, speech-language pathology assistants and occupational therapists working with patients who have dysphagia are encouraged to attend, collaborate and learn from fellow professionals. You will hear from speech-language pathologists visiting from the University of South Alabama, The University of Alabama, the University of Kentucky and the University of West Florida. The conference agenda and additional event details are available online.


---
---