USA Hosts Alabama Head Injury Foundation Camps
---
Posted on July 28, 2023 by CAHP
CAHP
---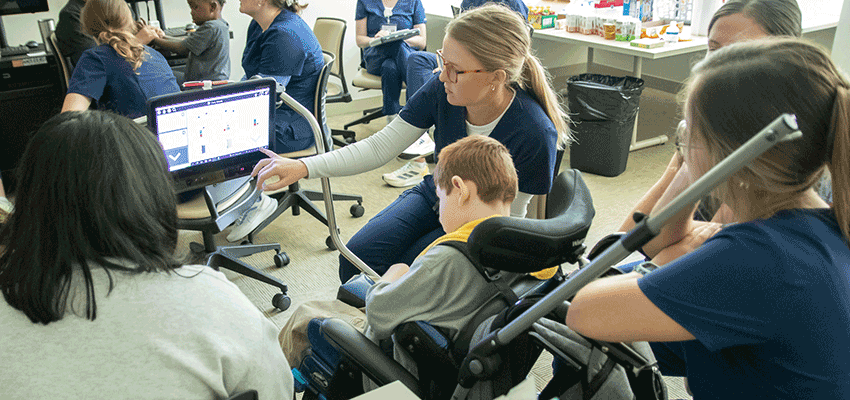 ---
The Pat Capps Covey College of Allied Health Professions recently partnered with the Alabama Head Injury Foundation to host two three-day camps at the Health Sciences Building on the USA main campus.
In July, faculty and students from the Department of Speech Pathology and Audiology collaborated to host a pilot camp working specifically with Alabama Head Injury Foundation pediatric clients with traumatic brain injuries.
The participants were evaluated with assessments of cognition, speech/language and functional communication. They participated in individual sessions and social skills groups. Many used augmentative and alternative communication devices and were introduced to adaptive switches for everyday items including iPads, lights, music and toys.
Each participant was partnered with a group of speech pathology students who provided intervention, assessment, materials, games and home-based strategies. The wide array of needs each participant had allowed students to develop their clinical skills in areas of both assessment and intervention.
"The client I personally served for the week had significant augmentative and alternative communication needs, so it was cool getting to trial various different methods to find the one that would work best," Caroline Locke, speech-language pathology student, said. "This experience was unlike any other clinical practice I'd done previously. It truly changed the way I look at assessment and intervention and steered me towards a passion for this population of clientele!"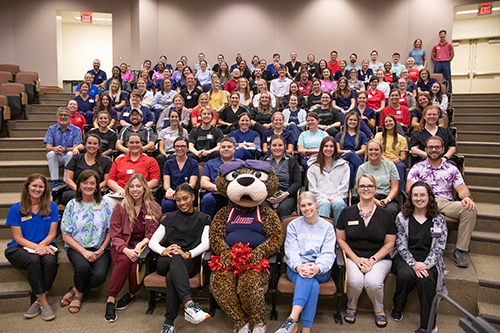 In June, faculty and students from the Departments of Occupational Therapy, Physical Therapy and Speech Pathology and Audiology in the Covey College of Allied Health Professions along with students from the Departments of Psychology and Health, Kinesiology and Sport in the College of Arts and Sciences were part of a multidisciplinary team that collaborated to host a successful Bright Ideas Traumatic Brain Injury Camp.
The goal of this camp is to help injury survivors discover a better quality of life by providing therapeutic activities they can also apply at home. The adult clients participated in assessments, cooking/nutrition sessions, counseling, occupational therapy, physical therapy, speech-language pathology and recreational therapy, which was added this year.
Speech-language pathology faculty Grayson Hill and Kendra Hudson played integral roles in the planning and implementation of both camps. They shared that the interprofessional collaboration prior to the Bright Ideas Traumatic Brain Injury Camp allowed students to learn clinical skills within their discipline while also learning the scope of care from other disciplines.
"The opportunities for allied health students to engage in interprofessional practice during the camps deepened their knowledge of the benefits to clients, caregivers and professionals when care is provided through a collaborative approach," Hill said.
The college's partnership with the Alabama Head Injury Foundation gives students invaluable experience working with different populations and collaborating with their peers. Through interprofessional collaboration, allied health students learn the value of other professions, as well as the importance of teamwork and effective communication.
---
---