3 Things to Know About Biomedical Sciences
---
Posted on September 26, 2023 by CAHP
CAHP
---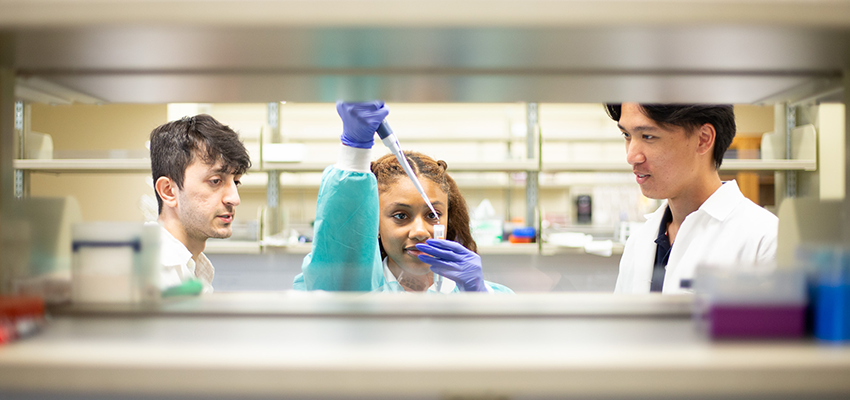 ---
Healthcare careers are considered to have the most job security, higher salaries and most importantly, the opportunity to make a difference in peoples' lives.
A degree in biomedical sciences prepares students for health-related careers by providing instruction in core scientific content, encouraging critical thinking and providing active collaboration. Students at the University of South Alabama have the opportunity to pursue a bachelor's degree, a master's degree or a minor in biomedical sciences. Here are three things to know about biomedical sciences at South:
Career Outlooks

A degree in biomedical sciences prepares students for advancement into a variety of health professions including medicine, dentistry, optometry, pharmacy, veterinary and many others. Students are also prepared for careers in public health, biotechnology, medical diagnostics and sales, research opportunities and even nontraditional paths like patent law and consulting.


Research Opportunities

The Department of Biomedical Sciences engages in hypothesis-driven research, embraces global diversity and guides students to become lifelong learners. Students in the undergraduate and graduate programs are given the opportunity to conduct research with guidance from faculty mentors in the Covey College of Allied Health Professions, the Whiddon College of Medicine and USA Health. Participating in research at South Alabama allows students to enhance their critical thinking, problem solving skills and acquire scholarly expertise through hands-on experience.


Global Learning

Through study abroad, biomedical sciences students have the opportunity to have life-changing, immersive cultural experiences while gaining major-based knowledge and earning academic credit in the program.

Faculty-led programs are group programs led by USA professors. The biomedical sciences faculty lead both a medical, service-learning study abroad program in Kenya and a traditional course in the United Kingdom. There are additional healthcare specific study abroad trips led by faculty from other departments in the Covey College of Allied Health Professions.
Biomedical Sciences Programs
The Bachelor of Science in Biomedical Sciences includes intensive study in the sciences in preparation for upper-level courses in human systems. Biomedical sciences students are prepared for health-related careers and have the distinct advantage of having basic medical sciences classes, which are usually only offered at the post-baccalaureate level.
The Master of Science in Biomedical Sciences is a one-year, accelerated, non-thesis degree designed to enhance the scientific foundation and academic credentials of students who seek further academic training or employment in health and biomedical fields. The program is designed with flexibility in mind, and applications are accepted year-round.
For more information about the Department of Biomedical Sciences, contact bmddept@southalabama.edu.
---
---