Student Spotlight: Azriel Boles
---
Posted on October 24, 2022 by CAHP
CAHP
---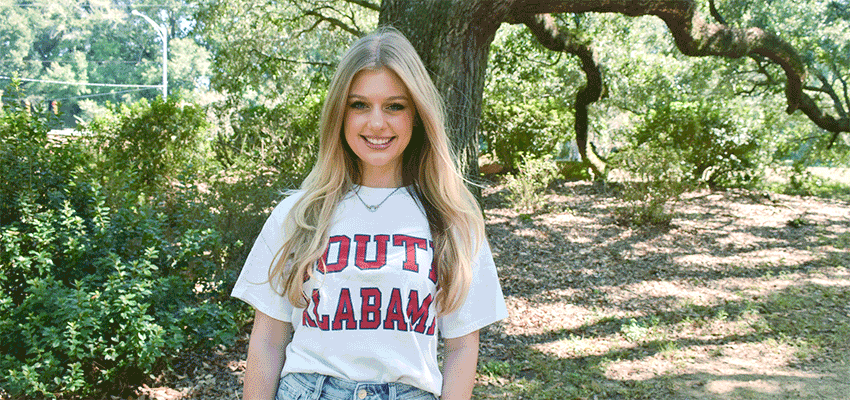 ---
Originally from Pensacola, Florida, Azriel Boles was on the lookout for a college campus that she could call her home away from home. The University of South Alabama became just that for Azriel in August of 2019. Originally with a major in chemistry, she realized biomedical sciences was calling her name.
"It seemed to be a better fit for my interests and passions. So far, I have absolutely loved the experience, though it has been a lot of work. I feel comfortable here and can't see myself doing anything else," she said.
With a goal of making a difference at South, Azriel became the Women's Pre-Health Club president and knew this was the right path for her from the very first meeting she attended. The Women's Pre-Health Club goal is to create a sense of community among women looking to go into any health-related field. Azriel hopes to encourage and help other students find their place in the club just like she did.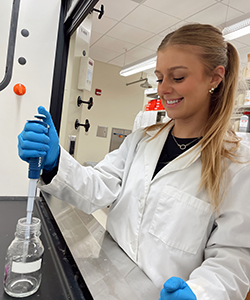 "I'm excited about this organization and believe it faces a very bright future. I can't wait to see where it goes!"
Passion is a driving factor in Azriel's life, and it has kept her focused on a career in healthcare. She is on track to graduate in May of 2023 and plans to attend medical school with the goal of becoming a physician one day. She attributes her boost in confidence and her personal growth to her time here at South.
With being involved in many different organizations on campus such as being secretary for the Biomedical Sciences Society and a sister of Kappa Delta, free time does not come easy for Azriel. However, outside of school and studying, she can be found hitting up the gym or hanging out with her friends and her cat, Smores.
The Department of Biomedical Sciences educates students for successful health-related careers by providing instruction in core scientific content, encouraging critical thinking and providing active collaboration; it engages in hypothesis-driven research, embraces global diversity, and guides students to become life-long learners dedicated to enriching the scientific and healthcare community. To learn more about the Bachelor of Science in Biomedical Sciences program contact the Department of Biomedical Sciences.


What is a fun fact about yourself?
"I can say the alphabet backwards!"

Where is your favorite place to study on campus?
"Definitely the Marx Library in a study room on the 3rd or 4th floor."

What has been your favorite memory at South so far?
"When T-Pain had a concert at the Mitchell Center for Homecoming week!! The concert was so much fun, and the next day there was a tornado and we all had to run in the pouring rain from Azalea Hall to Camellia's storm shelter next door; everyone was saying that T-Pain brought the tornado to South."

What is some advice you learned as a freshman that you would give to current freshmen?
"Take your classes seriously and be disciplined. As a senior looking back, I definitely wish I would've taken my grades a little more seriously so that I wouldn't have to work as hard now when my classes are a lot more intense. Discipline is a very hard skill to learn, but if you learn it early on and start applying it, it will make life SO much easier in the long run!"


---
---