---
Posted on April 28, 2022 by CAHP
CAHP
---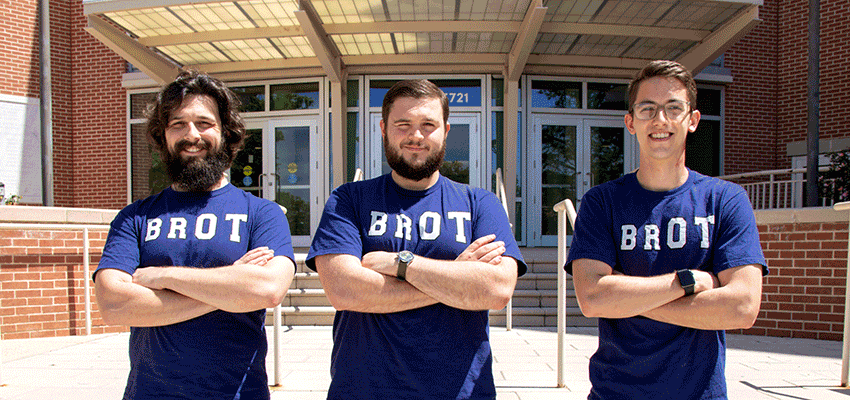 ---
Occupational therapy is a branch of health care that involves work with people of all ages who need specialized assistance in learning skills to lead independent, productive and satisfying lives because of illness, injury, or development or psychological impairment. Many times when people hear the terms "occupational therapist," they assume they will be treated by a female health care professional. While that can often be an accurate assumption, it is not always true. Approximately 80% of occupational therapists working in the United States are female and 20% are male.

Current statistics reveal an obvious demand for more diversity in the field of occupational therapy, and the Department of Occupational Therapy's "BrOTs," male occupational therapy students, are here to help meet that need. The students have coined the term BrOTs by combining the ever popular phrase "bros" with OT, the acronym for occupational therapy. It is a unique opportunity for these students to connect and build community with their classmates and celebrate their place in occupational therapy. Second-year students Alexander, Jacob and Philip talk about the pride that comes with being a BrOT and working in a female-dominated field. Let's get to know the BrOTs!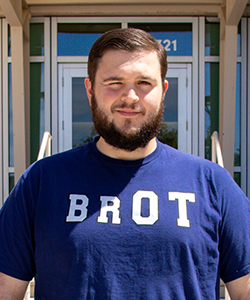 Alexander Ginas

Where are you from?
Albertville, Alabama

Where did you go to high school?
St. Bernard Preparatory High School

Where did you complete your undergraduate degree and what was your major?
Jacksonville State University, Exercise Science and Wellness

What led you to choose South?
I decided to go with South because I wanted to pursue a career in occupational therapy. This school was still in my home state and this program has an excellent pass rate on the NBCOT exam for the students that graduate from here, so that was also a huge selling point for me!

When did you know you wanted to be an OT?
After recovering from a gunshot wound, I received both OT and PT services in order to learn how to walk properly again and to manage the damage that I had sustained. One thing led to another, and in college I started observing OT and really fell in love with the profession. I always knew that I wanted to be in the health care field, and OT is really the perfect match for me and my desire to help others.

What has your experience been like as a graduate student at South?
I will be honest it hasn't been easy, but nothing worth obtaining ever is, right? My class came into this program at the start of the pandemic, so we were the "COVID Cohort" which made things pretty difficult for everyone because of all of the restrictions that we had. However, we kept working through it. Eventually most restrictions were lifted, and we finally got to really know our classmates. I have made some really close friends here at South that I wish I could have gotten to know sooner, but I count myself lucky to have found them when I did.

What do you like to do outside of class and studying?
When I'm not stuck in my studies, I really enjoy playing/writing music and singing. I also like to hike, fish, hunt, target shoot and teach others how to shoot. I enjoy working with my hands, so I also do some minor gunsmithing services for those that need it.

What are your plans after graduation?
After graduation, I plan on first taking the NBCOT exam then seeking out employment in my field back home in northern Alabama. Further in the future I will continue my own independent study for a few years so that I can become a certified hand therapist.

What is a fun fact about yourself?
I can play guitar, banjo, mandolin, ukulele and the trumpet.

What is it like to be a BrOT?
To me it is a unique experience because men are considered to be a minority in this field. My cohort only has three men in it, including myself, so we are a pretty small but tight knit group of guys, and it has been great getting to know them. While on fieldwork, I noticed that often times being a "BrOT" was much appreciated by the other therapists that I was working with because of the extra help in doing things such as difficult transfers. I have been told that I am a bigger guy as well, so this also probably helps with that.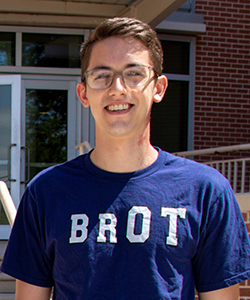 Jacob Alsobrook

Where are you from?
Bowling Green, Kentucky

Where did you go to high school?
I was homeschooled.

Where did you complete your undergraduate degree and what was your major?
Western Kentucky University, Exercise Science

What led you to choose South?
I was drawn to the University of South Alabama for a few different reasons. The city of Mobile seemed exciting to someone who has always lived in smaller more rural cities, and the idea of the beach being just 45 minutes away was enticing. South's occupational therapy program is well established, and has a solid track record of graduating classes with 100% pass rate on the licensure boards, which cannot be said for most occupational therapy programs. I also knew that with the connection to a level 1 university hospital, there would be more opportunities for fieldwork and learning while in school. Something else that is special to South Alabama's program that drew me in was their simulation lab, which has proven to be vital in preparing us to be comfortable with patient interaction and treatment interventions.

When did you know you wanted to be an OT?
I was originally on the track to becoming a physical therapist. I was the classic story of someone who had a sports injury in high school, and was exposed to rehabilitation through the remediation of that injury. Once in school however, I began to explore other jobs that the field of exercise science prepares you for. I had heard rumors of occupational therapy through my program, but as with most people, really did not know what it was. I think I heard they bathe people? That sounds gross, and not very appealing, but thankfully, I gave it a chance. I observed a local inpatient occupational therapist, and was instantly delighted in the scope of practice occupational therapy has to offer. Yes, we help people bathe, but that is only one occupation out of an almost infinite number of possible occupations that a client might need rehabilitation in! An occupation is anything that you might enjoy doing, and occupational therapy focuses on the ones you can no longer successfully do. So in the inpatient setting, I saw my occupational therapist I was observing collaborate with her clients all day through fun, meaningful, and engaging activities to rehabilitate occupations that were once not even a thought, now a seemingly insurmountable task due to their various conditions that they had been inflicted by. The process of occupational therapy is so fun for the therapist and the client, because it is meaningful, every activity they will participate in therapy is something they will use in their everyday life almost immediately! I knew that this profession was for me, because of the instant gratification the client receives when they button up that shirt for the first time independently again after weeks of not being able to do so.

What has your experience been like as a graduate student at South?
South Alabama has lived up to my expectations and surpassed most of them. The allied health program is integrated very successfully. I have met other disciplines through interprofessional courses and extracurricular activities such as through the Christian Medical Ministry of South Alabama. Student organizations such as this, and the events and classes provided by the University help you meet other people who are both similar and very different from you. Through these events and friendships, you discuss and have a better understanding of the other disciplines you will be working with in your career, which will lead to better services provided by you and your colleagues later down the road. South Serves has been another great tool at getting involved in the community, which is an important practice area of occupational therapy as well. Our professors are highly skilled in occupational therapy, and we undoubtedly have received top-notch training from them to prepare us for our level II fieldwork coming up this summer.

What do you like to do outside of class and studying?
My wife and I are huge "foodies," and Mobile is a great place for that. We love going around the city and trying the more well known places to eat and the holes in the wall that often get overlooked. The food choices are very diverse, and I don't know if we'll ever get to all the city has to offer since new places are opening up all of the time. My wife and I love going down to Dauphin Island as well to decompress after long weeks. It's a great spot for a quiet, low-key beach day, which is just what the doctor orders after a long week of school. The rec center at South has been big for me as well. I love to workout, climb, play basketball, ping-pong and racquetball, which I have participated in plenty of over my past year and a half being here. The outdoor trails by our building are also a highly underrated spot to walk/run after a long day as well. Mobile is just a great city that always has something going on.

What are your plans after graduation?
My wife and I plan to try and stick around Mobile for a few years at least. There are plenty of job opportunities for occupational therapy in the hospitals and outpatient clinics in town, both settings of which I'm interested in. Our community we have been involved with at church here in Mobile has been a lifeline, and not something we can just pick up and leave without a second thought either.

What is a fun fact about yourself?
I have a port-wine stain, or birthmark, that covers most of the left side of my neck and back portion of my head. No, it is not a traumatic burn from my childhood, I did not forget to put on sunscreen, and yes I know, it does objectively make me a redneck.

What is it like to be a BrOT?
Being a BrOT comes with pride. Representing just 20% of the profession here in the states, we love when we can tell unsuspecting victims, "Oh sorry no I'm not a PT, I'm a bonafide BrOT." Our female classmates are very forgiving of our hard-headedness, and our inability to keep up with them in academics. They always include us in conversations and activities, which I am sure is quite a service on their part. We try to offer the only thing we're really good at in return, which is to try and keep them laughing (whether it be with us or at us). I was told from the beginning that the profession needs males. Some patients' cultural values may have privacy issues with letting a female help them undress or bathe. Other patients may be very large, and more easily handled by a male. In these ways we can come alongside and support our female coworkers to deliver the most effective care possible for our clients.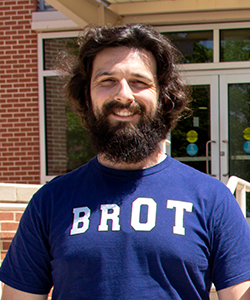 Philip Collins

Where are you from?
Pensacola, Florida

Where did you go to high school?
Pensacola Catholic High School

Where did you complete your undergraduate degree and what was your major?
Ave Maria University, Theology Major, Philosophy Minor

What led you to choose South?
I had heard a lot about the great healthcare programs at South Alabama. My decision was confirmed when I attended an open house that the OT department put on. After that experience, I knew that this was where I had to come.

When did you know you wanted to be an OT?
I've always wanted to have a career where I was working to help other people. I knew I wanted to be an OT after my first shadowing experiences in outpatient orthopedics and pediatrics. I loved the work that the OTs did in both of those clinics, and I could tell how passionate they were about their careers.

What has your experience been like as a graduate student at South?
My experience has been great! I really feel that I have grown in my knowledge, clinical reasoning and overall practice.

What do you like to do outside of class and studying?
I enjoy reading, hiking, running, thinking deep thoughts and tasting Scotch.

What are your plans after graduation?
I plan to return home to Florida with my young family. I'd love to further my career in either outpatient orthopedics or inpatient rehabilitation. We will see what direction I am called to!

What is a fun fact about yourself?
I am certified to drive a forklift (though I may be up for renewal...).

What is it like to be a BrOT?
Being a BrOT is a calling; an honor that is bestowed on few, but to which many strive. In all seriousness, it is fantastic! I really enjoy the camaraderie and brotherhood that comes with being a BrOT, and the perspectives that we can contribute to the field.






---
---