Student Spotlight: Taylor Burns
---
Posted on May 31, 2022 by CAHP
CAHP
---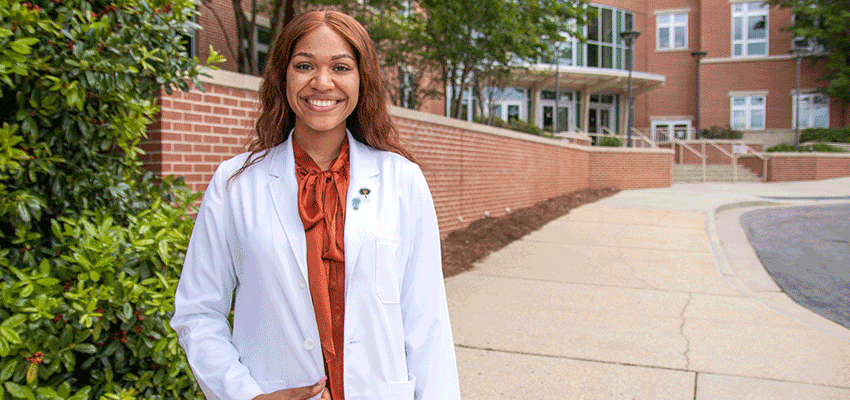 ---
After completing a bachelor's degree in public health, physician assistant studies student Taylor Burns went looking for the right scholarship opportunity to help her pursue a career in rural health. A few Google searches later, and she came across the National Health Service Corps Scholarship Program, a program that awards scholarships to students pursuing eligible primary care health professions training. Taylor applied for the scholarship with the understanding that she would also have to commit to provide primary care health services in Health Professional Shortage Areas for a minimum of two years after graduation.
Health care has always been something Taylor was interested in, but she was not sure which career she wanted to pursue until she learned about the role of a physician assistant during her undergraduate studies. Her passion for rural health and interest in becoming a physician assistant merged when she found South's physician assistant studies program. "The program's focus on rural health really stood out to me especially because of my background in public health. Some of the other programs I was looking at didn't have that."
Once accepted into the NHSC scholarship program, Taylor knew she was on the right track. She grew up in the small rural town of Brewton, Alabama, an area she shares has its own health disparities and community skepticism about health care. She said, "I believe that we could reinstall trust within the health care system by ensuring that medical professionals utilize the patient centered care model, believing patients when they say they are in pain, and being aware of our individual biases as medical providers."
The NHSC scholarship program will allow her to reinstall that trust and support areas like her hometown by bringing more health care options to underserved communities. She shared, "You can go anywhere in the world, but as of right now, I am planning on staying in Alabama. I think it'd be really cool to actually do some work here where I grew up."
As a second-year student, Taylor has found the Covey College of Allied Health Professions to be a place that cares about her success as a student and her wellbeing as a person. "I felt very comfortable and welcomed here. The faculty is really amazing. I feel like they go above and beyond to make sure we have what we need as PA students," she said.
Entering a 27-month graduate program of 60 new students may be daunting to some, but to Taylor, it has been an incredible learning experience and opportunity for community with students from all types of diverse backgrounds. She said, "I hope to see our PA program continue to become more diverse throughout the years and specifically more minority students in the program."
Taylor serves as her class's co-chair for diversity, equity and inclusion and finds a sense of purpose with the role. "When I came to South, I had no idea what it would be like. I didn't know I'd be taking a leadership position for my class, but when the opportunity presented itself, I knew it was for me." Her compassion for others and desire to make an impact have also led her to be a part of the National Society of Black Physician Assistants as a mentor for pre-PA students as well as a mentee learning from professionals in the field.
When asked about Taylor's impact, Department Chair Stephanie McGilvray shares, "Taylor is a fantastic student and has a great interest in diversity, equity and inclusion. She has participated in outreach events in the capacity of a mentor to high school students in the Mobile area. She leads by example and has a bright future as a PA!"
Taylor is set to complete her master's degree in physician assistant studies during the summer of 2023 and will be expected to have a rural health job lined up within six months of graduation as a part of the NHSC scholarship program. When asked what it means to her to be able to serve a community like her hometown in the future, she stated, "I think it will be the most rewarding feeling ever. I can't do anything but smile thinking about it."
The Department of Physician Assistant Studies offers a Master of Health Science in Physician Assistant Studies degree that provides students with comprehensive medical knowledge, skills, and attitudes enabling them to engage in clinical practice, and is designed to prepare the student for a variety of clinical practice settings. Graduates of the program develop advanced clinical problem solving skills, in addition to acquiring technical proficiency in areas related to professional practice. To learn more, contact the Department of Physician Assistant Studies via email.
What's your favorite place to study on campus?
"I like to study in different places. Some days I like to study outside or in Marx Library, but many mornings I'll get to campus two hours before class and study in the back left corner of the TBL classroom."

What is your best advice for incoming PA students?
"Be prepared to work hard, but don't be afraid of a new environment. Grad school is a lot different than undergrad, but if you were accepted into the program that means that they saw something in you that we all know you have in you. Embrace the new environment, have fun, take breaks for yourself but definitely be prepared to work hard."

What is your favorite student activity/event at South?
"I really enjoyed the Soul Food Luncheon and the Women's History Month Luncheon."

What motto inspires you each day?
"Maya Angelou's quote, 'You will face many defeats in your life, but never let yourself be defeated.'"

What is a fun fact about you?
"I started twirling when I was nine years old and was a majorette for four years while getting my undergraduate degree."

What is a hidden talent or skill that you have?
"I really like to draw. I'm not the best ever, but I have a few that are really good."



---
---