Dr. Shawn Drake Named Chair of Physical Therapy Department
---
Posted on August 26, 2022 by CAHP
CAHP
---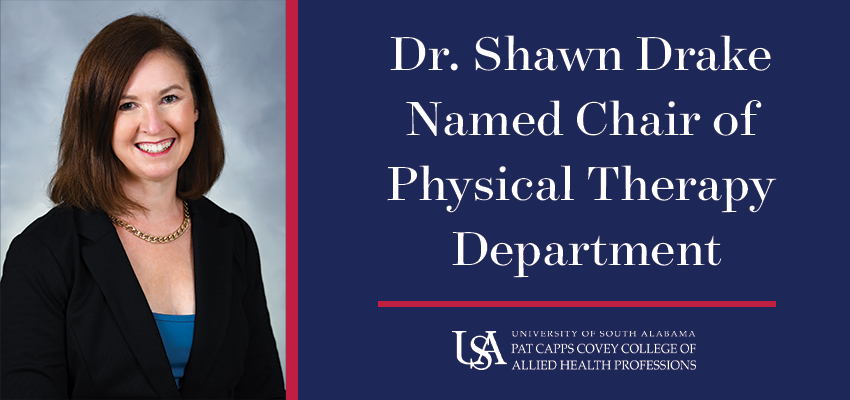 ---
Shawn Drake, Ph.D, M.P.T., M.S., has been named chair of the Department of Physical Therapy for the Pat Capps Covey College of Allied Health Professions. She began her role on August 1.
"Dr. Drake brings significant leadership experience to USA's Doctor of Physical Therapy program and to our college. She is dedicated to developing and supporting students in gaining the knowledge and skill needed to improve the quality of life of others. She is passionate about interprofessional education and is committed to taking USA's DPT program to higher levels of excellence," Dr. Gordon-Hickey, interim dean, said.
"Once I met the faculty, I knew that South Alabama was where I wanted to be. The faculty are expert clinicians and exhibit a passion for teaching. Students and faculty were very welcoming. I believe that this faculty wants a leader that can take them to the next level," Dr. Drake said.
Dr. Drake joins the University of South Alabama from Arkansas State University where she served as professor, department chair and assistant dean of the College of Nursing and Health Professions.
Dr. Drake has published 20 peer reviewed publications and 23 scientific professional presentations. She has contributed to more than 15 funded grant projects totaling more than $285,000. Her research interests include swimming, myofascial release to improve overall wellness, and interprofessional education. She specializes in teaching cardiopulmonary and clinical exercise physiology.
Dr. Drake earned her bachelor's degree and a master's in exercise science from Arkansas State University. She earned her PhD in Exercise Physiology from the University of Southern Mississippi and a Master of Physical Therapy degree from Arkansas State University.
Dr. Drake has received certification from the Barcelona Scoliosis Physiotherapy School (Schroth certified), American College of Sports Medicine (ACSM) (Program Director and Clinical Exercise Physiologist, Exercise is Medicine- Level 3), and National Strength and Conditioning Association (Certified Strength and Conditioning Specialist). She is an active member in the American Physical Therapy Association, American Council of Academic Physical Therapy and the American College of Sports Medicine. In April 2022, Dr. Drake was inducted into the Arkansas Swimming Hall of Fame.
"The faculty are some of the best clinicians in the field of physical therapy. I am hoping that I can enhance research productivity in the department," Dr. Drake said.
"Dr. Drake is already inspiring faculty in ensuring an engaging curriculum that provides students with the most up-to-date, evidence-based assessment and treatment methods. She is committed to elevating the USA Doctor of Physical Therapy program's national visibility, teaching prominence, clinical impact and research productivity. We are delighted to recruit a leader of the caliber of Dr. Drake to our college," Dr. Gordon-Hickey said.


---
---