The Dept. of EMS Celebrates 50 Years
---
Posted on August 5, 2022 by CAHP
CAHP
---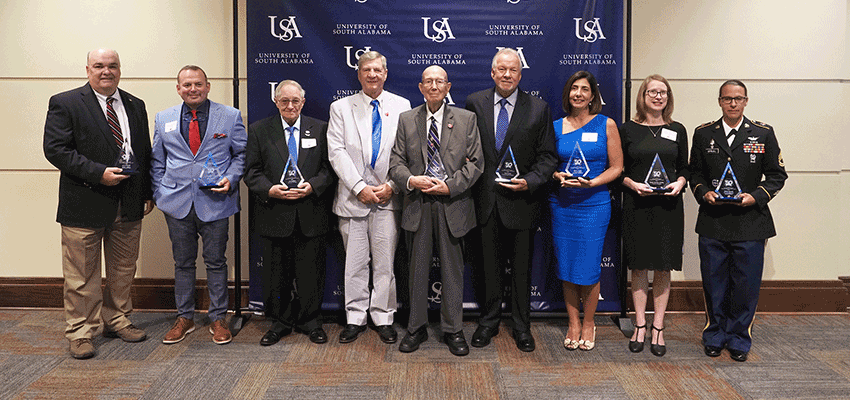 ---
On August 4, the Department of Emergency Medical Services in the Pat Capps Covey College of Allied Health Professions celebrated 50 years of educating emergency medical technicians, advanced emergency medical technicians and paramedics. University leadership, department faculty and staff, alumni and community members joined together in the Student Center on the USA main campus for an anniversary dinner and a special presentation of awards honoring those who have impacted the College over the years.
The department was founded in 1972 by Mary Ann Talley and Dr. Phillip Snodgrass, and since then, more than 1,300 graduates have completed certifications and/or a bachelor's degree in emergency medical services. Making an impact locally, more than 200 current members of the Mobile Fire-Rescue Department have been trained in the EMS program.
Leading up to the awards presentation, University President Jo Bonner spoke about the department's impact on the Gulf Coast followed by a look into the history and impact of the department presented by Interim Dean Susan Gordon-Hickey.
Members of the most recent graduating class of paramedics were also in attendance receiving recognition for their accomplishments during such an important year in the department's history. Recipients of the Mary Ann Talley Scholarship were also recognized for their successes in the classroom and had the opportunity to meet the Talley family.
Recipients of the Department of EMS 50th Anniversary Awards are:
Mary Ann Talley
Mary Ann Talley was posthumously recognized as Founder of the Department of EMS, and members of her family were in attendance to accept the award. Mary Ann Talley was born on July 25, 1932, in Birmingham, Alabama. When she was a child, her family moved to Columbus, Georgia, where she met her husband.
They eventually settled in Mobile with their five children. Always determined and rarely deterred, she enrolled in Mobile Infirmary School of Nursing and graduated in the top five in her class in 1968.
She received her bachelor's degree in nursing from the University of South Alabama in June 1979. She later received her master's degree in public administration from South in June 1982. Mary Ann was working in the emergency room at USA hospital where she was instrumental in developing the EMS education system and Alabama's first paramedic training program.
In 1977, she left the ER to further expand the program as director and chairwoman. For the next 15 years she continued to educate in emergency medicine practices and was awarded a gold badge from the Mobile Fire Department as a fire department nurse, the only nurse badge ever issued by the MFD.
Dr. Phillip Snodgrass
Dr. Phillip Snodgrass was recognized as First Medical Director. Dr. Snodgrass was the first medical director for the USA EMT Training Program from 1972 to 1978.
He was also the driving force behind the inauguration of EMS for Mobile Fire Rescue in 1975, along with serving as their medical director until 1979. Dr. Snodgrass served as the chair and member of the Mobile County EMS Council from 1972 to 1975 and maintained regular membership until 1980. He authored the grant that resulted in a Robert Wood Johnson Foundation award to establish an EMS communication system in 1974.
Dr. Snodgrass has continued his dedication to emergency medicine by serving in a variety of leadership positions in Alabama, Mississippi and Arkansas. He has also served as medical director for law enforcement agencies in Mobile and Arkansas. Dr. Snodgrass was also a member of Humanity First and was deployed on two medical missions to Haiti in the aftermath of the 2010 earthquake. Dr. Snodgrass has also served as an officer in the U.S. Army on active duty and reserve command positions.
Dr. Frank Pettyjohn
Dr. Frank Pettyjohn was recognized as Longest Serving Medical Director and Mentor. He graduated from the University of Delaware with a Bachelor of Science degree in Civil Engineering and entered the U.S. Army as a 2nd Lt. in the Corps of Engineers serving in Korea.
Following his return, he received his medical degree from Hahnemann University School of Medicine in Philadelphia. In 1966, Dr. Pettyjohn served in Vietnam as a flight surgeon for the 17th Combat Aviation Group. On his return, he completed his internal medicine residency and cardiology fellowship at Madigan Army Medical Center in Fort Lewis, Washington. Dr. Pettyjohn was recalled to the Army in 1991 as a cardiologist and aviation medicine consultant at the U.S. Army Aeromedical Center during Operation Desert Shield/Desert Storm.
In December 2008, he again returned to active duty in the U.S. Army as a flight surgeon and cardiologist with the 345th Combat Support Hospital in Tikrit, Iraq. Dr. Pettyjohn served as the director of the emergency department at University Hospital from 1988-2015. He was instrumental in EMS education in the Gulf Coast Region by serving as the Medical Director for the Department of EMS from 1990-2017 and a member of SMEC, which approved State EMS protocols.
Dr. Stephen Bowden
Dr. Stephen Bowden was recognized as Medical Director. He is an assistant professor of emergency medicine at the University of South Alabama College of Medicine and is serving as an emergency medicine physician at USA Medical Center. Prior to joining USA, Dr. Bowden served as an emergency medicine physician and medical director of the emergency department at Providence Hospital.
He has practiced emergency medicine for more than 30 years. He earned his bachelor's degree in chemistry from Auburn University and his medical degree from the University of South Alabama. He completed postgraduate training in surgery at USA Medical Center. Dr. Bowden is board chairman and medical director of Mobile County EMS, a member of the American Academy of Emergency Medicine and board-certified by the American Board of Emergency Medicine. He is the current Medical Director for the Department of EMS, stepping into the role in 2017.
Kim L. Evans
Kim L. Evans was recognized as Strongest Clinical Supporter in Pediatrics. She graduated from the University of South Alabama's College of Nursing in 1992. After graduation, she started working as a registered nurse in the Children's Evaluation Center of USA Children and Women's Hospital. In 1994, Kim was promoted to Charge Nurse, and then in 1999, she was promoted to Unit Educator in the Children's Evaluation Center.
In 2014, she was promoted to Unit Supervisor for the Pediatric Emergency Department. Kim has been a valuable presence in the Children's Evaluation Center for many years. She has been a strong supporter of the Department of EMS's paramedic students, ensuring that they all have opportunities to obtain valuable experience with pediatric patients. These opportunities have allowed USA EMS students to learn vital skills in pediatric care, skills that they can use after graduation.
Daniel Castrillo
Daniel Castrillo was posthumously recognized for Excellence in Teaching in Cardiology. He started his career in EMS in 1993 as an EMT-Intermediate in Huntsville, Alabama. He left the EMS world temporarily to serve his country in the United States Army. In the military, he served in many capacities: two years in Fort Benning, Georgia, with the 75th Ranger Regiment, three years in Fort Campbell, Kentucky, with the 101st Airborne Division, and three years in Baumholder, Germany, with the 92nd MP Company.
He received his paramedic certification from the University of South Alabama in December of 2006 and his bachelor's degree in interdisciplinary studies from the University of Alabama in August of 2007. He continued his service to the community, returning to work in EMS with Medstar Ambulance and Daphne Fire Department. Dan worked for the University of South Alabama from 2006 to 2012 in many capacities including EMS preceptor, instructor and most notably, teaching ACLS, PALS, and multiple cardiac classes. His life was exemplified by his favorite quote by Edmund Burke, "The only thing necessary for the triumph of evil is for good men to do nothing."
David Faggard
David Faggard was posthumously recognized as Departmental Patriarch. David (Uncle Dave) Faggard was hired by the City of Mobile Fire Rescue department (MFRD) in 1975. He was in the University of South Alabama's second graduating paramedic class in 1978. He was one of several paramedics who pioneered ALS emergency response in the Mobile area.
In 1991, Dave was promoted to Captain. During this time, Dave also contributed to his community by serving as a flight paramedic with South Flight and taught and managed Continuing Medical Education for MFRD. He retired from MFRD in 1999. Upon his retirement from MFRD, he accepted employment with the University of South Alabama's EMS department as the Continuing Medical Education Coordinator, a position that he served in with distinction. He taught ACLS, PALS and BLS to area physicians, nurses, paramedics and other healthcare providers.
SFC Elaine Spruill
SFC Elaine Spruill was recognized as Most Distinguished Veteran Alumni. SFC Elaine Spruill graduated from the University of South Alabama in 1998 with a bachelor of science degree. She has served in the Army National Guard since 2010. She is the Platoon Sergeant for the 1-111th MEDEVAC with over 500 flight hours experience with deployment to Iraq and Syria. Military awards include: Distinguished Honor Graduate for Critical Care Flight Paramedic course, Soldier of the Year, Sikorsky Aircraft Rescue Award, 4 Army Commendation Medals, 4 Army Achievement Medals, and the Inherent Resolve Campaign Medal with one bronze service star.
For 22 years, she has served in various roles within the MFRD as a firefighter, driver, fire medic and captain. She is a member of AL-TF 1 as a rescue specialist and technical search specialist with deployments to Hurricane Katrina and the Alabama tornado outbreak. Her awards include Firefighter of the Month in 2004, 2011, and the Life Saving award. She also works for Texas A&M Texas Engineering Extension Service as a wide area search instructor, teaching FEMA USAR teams, State USAR teams and local response teams concepts in response to natural disasters.
David Burns
David Burns was recognized as Longest Tenured Department Chair. He was appointed Chairman of the Department of EMS at the University of South Alabama on October 1, 1993. David was a Mobile native and an alumnus of the University. He earned his Bachelor of Science degree from USA in 1986 and was also a very proud graduate of the University's paramedic program. David graduated with a Master's of Public Health degree from the University of Alabama at Birmingham in 1993. He served as Chair and as a Senior Instructor at USA for 18 years.
Prior to his tenure at the University, David worked with the Alabama Department of Public Health EMS Division. He worked in the Division's Education and Training Branch for over six and a half years. David would routinely work with program directors from across the state and provide administrative and technical assistance regarding program accreditation, curriculum and educational standards, and other regulatory and compliance matters. David also served as the state representative to the National Registry of EMTs.
David had the privilege of serving on a number of local, state and national boards and associations during his EMS career. David retired from the University of South Alabama in 2011 but still maintains ties with the EMS faculty and staff.
Alvin Miller
Alvin Miller was recognized as First EMT Graduate. He was among the first class to graduate from USA's EMT program. He entered into the National Guard after graduation serving as a medic before beginning active duty. During this time he was an instructor at Fort Sam Houston before acting as the senior medic for the 101st Airborne at Fort Campbell and in the 187th Infantry Battalion. Miller then served in the 2nd Armored Division at Osterholz-Scharmbeck, Germany, and upon his return, obtained the position of senior medical NCO with the 24th Infantry Division Commander.
Later, he was assigned as the senior medic to 75th Ranger Battalion. He was stationed in Turkey as the medic for an artillery attachment initiating Operation Desert Storm. Following this, Mr. Miller was stationed at Fort Rucker, Alabama, as the NCO for the entire pediatric program before becoming the Chief Ward Master for the Department of Nursing at Dwight D. Eisenhower Army Medical Center. Mr. Miller retired from his career as a medic in 1996 with his flight medic badge and combat medic badge, countless hours of dedicated service, and an accomplished list of alma maters. He and his wife currently reside at Keesler Air Force Base in Biloxi, Mississippi.
Paul Ezelle
Paul Ezelle was recognized as First Paramedic Graduate. He is one of the "Founding Fathers" of EMS along the Gulf Coast. Paul began his EMS career as a volunteer for Gulf Ambulance in Biloxi in 1969, while also serving in the US Air Force. Paul became a firefighter for the City of Mobile in 1973. In the first of what would be many pioneering steps, he graduated in the first paramedic class for Mobile Fire in 1974. Mary Ann Talley recruited Paul as an adjunct instructor for the EMT program in 1977; he was later promoted to EMT-Intermediate instructor in 1978.
In 1979, he founded the first industrial EMT program at Scott Paper Company in Mobile. Paul worked as a full-time EMS instructor for USA from 1980 to 1984 and was also the clinical coordinator for Southwest Emergency Medical Services in 1981, where he taught EMS professionals in 13 counties. He returned to a full-time teaching position at USA in 1988. Paul became the executive director of Mobile County EMS, serving from 1999-2001. In 2004, Paul found a new calling as a counselor for Cottage Hill Baptist Church and is currently working on his newest endeavor, First Place Eden, a comprehensive rehabilitation and mentoring program for men.
Mark Turner
Mark Turner was recognized as First BS in EMS Graduate. He has worked in the EMS profession since 1995, starting his career as a dispatcher while attending EMT class at USA's Brookley Campus. He became an EMT and later attained EMT-Intermediate and Paramedic status, respectively. Mark worked for agencies in Mobile and Baldwin Counties and became a supervisor; he also became a flight medic during this period. Mark became Operations Manager for Mobile County EMS and was promoted to Director a year later.
He enrolled in the Bachelor's Degree in EMS Program at the University of South Alabama in 2007 and graduated with a Bachelor of Science in EMS in May 2009. Mark also earned an MBA from the University of North Alabama in December 2021. He continued his commitment to lifelong learning by earning a board certification and fellowship from the National EMS Management Association and an Ambulance Service Manager Certification from Fitch and Associates. Mark's leadership turned a floundering agency into a reliable and progressive 911 system staffed with EMS professionals that share his dedication to the community.
Interim Dean Susan Gordon-Hickey
Susan Gordon-Hickey, Au.D., Ph.D., was recognized as Program Champion. She is an associate professor of audiology. She has served the Pat Capps Covey College of Allied Health Professions as Associate Dean and as the current Interim Dean. Dr. Gordon-Hickey is committed to ensuring that students graduating from South's allied health programs meet the rigor of academic requirements, obtain strong clinical skills and demonstrate a commitment to the ethical standards of the profession.
Over the years, she has supported the EMS programs through ensuring strong student support services, advocacy for faculty and assistance in program improvements and resources. She serves on the EMS Advisory Board where she has enjoyed learning from and interacting with many local preceptors. Although she is not a first responder, Dr. Gordon-Hickey holds the profession of EMTs and paramedics in high regard. She once needed the services of an EMT for stabilization and transport to the hospital. This experience increased her admiration for the high-level of care, critical thinking and speed at which EMTs and paramedics must operate for the well-being of their patient. She supports the program in becoming the go-to for local agencies seeking preparation, training and additional certification of their staff.


---
---