Student Spotlight: Mary Faragalla
---
Posted on May 9, 2022 by CAHP
CAHP
---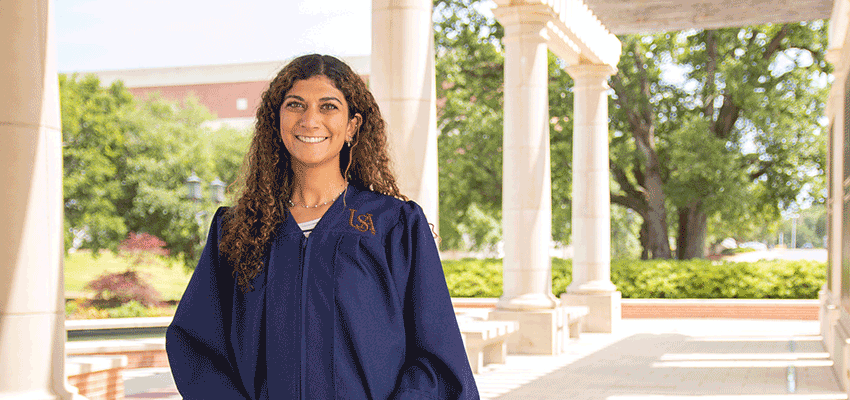 ---
As a Mobile native, biomedical sciences student Mary Faragalla thought she would one day move away for college, but the more she learned about the University of South Alabama, the more she considered sticking around. An accident at the age of 10 placed Mary in the hospital for several days with a broken arm that needed a lot of medical attention. Seeing the doctors and nurses work around her with precision and efficiency made her curious about a future career in health care.
That curiosity eventually turned into a dream that she carried throughout middle school and high school until one day it was time to decide where to attend college. Mary knew she wanted to become a medical doctor, but she was not quite sure where she wanted to study. In 2018, her older brother transferred to South to finish his degree, and it was then that the university close to home began to pique her interest.
Growing up 20 minutes away from the University, it was evident to Mary that there are great opportunities available to students, especially those seeking degrees in health care, so in the Fall 2018 semester, she began her college career at South. Looking back, she is glad she made the decision to stay in her hometown and study biomedical sciences because she can now look forward to an easy transition to medical school at the University of South Alabama College of Medicine later this year. She said, "I could not see myself anywhere else besides South. They had the program I wanted, and the professors are so knowledgeable. They pushed me academically above what I thought I was capable of!"
During her undergraduate studies, Mary was introduced to the Diversity Recruitment and Enrichment for Admission into Medicine (DREAM) program, an eight-week program for rising undergraduate seniors who are considering careers in medicine and identify as being part of a group that is underrepresented in medicine and/or disadvantaged. The students are offered a position in the College of Medicine's first-year class following the completion of the program, their undergraduate degree and prerequisites. As a student who is both Egyptian and Lebanese, Mary qualified for the program and completed the requirements during the summer semester before her senior year. She shared, "I loved everyone there. They were so friendly and treated me like family."
Outside of the classroom, Mary carried her passion for helping others into a variety of roles. She spent time as an SGA senator for two years where she worked on the Aunt Flow Project and a renovation of the biomedical sciences student lounge. She participated in the AHEC Scholars Program, worked with Passage USA and is currently South's volunteer coordinator for Camp Kesem. She has also been a part of the BMD Society and was inducted into the Sally Steadman Azalea Chapter of Mortar Board in 2021.
With the start of medical school in her sights, Mary talks about her experience in the Department of Biomedical Sciences with gratitude and confidence as she takes the next steps to becoming Dr. Faragalla. She states, "Being a biomedical sciences student at South prepared me for medical school because the program gave me all the prerequisites I needed plus additional knowledge that helped me with the MCAT. The classes I took my junior and senior years, such as biochemistry, molecular basis of cancer, and neurosciences, will greatly help me because they dive deep into those topics and how to apply them to patients. I feel like I have an advantage because I already have a strong foundational knowledge thanks to the biomedical sciences program."
The Department of Biomedical Sciences educates students for successful health-related careers by providing instruction in core scientific content, encouraging critical thinking and providing active collaboration; it engages in hypothesis-driven research, embraces global diversity, and guides students to become life-long learners dedicated to enriching the scientific and healthcare community. To learn more about the Bachelor of Science in Biomedical Sciences program contact the Department of Biomedical Sciences.


What do you like to do outside of class and studying?
"I like to hangout with my friends and work out at the gym. I like to spend time with my two cats, Lila and Kevin. I also enjoy going to the beach, fishing and playing volleyball."

What's your favorite place to study on campus?
"I like to study on the fourth floor of Marx Library. I like how quiet it is."

What is your best advice for incoming freshmen?
"Don't be afraid to ask questions and ask for help. Utilize the resources around you on campus."

What is your favorite student activity/event at South?
"I loved getting to enjoy the 2021 football season on campus in Hancock Whitney Stadium."

What mantra/motto inspires you each day?
"Everything happens for a reason."

What is a fun fact about you?
"I have a couple. I am Egyptian and Lebanese. I have broken 11 bones."

Do you have any hidden talents or skills?
"I enjoy making my own DIY creations and refinishing thrifted furniture."
---
---