Student Spotlight: Sydney Green
---
Posted on August 18, 2022 by CAHP
CAHP
---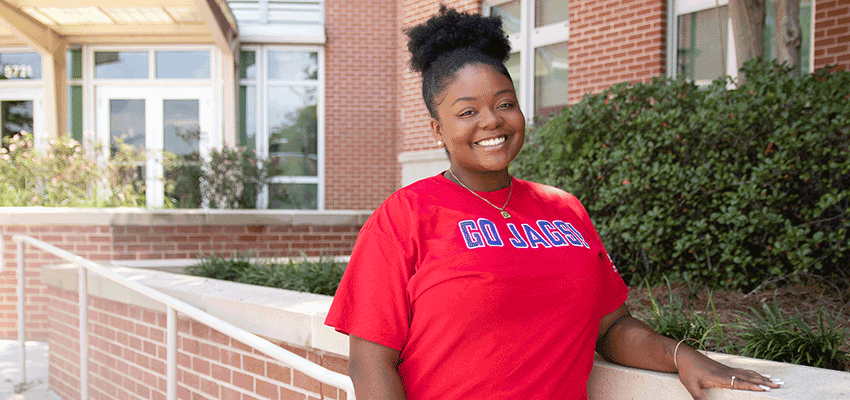 ---
Before pursuing a bachelor's degree in professional health sciences and jumping feet first into student recruitment, Sydney Green spent much of her life traveling with her military family. Her family settled down in Niceville, Florida, when Sydney was in high school, and after spending much of her life traveling, she knew that she wanted to attend college close to home.
The University of South Alabama was initially appealing to Sydney because of the quick
two-hour drive between Mobile and Niceville, and the consistent recruitment and communication from the Office of Admissions helped seal the deal and made her feel wanted. She liked it so much that she toured the campus three times before ever taking a class at South, twice with friends and once for herself.
"They were actually one of the only schools that kept in contact with me, and seeing the campus is really what sold me too," she said.
Both of Sydney's parents and multiple family members have worked in healthcare, so she grew up knowing the importance of care for others. She has always wanted to help people, but it was not until she began helping a friend in high school get to and from occupational therapy sessions that she knew what she wanted to do. She realized that occupational therapy is much more hands-on and holistic than she expected, and you can work with people with all different kinds of needs.
She hopes to attend graduate school at South in the Department of Occupational Therapy after completing her bachelor's degree in 2023. Sydney chose to study professional health sciences with a concentration in healthcare management because of the degree's versatile curriculum that will help her get into an occupational therapy program. She dreams of one day owning her own occupational therapy practice, and she has already begun learning about effective management styles, strong communication skills and business strategies in healthcare thanks to the professional health sciences program.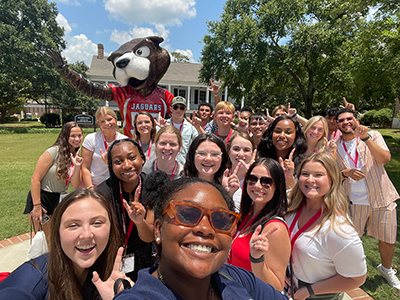 Until then, Sydney is using her passion for people to help others feel at home at South through work with the Office of Admissions. She has been working as an orientation leader and South Guide since her freshman year and is now in a senior student leadership position. She has become a familiar face on campus and knows from experience how fun and serious the decision making process can be for prospective students.
"I like the 'full-circle effect' of giving a tour to someone, having them really enjoy the tour, and then the next thing you know, they come here, see you on campus and they say, 'Oh you were my tour guide!' That means a lot because it means I had some type of effect on their decision to come here," she said.
When she is not studying, giving a tour or leading a group of students at New Student Orientation, Sydney stays involved on campus as the president of the Pre-OT Club and as a member of the Alpha Kappa Alpha Sorority, Inc., the Black Student Union, the Indian Student Association and the Women of Excellence organization. It is safe to say that Sydney is and will continue making a difference anywhere she goes, and she is thankful that she found a place with unlimited opportunities.
"If you want to find a place that makes you feel welcome, makes you feel appreciated, and makes you feel that you can do anything that you can do, and be anything that you can be, I would say that South Alabama in Mobile is the place for you," she said.
The Department of Emergency Medical Services offers the Bachelor of Science degree in Professional Health Sciences (PHS) for those students who want to have a well-rounded background in health sciences, but do not wish to pursue a specific professional undergraduate degree. The program provides broad information in both health related disciplines as well as health informatics and/or management. To learn more about the Professional Health Sciences program, email the Department of EMS.


What is your favorite place to study on campus?
"It depends on the weather. I've enjoyed studying at the new charging stations on campus, or I'll go by the wetlands. It's very peaceful and relaxing. Recently, definitely the top two floors of the library."
What is your best advice for incoming freshmen?
"It is okay to not know. If you don't know, that gives you an opportunity to research and explore."
What is your favorite student activity/event at South?
"The one thing I thought was really cool was I was on the Homecoming Court in 2021 as Junior Maid. It was pretty fun to represent my class. Definitely the football games, too. One more big one is USA Day."
What mantra/motto inspires you each day?
"It's something my grandmother, Sweet Pea, would say, 'When you know better, you do better.' I apply that to everything I do."
What is a fun fact about you?
"My fun fact is that I love seafood. I love crab legs, crawfish, shrimp, anything from the Gulf Coast I will eat."
Do you have any hidden talents or skills?
"I'm really good at volleyball. I played for 10 years."


---
---