Student Spotlight: Connor Holm
---
Posted on November 28, 2022 by CAHP
CAHP
---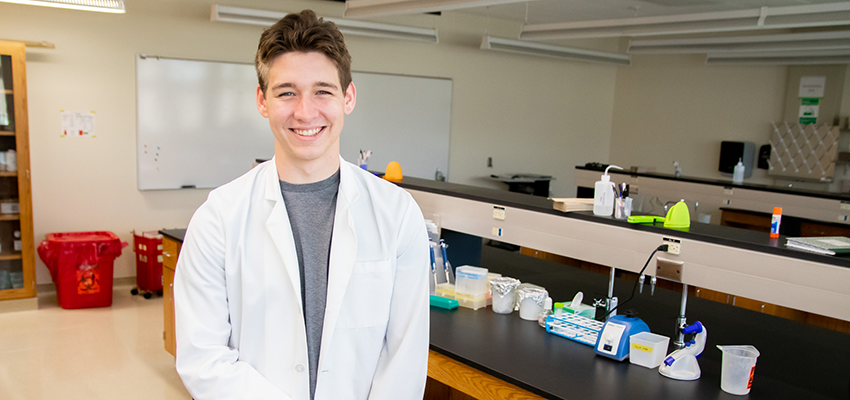 ---
After starting at the University of South Alabama in the fall semester of 2021, Connor Holm has made it his goal to be involved in every aspect of campus life that he can. Originally from Satsuma, Alabama, and having most of his immediate family being South faculty, alums and current students, Connor found the decision to attend South an easy pick.
"South Alabama is home to much of my family; my father is a professor of music here, my mother graduated with her master's from here and both of my sisters along with two of my cousins are currently attending South. The University was also an easy decision due to its outstanding premed and medical school programs," Holm said.
With a love for music and an interest in medical school, Connor was able to find a happy medium by majoring in biomedical sciences with a recent minor in music. He is able to find a balance between working towards his long term goals, maintaining old ones and getting involved on campus.
At the start of his freshman year, Connor grew to love a new hobby of climbing the rock wall in the Student Recreation Center. The sense of community on South's campus is a driving force in Connor's personal and educational development.
"This semester I moved into a dorm. I love the convenience of how close classes are and that I can do practically everything I need to on a day-to-day basis here on campus. I am greatly looking forward to what my remaining time at South has in store for me!" Holm said.
Being a part of Honors College and the president of the American Society of Biochemistry and Molecular Biology student organization has helped Connor grow to where he is today. He has a special appreciation for his professor and mentor, Dr. Phoibe Renema, who started South's chapter of the American Society of Biochemistry and Molecular Biology and has given him the opportunity to learn more through the society's efforts.
The American Society of Biochemistry and Molecular Biology is a national society that focuses on promoting collegiate research and providing information on important research projects worldwide. The student chapter at the University of South Alabama aims to do the same at an undergraduate level with meetings consisting of speakers who do research at South and are available for members to speak with about undergraduate research positions. The goal of informing students about research on campus and giving them an avenue to connect with faculty is what inspired Connor to be a part of the society.
"Our current goal of this year is to create an American Society of Biochemistry and Molecular Biology research award that will be awarded to an active member's research lab. Through fundraising through events such as bake sales, we plan to raise $1000 to help pay for lab supplies for the winning lab. I would love to see this become an annual award that will serve as an incentive to be involved in the American Society of Biochemistry and Molecular Biology and in undergraduate research," Holm said.
When Connor is not in a lab or studying, you can find him brushing up on his piano skills with his music minor picked in contrast to his science heavy major. He originally began playing at the age of seven but stopped in high school to focus on sports. Not only is Connor interested in playing the music that he loves, but he is a self-proclaimed music trivia champion.
"I love music trivia, I am probably best at jazz or classical trivia. Give me a question about Chet Baker, Thelonious Monk, Miles Davis or maybe Chopin, Mozart, or Handel and I may have an answer," Holm shared.
After completing his undergraduate degree in 2025, Connor plans on attending medical school and becoming a physician. He has a primary interest in cardiology that came to be after working in a cardiology clinic alongside spending the summer of 2022 working in Springhill Memorial's Cardiac Cath Lab. Connor knew then that this was where he wanted to continue his work.
"I greatly look forward to entering into my dream profession that will allow me to serve others and tangibly impact lives for the better," Holm said.
The Department of Biomedical Sciences educates students for successful health-related careers by providing instruction in core scientific content, encouraging critical thinking and providing active collaboration; it engages in hypothesis-driven research, embraces global diversity, and guides students to become life-long learners dedicated to enriching the scientific and healthcare community. To learn more about the Bachelor of Science in Biomedical Sciences program contact the Department of Biomedical Sciences.


---
---