Student Spotlight: Kaitlyn Hughes
---
Posted on September 20, 2022 by CAHP
CAHP
---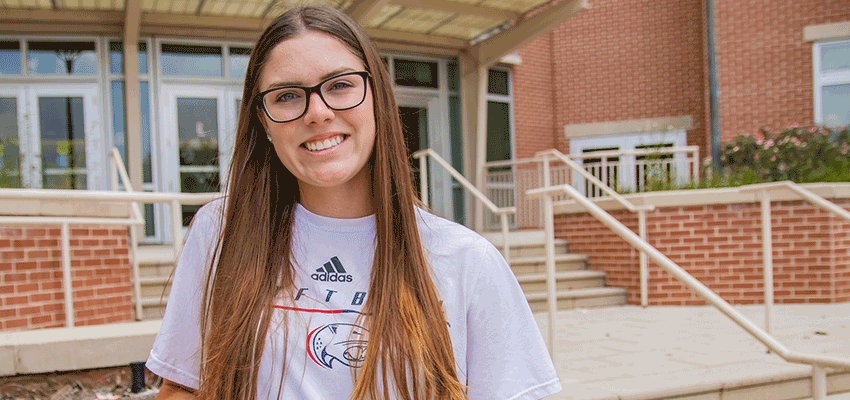 ---
The Fine U Foundation was founded in 2021 by biomedical sciences student and South Alabama softball pitcher Kaitlyn Hughes. The foundation was created with the mission to serve members in the special needs community by helping with the cost of medical expenses, equipment and therapy needs.
The idea of creating a foundation to support the special needs community came about after Kaitlyn's aunt Jennifer passed away in 2020. Jennifer had Down syndrome and was known for living a life full of happiness and love for others. Though her aunt was primarily nonverbal, Kaitlyn remembers Jennifer's most common response when asked how she was doing. Nearly every time, her aunt would reply, "Fine! You?" Thus, the Fine U Foundation got its name.
"She was hilarious. She was so funny. After watching my grandparents take care of her and seeing her interact with her friends and housemates at Rainbow Omega, I knew I had a heart for the special needs community. We were very blessed to have been able to send her there (Rainbow Omega), but a lot of people do not have the resources to send their children there," Kaitlyn said.
In April, the foundation hosted the Fine U Kickoff Charity Auction in Kaitlyn's hometown of Trussville, Alabama. The event was hosted by Ferus Artisan Ales and included a silent auction, donation opportunities and a special performance by 84 - A Van Halen Tribute at the Trussville Entertainment District.
In its kickoff fundraiser, the Fine U Foundation welcomed nearly 400 attendees and raised $5,801. These funds will go to serve families in need of help covering therapy costs, and the foundation has already been invited back to make the Fine U Charity Auction an annual event.
Between founding a nonprofit organization, studying for biomedical sciences exams, volunteering as a peer mentor with Passage USA and pitching for the Jaguars, Kaitlyn has limited time left on any given day, but she finds time for it all through her daily drive and a balanced schedule.
"I get up early and stay up late. I usually go to sleep around 11:30 p.m. and wake up around 6:30 a.m. A lot of my foundation stuff and personal religious things I will get done in the morning before class. I have a few breaks in the day, and I usually try to go and study during those breaks," Kaitlyn said.
Kaitlyn first became interested in attending South while being recruited by the South Alabama softball coaching staff, and once she visited campus, she knew it was the best place for her. Being a student athlete comes with its own challenges of staying in competition shape while also maintaining good grades, challenges that have been easier for Kaitlyn to take on with the support and kindness from faculty and the softball coaching staff.
"I have had great professors. Both of my organic professors were great and awesome to work with. I have a lot of friends at different colleges who have had very different stories of organic, so I've been very blessed with that," Kaitlyn said.
The environment created by her coaches has helped Kaitlyn and her teammates find a place where they feel welcomed and encouraged in everything they do. With minimal time to get involved in other organizations on campus, they have created what they consider to be their own sisterhood. Two teammates, recent graduate Kamdyn Kvistad and senior outfielder Victoria Ortiz, have even joined the board of directors of the Fine U Foundation.
While the Jags prepare for a new season of softball coming up in February, Kaitlyn will also be getting ready to take the Medical College Admission Test (MCAT) in January. She is on track to complete her bachelor's degree a semester early in December 2023 and hopes to begin medical school soon after graduation. She plans to specialize in either cardiology or neurology.
"I'd love to get in here (at South) because it's an area I'm comfortable with. Med school is med school, so wherever you get in is good," she said.
The Department of Biomedical Sciences educates students for successful health-related careers by providing instruction in core scientific content, encouraging critical thinking and providing active collaboration; it engages in hypothesis-driven research, embraces global diversity, and guides students to become life-long learners dedicated to enriching the scientific and healthcare community. To learn more about the Bachelor of Science in Biomedical Sciences program contact the Department of Biomedical Sciences.


What do you like to do outside of class and studying?
"I like to go to the beach. I like to read. Oh, and I look to shoot skeet."

What's your favorite place to study on campus?
"If I have free time, I'm likely in the library or the Center for Student-Athlete Success."

What is your best advice for incoming freshmen?
"Manage your time well. I personally found it's easier to use my small breaks throughout the day to get a lot of school done. If you're a social butterfly like me, then when it goes into night time and all your friends are going to dinner, I'm not going to study at that point. So, time management and also getting involved. It's so much easier to look forward to going to class every day if you put yourself out there and meet new people."

What is your favorite student activity/event at South?
"I enjoy FCA and working with Passage USA. They do a lot of fun stuff."

What mantra/motto inspires you each day?
"I'd say, 'Don't borrow tomorrow's trouble,' has gotten me through, especially when I start to get stressed out."

What is a fun fact about you?
"I ran over myself with a car when I was younger."

Do you have any hidden talents or skills?
"I can Irish jig. I took clogging when I was younger, and then I picked it up after that."


---
---