Student Spotlight: Kaylei Intellini
---
Posted on June 22, 2023 by CAHP
CAHP
---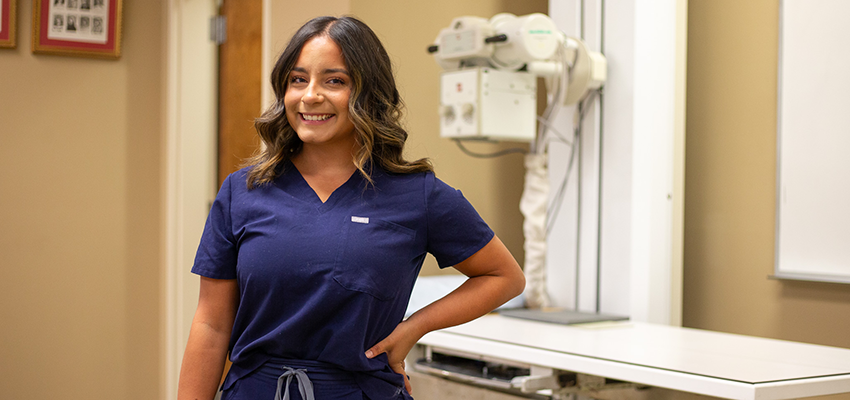 ---
For Kaylei Intellini, a passion for kindness and patient care came naturally.
With several family members working in the healthcare field, Kaylei took her admiration for their work and strived to make it a goal of her own. After seeing her mother working as a NICU nurse at USA Children's and Women's Hospital, her aunt working at the Mitchell Cancer Institute and her grandmother as a former nurse practitioner, Kaylei knew that she had the support needed to further her own education.
Kaylei is set to graduate with a bachelor's in radiologic sciences in July after walking in the Spring 2023 Commencement ceremony. She quickly found an interest in computed tomography when she entered the program.
"Just being a part of a medical field that you're directly helping patients is just really amazing to see. In CT, we're the front line of defense," Kaylei said.
While at South, Kaylei learned that confiding in her professors was the best thing she could have done when taking on unfamiliar settings and classwork. She made it an essential part of her everyday routine to always ask questions and make sure that she fully understands what is being taught. Learning strong study habits and investing enough time between class material was a key point in being a successful student.
"My biggest advice would be to really rely on the professors. That is a major thing for me. They want you to succeed. You really become close with them, and they want you to lean on them," she said. "They want you to go talk with them and review your test with them because they are going to help get you to where you need to be and set you up for success."
As Kaylei worked on building strong student-teacher bonds with her professors, she specifically relied on Missy Curtis, instructor of radiologic sciences, for guidance. Curtis quickly became a mentor inside and outside of the classroom for Kaylei, offering guidance on every aspect of life.
"I think the moment that I realized that this is a great field for me was when I was going through some personal hardships, and really the program itself, and the teachers were not only concerned with my academic performance but also my personal well-being. So, I couldn't have finished without these professors," Kaylei said.
Kaylei believes in prioritizing mental health and study breaks while also maintaining a steady school life. When Kaylei is not practicing her skills in clinicals, on campus or in class, she can easily be found at the beach with her friends, a football game at Hancock Whitney Stadium or reading the latest trending "BookTok" romance novel. On top of keeping up with her extracurriculars and academics, Kaylei is also the vice president of USA's Radiology Club.
As of right now, Kaylei is currently working for a local Mobile hospital. She has expressed interest in pediatrics, and is confident that the skills she has developed at South will help her be successful in whatever she does.
Looking forward to the future, Kaylei is excited for where life will bring her next.
"We go through different clinic sites while we're in the program, and I have to applaud them because it really helps you learn to adapt to different clinic sites and different personalities," she said. "It's setting you up for success once you get out into the real world."
The Department of Radiologic Sciences offers a Bachelor of Science in Radiologic Sciences degree that is designed to prepare students for a variety of clinical settings including, CT, MRI, vascular radiography, mammography, ultrasound, radiation therapy or radiology administration. To learn more, contact the Department of Radiologic Sciences at RadSci@SouthAlabama.edu.


What mantra/motto inspires you each day?
" With studying, I try to prioritize my well-being. I think being in a rigorous program like this, it is super easy to just stay up until four in the morning and pull an all-nighter. I think that in college there has to be a good balance. These are the 'best years of your life.' You want to have a good time and make good memories but there is a good happy medium."

What is your favorite place to study on campus?
" My second and third year here and throughout the program I lived in the Marx Library. My first year in the program I was at that library 24/7 because you really have to apply yourself so much more. It's like learning a whole new language. The second and the third floor were like my second homes. That Starbucks has probably half of my money."

What is your best advice to incoming radiologic sciences students?
" Start college with a really great foundation grade wise, and prepare yourself for time management. I think that my biggest downfall was procrastination. Honestly, it's still not even cured! Just try to develop really good study habits before you get into the program."


---
---