Physical Therapy Clinical Training Resumes in Italy
---
Posted on June 21, 2022 by CAHP
CAHP
---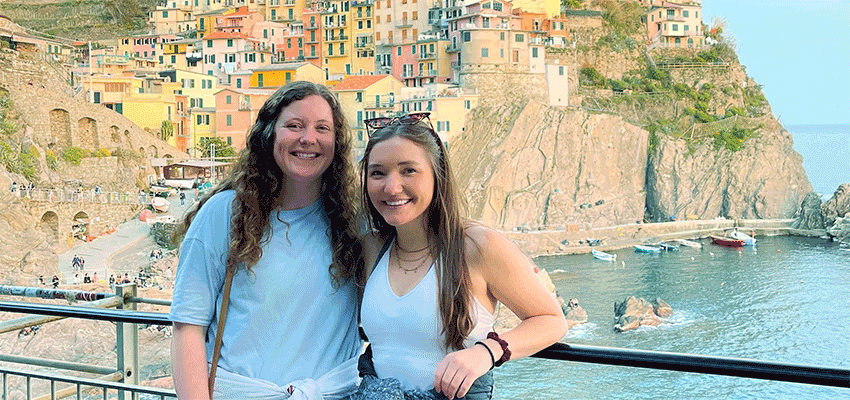 ---
During the Spring 2022 semester, physical therapy students Audrey Lewis and Neely Francis were presented with the opportunity to travel to Europe for a two-month clinical internship in Milan, Italy, through a clinical partnership with EduGlobal. It is a unique experience available to third-year students in the spring of their final year.
Audrey and Neely first heard about the internship opportunity from Dr. Kelly Jordan, director of clinical education and assistant professor, during their first semester of PT school and instantly knew it was something they wanted to do together.
The last time Dr. Jordan sent students to Italy for this internship was in the spring semester of 2020, so a new trip came with its doubts and hesitations after the impact COVID-19 had on countries around the world.
"Audrey and Neely were very flexible with the waiting period through COVID restrictions. They were open to changes and were able to gain a lot of experience with a wide variety of patients," said Dr. Jordan.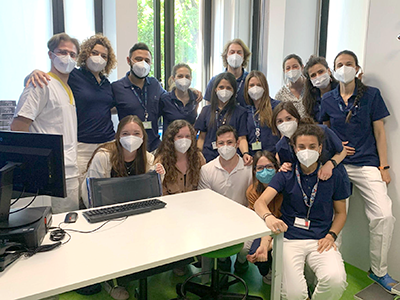 Following a few moments of uncertainty due to travel restrictions, both Audrey and Neely were elated to find out that they would be leaving for Italy on March 3. Moving to a new country, even for just a couple months, can be intimidating.
"We had to step out of our comfort zone because of the language barrier, but we learned how to adapt to it," said Neely.
Adjustments were made fairly quickly thanks to an easy move into an apartment provided by EduGlobal and occasional help from Google Translate.
The clinical experience in Italy was different from what both students had seen in their studies thus far. Unlike in the United States, pediatric and adult care in Italy are often provided by the same department and clinicians. Audrey and Neely were lucky to be placed with a group of clinicians that made them feel comfortable while working with a variety of patients and simultaneously learning new methods and techniques.
"The people we worked with were the most welcoming people I've ever met," said Neely.
During the internship, they enhanced their skills and developed new ones after being introduced to elements of hand therapy. They were even given the opportunity to create their own handmade splints. They were intrigued to find that the amount of medical documentation required is significantly different due to public health care being free in Italy. This limits the amount of paperwork needed from each patient.
After discovering differences in the clinical setting, they were pleasantly surprised to find that students in Italy are often learning from the Italian translation of the same textbooks as students at South. Outside of hand therapy, many of the techniques used in the clinics were also familiar to them. These similarities and the support of their clinical instructors established a deeper level of confidence for both students throughout their time in Italy, so much so that they encourage future physical therapy students to be open minded and jump at the chance to intern abroad.
Audrey and Neely did not miss out on the adventures either. They often spent their weekends traveling throughout Italy visiting cities like Rome, Florence and Venice. Between touring from city to city and indulging in Italian cuisine, they developed a newfound appreciation for living.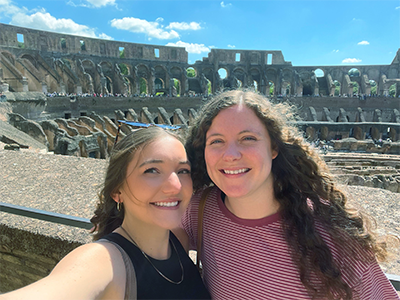 "It's a different way of life. In America it's like work, work, work. Italians like living. They appreciate things more. I feel like it's not as focused on work. It's more family based and laid back," said Audrey.
This became even more evident when their clinical instructors would regularly check on their well-being to ensure that they were enjoying the experience to its fullest.
They returned to the United States a week before Spring Commencement with added trust in their skills as physical therapists and a new respect for the little things in life. When asked if the right opportunity opened up for them to return to Italy for work would they go, they answered with a resounding yes. Until then, they would both like to keep taking new steps out of their comfort zones by moving to new cities around the United States.
"I would like to go out west," said Neely.
"I think I'd like the Carolinas, and at some point, I want to go to Texas," said Audrey.
Now, with their Doctor of Physical Therapy degrees in hand, who knows where they will end up next?
The Department of Physical Therapy offers a Doctor of Physical Therapy degree that is designed to prepare graduates for professional practice through significant hands-on physical therapy clinical practical labs and formal lectures/discussions led by faculty with experience in each clinical practice area, clinical problem solving activities, clinical research plus 34 weeks of full-time clinical internship supervised by licensed physical therapists. To learn more, contact the Department of Physical Therapy via email at ptdept@southalabama.edu.



---
---