Student Spotlight: Cameron McInnis
---
Posted on August 26, 2022 by CAHP
CAHP
---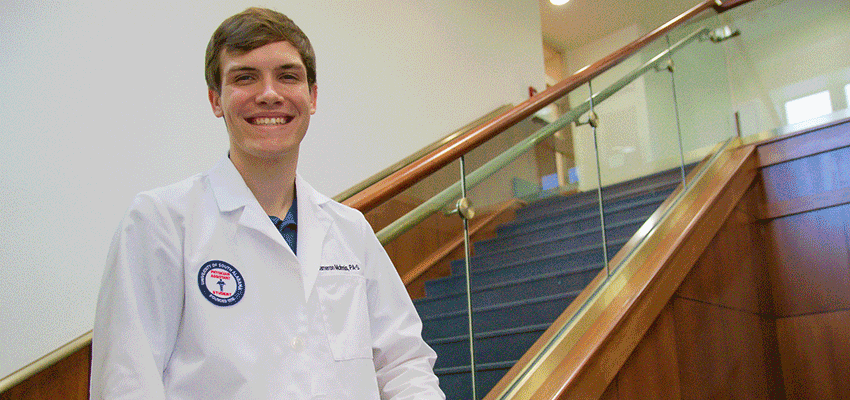 ---
Growing up in the city of Geneva, Alabama, recent physician assistant studies graduate Cameron McInnis first experienced healthcare in a unique way. His grandfather is the local veterinarian in Geneva and would often let Cameron assist with animal care and observe during surgical procedures.
"I loved it, but I decided I wanted to work with people. I just was not sure exactly what I wanted to do," he said.
In 9th grade, Cameron had the opportunity to shadow a local family medical doctor and a physician assistant in orthopedic surgery. That experience solidified his dream of working in healthcare and becoming a physician assistant. With the support of his family, he spent the next few years of high school in search of the perfect college for his future. He found his place at the University of South Alabama just a few hours away from home.
Cameron first started studying biology at South in 2016 and had the opportunity to take a few biomedical sciences courses in the Health Sciences Building. He often spent his free time volunteering, working as a certified nursing assistant and getting as much research experience as possible, so that he could stand out during the graduate program application process with the Department of Physician Assistant Studies, a program that receives more than 800 applicants each year.
Four years later, the Covey College of Allied Health Professions and the Department of Physician Assistant Studies became his home away from home as the journey to becoming a physician assistant began.
"All the classes prepared me perfectly for the PA program, and I love the facilities here," he said.
It is not easy to start a 27-month graduate program in the midst of a global pandemic, but Cameron and his classmates pulled it off with the support of faculty, family and friends. He developed a unique connection with one particular faculty member, Ms. Stephanie McGilvray, over their similar small-town backgrounds and dreams of branching out.
"They have all been instrumental in really preparing us to be competent PAs," he shared.
As they progress through the program, students experience working in the USA Simulation Program and engage in clinical practice in a variety of settings. During his first rotation of clinicals, Cameron spent time in the general surgery department at University Hospital, and he had the opportunity to spend a week in neurosurgery. It was in that one short week when he knew, without a doubt, that he wanted to work in neurosurgery, so it was only fitting that his final rotation of clinicals leading up to graduation was spent back in neurosurgery.
The final weekend of July was an especially busy one for Cameron as class president of the PA Class of 2022 and a soon-to-be husband. He celebrated and shared an encouraging speech with his fellow graduates at Convocation on Friday, July 29, and married physical therapy student, Cynthia Jesswein, on Saturday, July 30. He refers to the week leading up to both events as "the most stressful," but not many people can say they received their master's degree and got married all in the same weekend.
Soon after crossing the graduation stage and taking a walk down the aisle, Cameron will step into his career as a physician assistant working in neurosurgery at University Hospital and will be Cynthia's biggest fan as she finishes her final year in USA's physical therapy program. Several years of intensive studying, clinical rotations, wedding planning and a global pandemic have kept them pretty busy, so they are looking forward to the opportunity to explore Mobile and make this city their home.
The Department of Physician Assistant Studies offers a Master of Health Science in Physician Assistant Studies degree that provides students with comprehensive medical knowledge, skills, and attitudes enabling them to engage in clinical practice, and is designed to prepare the student for a variety of clinical practice settings. Graduates of the program develop advanced clinical problem-solving skills, in addition to acquiring technical proficiency in areas related to professional practice. To learn more, contact the Department of Physician Assistant Studies via email.


What do you like to do in your free time?
"When I have free time, I enjoy golfing or playing video games."
What organizations were you involved with at South?
"During undergrad, I was vice president of the Pre-PA Club, treasurer and vice president of the Red Cross Club and a part of Freshman Leadership. I also enjoyed volunteering with the Heart Walk and Kidney Walk."
What is your favorite place to study on campus?
"I enjoyed studying on the third or fourth floor of Marx Library. Sometimes I'd go to Starbucks in the library or right here in the allied health building."
What is your best advice for an incoming freshman?
"Be ready and be open to change, especially when it comes to what you are used to academically. College as a whole is a different beast."
What is your best advice for an incoming PA student?
"Be prepared for the amount of studying you have to do. Understand that you're learning to take care of people's lives, so there's a level of respect that you need to come into it with. Work hard to be the best PA you can be."
What is your favorite student activity/event at South?
"I enjoyed going to soccer and baseball. They were always easy games to get to."
What mantra/motto inspires you each day?
"It's probably 'Just keep swimming' by Dory in Finding Nemo. That's what has pulled me through a lot of this. They say PA school is like drinking from a fire hydrant, and it 100% is. You have to wake up and know that it's going to be a good day. Just keep swimming."
What is a fun fact about you?
"I have been to Hawaii and Alaska."
Do you have any hidden talents or skills?
"I can play acoustic guitar."
---
---