Mega Musical Chairs Raises $23,000 for Local Nonprofits
---
Posted on October 26, 2023 by CAHP
CAHP
---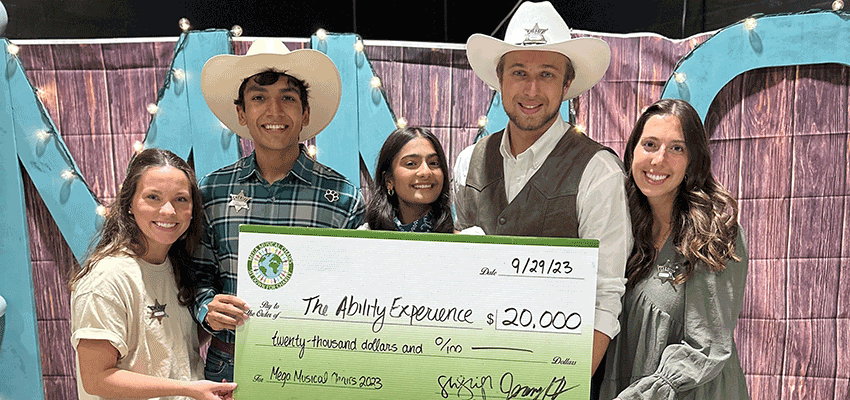 ---
Every year, USA's Alabama Zeta chapter of Alpha Epsilon Delta, or AED, the national health preprofessional honor society, hosts a night of Mega Musical Chairs, or MMC, to support local charities while enjoying a fun and competitive game of musical chairs with a twist. All proceeds go to the charity of the winner's choice.
While AED is known for being the largest student organization on campus with more than 500 active members, co-directors of MMC Shubha Singh and Jeremy Herren, advisors Andrea Vavrinek and Erin Schreck, along with AED president Neil Chaudhary are all connected to the Department of Biomedical Sciences through their major or minor.
With this opportunity to "sit for charity," AED hopes to foster friendly competition and philanthropic engagement between some of campus' biggest organizations. Since AED started Mega Musical Chairs, the event has continued to raise more and more funds for participating nonprofits each year.
This year, AED began planning this event in January with the goal to sell more tickets and raise more money than they did last year. With over 900 tickets sold and 15 local nonprofit organizations at the event, $23,000 was raised in total breaking all of their previous years' records.
"Planning the event is amazing. Andrea and I went through this hard planning process last year as emcees, and there are so many ups and downs that you'd never think you'll encounter when planning. Then, seeing it all come together and seeing like seven to eight hundred people showing up to an event being so passionate about these charities really makes you think 'Wow, this is happening. We put this on and made this happen!'," said Erin Schreck.
AED plays a key role in making sure MMC runs smoothly by hosting many events throughout the week leading up to the big night to help fundraise and spread the word. These events can range from bake sales, car washes, taco nights and more.
The first-place winner at Mega Musical Chairs 2023 was Matthew McGeehee, an associate member of Pi Kappa Phi Fraternity. Matthew has chosen to donate the $20,000 won to The Ability Experience, an organization helping empower individuals living with disabilities.
"MMC really couldn't be what it is without Greek life, but Greek life doesn't always win. So just as a special thank you, we're doing a sheet sign competition that is voted on by attendance. The winner gets a $500 donation to their philanthropy," said Jeremy Herren, MMC co-director.
This year's winners of the Greek life sheet sign competition were the brothers of Sigma Chi. The fraternity will be donating their $500 prize money to USA Children's and Women's Hospital.
"I think what makes it special for me is that it is an event that brings the entire community together. It's not just students. It's not just faculty. It's not just members of the community. It's all of the above and more. We have past students that come back to town in graduate school in different cities just for this event because it just unites so many people together for a great cause," said Neil Chaudhary, AED president.
Mega Musical Chairs is held every year during the fall semester. If you are interested in learning more about the next event or AED, be sure to follow their social media accounts so you can keep up to date with all the upcoming fun!
---
---