Student Spotlight: Kody Newell
---
Posted on August 9, 2022 by CAHP
CAHP
---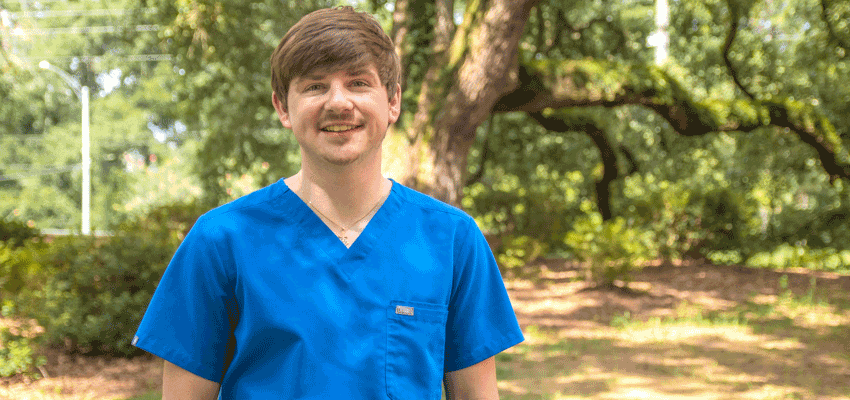 ---
For most of his life, recent graduate and Mobile native Kody Newell knew he wanted to study radiologic sciences at the University of South Alabama. South is the only university in the state of Alabama offering a bachelor's degree in radiologic sciences, but that was not the only reason he chose to stay close to home and study in the Department of Radiologic Sciences. It's in his blood.
In 1976, Dr. Charles Newell, Kody's cousin, helped found South's radiologic sciences department and acted as the chair of the department for nearly four decades. Later, Kody's mother graduated from South along with his aunt who completed her radiologic sciences degree in 2004 with a specialization in computed tomography.
"My aunt and I are really close. I knew I always had a passion to help others, and I found my way into radiology," he said.
With plenty of inspiration from his family, Kody began studying radiologic sciences in 2020 after spending the previous year completing certifications in the basic and advanced EMT certificate programs. He describes his experience in the College like a rollercoaster, a "great experience" full of high points and stressful moments. Like any health sciences program, radiologic sciences requires a lot of time and dedication, and that became even more true when Kody and his classmates had to take their first semester of classes online due to the COVID-19 pandemic.
There were plenty of challenges along the way and having to know every single bone in the body was just one of them. However, his background studying in the Department of Emergency Medical Services gave him a head start on the information he would later learn in radiologic sciences. Kody appreciated the support and encouragement from faculty and staff throughout his time in the program, especially that from Ms. Catherine Cooper, who he says may be one of the toughest teachers, but she also cares deeply about her students and their perspectives.
"She's very personable. She takes the student's point of view and explains it in a way that we can understand," he said.
Kody chose to specialize in computed tomography after shadowing his aunt and getting clinical experience in every modality through the program's curriculum. When he was not studying for exams, he was also working part time as a radiology technologist at local hospitals, including the Fanny Meisler Trauma Center at University Hospital. He participated in the Radiologic Sciences Club when time allowed and was inducted into the Alpha Eta Honors Society, the national honor society of allied health professions.
After completing his bachelor's degree during the Summer 2022 semester, Kody and his fellow graduates were recognized in a special Convocation ceremony on July 29 surrounded by family and friends. All of the experience he gained as a student and radiology technologist has prepared him for an easy transition into an already accepted full-time role in the trauma center at University Hospital as a computed tomography technologist.
It is an opportunity he believes will set him up for success no matter where life takes him, and wherever that is, Kody said one thing is certain, "Home will always be Mobile."
The Department of Radiologic Sciences offers a Bachelor of Science in Radiologic Sciences degree that is designed to prepare students for a variety of clinical settings including, CT, MRI, vascular radiography, mammography, ultrasound, radiation therapy or radiology administration. To learn more, contact the Department of Radiologic Sciences at RadSci@SouthAlabama.edu.


What do you like to do outside of class and studying?
"I like to spend time with friends and family, and I like to spend time out on the water. We used to go sailing a lot."
What's your favorite place to study on campus?
"I like to study on the fourth floor of Marx Library looking out the big windows."
What is your best advice for incoming freshmen?
"Don't be afraid to ask questions and get as much experience as you can. Be involved in clubs if you're able to."
What mantra/motto inspires you each day?
"Treat others as you want to be treated."
What is a fun fact about you?
"I have twin brothers."
Do you have any hidden talents or skills?
"I like sailing and have raced competitively."



---
---