Department of Radiologic Sciences Unveils New Equipment
---
Posted on October 31, 2022 by CAHP
CAHP
---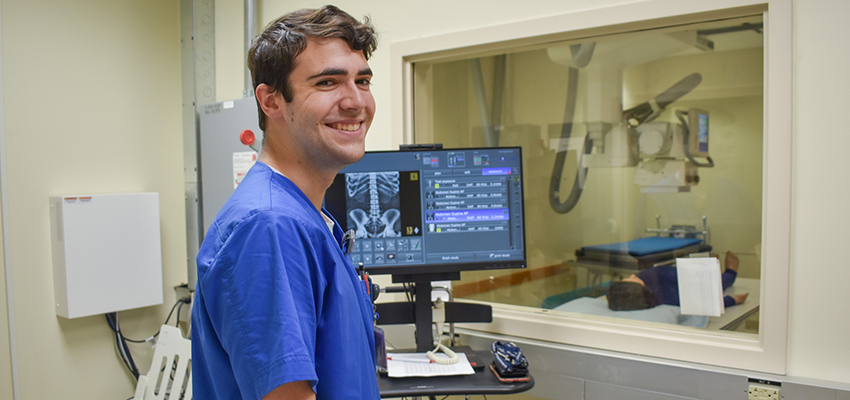 ---
The University of South Alabama Department of Radiologic Sciences has unveiled new, state-of-the-art equipment for the training of radiographers. The University and the Pat Capps Covey College of Allied Health Professions recently invested in the equipment to advance the undergraduate program and the training of radiographers in line with the fast changing, highly technical field of radiology.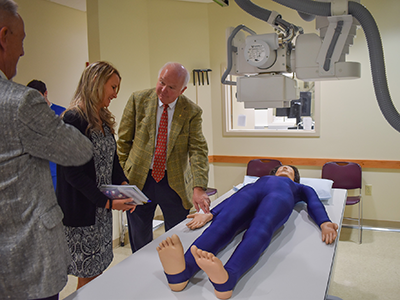 Acquiring new equipment has been on the mind of Dale Smith, department chair and senior instructor of radiologic sciences, for several years.
"It has been a goal of mine since I took on the position as Chair of the Department of Radiologic Sciences to replace our current equipment with more modern and current equipment that my students can be trained on," Dale Smith said.
With the new digital radiography equipment, students will have the opportunity to train on the same type of equipment that they will use on a daily basis once they start their first job. The equipment will also allow the department to provide imaging to the University community at the highest quality.
"I am really excited that the department got new equipment in some of the rooms, this way I can get practice with the type of equipment I use at my clinic site. It was perfect timing, since they were finished right when I started the program," junior radiologic sciences student Carter Mandy said.
The previous equipment used to train students ranged from 20 to 40 years old, and while it was sufficient for learning positioning skills, the new direct capture digital technology will give current and future students added confidence as they transition into their careers.
"The transition to the new equipment has been very smooth. I believe that it will make the transition to clinical experience better for future students," senior radiologic sciences student Michael Osmer said.
The Department of Radiologic Sciences offers several programs including an in-person Bachelor of Science in Radiologic Sciences degree program, an online RT to Bachelor of Science in Radiologic Sciences degree program and certification opportunities. The programs are designed to prepare students for a variety of clinical settings including, CT, MRI, vascular radiography, mammography, ultrasound, radiation therapy or radiology administration.
---
---