An Immersive, Study Abroad Experience in Kenya
---
Posted on August 29, 2023 by CAHP
CAHP
---
---
Students at the University of South Alabama are given many opportunities to study abroad throughout the school year. This year, Dr. Nancy Rice, department chair and professor of biomedical sciences, led several biomedical sciences students to Kasigau, Kenya, through a program titled "Partners in Caring: Medicine in Kenya'' (PiC:MiK). While this is only the second time students have participated in the PiC:MiK program, this was Dr. Rice's thirteenth time leading student groups to Kasigau. With Dr. Rice's history of research and experience in Kenya, the PiC:MiK program is based upon a long standing relationship with this specific rural area of Kenya.
During the three-week program, students partnered with Kenyan physicians and nurses in three rural villages and served over a thousand patients during a one-week clinic. This year, the program expanded to include an urban medicine component in Nairobi, partnering with Kenyatta University Teaching Research and Referral Hospital and Gertrude Children's Hospital. This allowed students to compare medical practice between urban and rural areas within Kenya.
This trip, for many students, became a significant milestone in their academic career. For Andrea Vavrinek and Alex Davis, biomedical sciences students, it was reaffirmed that they have picked the right major moving forward. From camping under the Kenyan night sky, trying new cuisine made of Kenyan food staples and waking up to volunteer in three different medical clinics each with their own unique aspects, these students were able to achieve hands-on experience they would not have otherwise had.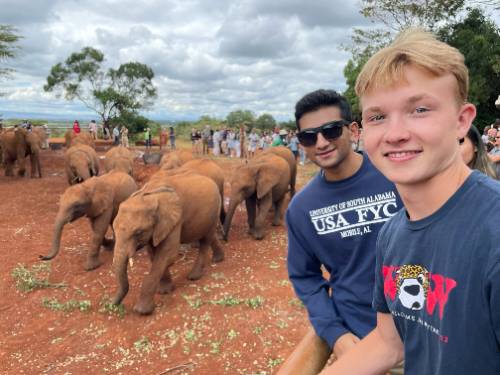 "I am now more focused on medicine than I ever have been before. I would love to go back to Kenya once I get a certification in my prospective field so that I can provide even more help to the people who need it the most," Alex said.
While each student had a unique experience, Andrea felt that this trip gave her more confidence and motivation to move forward with her interest in public and global health. Described as an eye-opening experience for her, she felt the trip allowed her and her peers to fully immerse themselves into the culture.
"Seeing what global health truly entailed, both the rewarding experiences as well as the realities of poverty and healthcare issues, only strengthened my desire to return one day with the qualifications needed to truly make a difference. Working towards becoming a physician, I am motivated by this study abroad program and incredibly grateful I had the opportunity to immerse myself in Kenyan culture," she said.
When asked to describe the trip in three words, Andrea shared "pole, pole", "karibu" and "resilience". Pole, pole, is a native phrase within the Swahili language that translates to "slowly, slowly" and Karibu means "welcome". Being able to fully adapt to Kenyan culture played a big role in the study abroad program.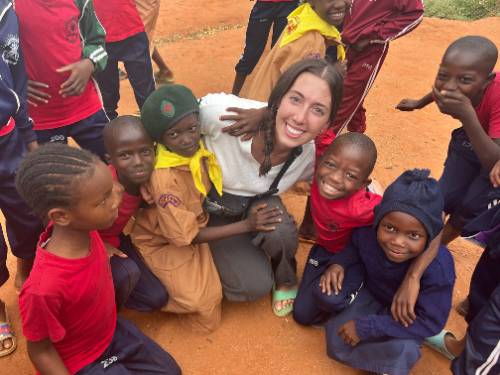 With the first two words stemming from the native language of Swahili, she felt that these most accurately described her experience because they were core values she learned to grow accustomed to. Being able to learn basic keywords and phrases helped Andrea feel more connected to the culture and gave more opportunities to communicate with patients.
"Kenyans were so excited to share their culture with us. From welcoming dances to songs, their excitement instilled a sense of cultural appreciation in us. While our cultures make us unique, we are all similar to humanity. To see these similarities and differences coincide was incredibly special," Andrea said.
On top of being able to learn more culturally, students spent their time bonding with the people of Kasigau and learning the importance of never taking their own resources provided in the states for granted. Working through various different clinics, each student learned unique aspects about the health systems of Kenya.
As for Alex, he describes the bonds made with patients while doing hands-on clinical work in all of the Kenyan clinics as something that has helped him become a brand-new person. From camping in the midst of the African bush to learning about pharmaceuticals from the Rukanga clinic pharmacist, Kennedy, each moment was special.
With each unique experience and lesson learned while spending time comparing medical practices between urban and rural areas in Kenya, students overall noted that the trip was special to them in more ways than one. The field experience, education and interactions with over 1,300 patients was an unforgettable turning point in their academic journey which gave them confidence in their futures as healthcare professionals.
How to Study Abroad
Study abroad programs at South fall into one of four categories: faculty-led programs, exchange programs, partner programs and direct enroll programs. Pre-health travel opportunities take place throughout the year and are often faculty-led like the recent programs in Kenya and Great Britain. Each of these programs offer a once in a lifetime travel experience.
"My trip to Kenya with Dr. Rice was truly a once in a lifetime experience. Since the trip, my perspective on the world and everyday problems has completely changed. I now feel like a brand-new person with a completely different mindset," Alex said.
Students can learn more about degree-specific study abroad opportunities by talking with their academic advisors and visiting the Study Abroad website. If you are interested in joining Dr. Rice on her next trip to Kasigau, Kenya, you can email her at nrice@southalabama.edu or contact the Office of International Education.
---
---