BMD Students Study Abroad in Kenya and Great Britain
---
Posted on August 25, 2022 by CAHP
CAHP
---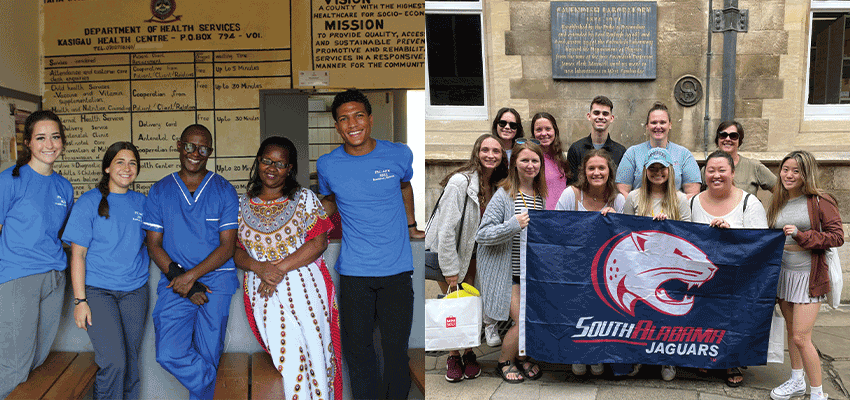 ---
Students at South have the opportunity to study abroad throughout the year, and with COVID-19 travel restrictions now being lifted in many countries, several biomedical sciences students and faculty jumped at the opportunity to travel to Kenya and Great Britain over the summer.
Kenya
The first biomedical sciences study abroad program of the summer took place in Kasigau, Kenya, and was led by Dr. Nancy Rice, department chair and professor of biomedical sciences. The program titled "Partners in Caring: Medicine in Kenya" (PiC:MiK) allows students the opportunity to assist in providing health care for individuals living in a very impoverished area of the country. They work closely with USA physicians and other Kenyan practitioners to help increase health promotion and disease prevention through community-based work.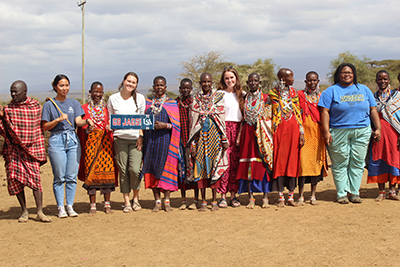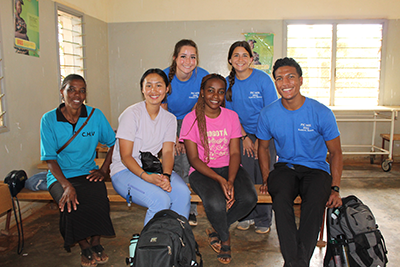 Through this immersive experience, students also learn about Kenyan history and culture, epidemiology of tropical disease, and the challenges that exist in providing care in resource limited settings. Many immersed themselves in the culture learning Kenyan traditions, trying new foods and making new friends along the way. The program provided an up close look at the career possibilities and opportunities for community impact that come along with a biomedical sciences degree. Biomedical sciences student Michael Alexander was inspired by the PiC:MiK program and felt that it reignited his passion for health care.
"My favorite experience in Kenya was having the chance to talk to Dr. Rice's friend, who is a native of Kenya and is a pharmacist. She went to a university in the U.S., practiced here for a bit, then returned to Kenya to continue her career. It was interesting to talk to her about her experience in a country (the U.S.) so different from her own. In Kenya, most people don't experience racism, instead they can be discriminated against based on tribalism where one tribe is more 'superior' than the other. That being said it was neat to hear her encounters of racism as I have experienced some myself being mixed," Alexander said.
Great Britain
The inaugural program to Great Britain titled "Contributions of Great Britain in Science and Medicine" gave students the opportunity to learn about milestones in the scientific and medical community that took place from antiquity to the modern age. The program was led by Dr. Alison Henry, biomedical sciences instructor.
The group spent two weeks visiting historical locations and learning about many individuals who impacted biomedical sciences like James Watson, Francis Crick and Rosalind Franklin, the three biochemists who contributed to the discovery of DNA and its double helix structure. Biomedical sciences student Erin Schreck found the program to be an eye-opening experience that solidified why she is interested in biomedical sciences.
"The experience of traveling with a group of individuals studying biomedical sciences was amazing. We were able to bounce ideas off of each other as we visited historical sites," Schreck said.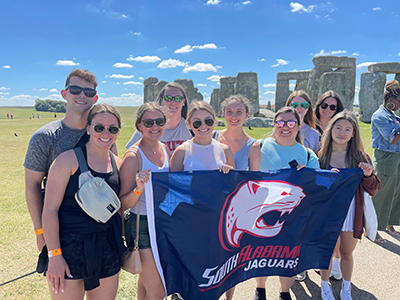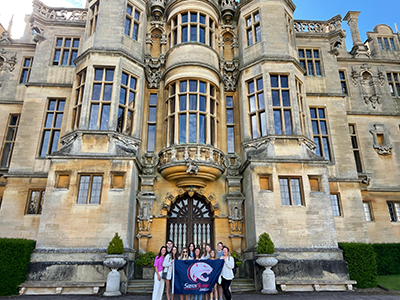 They also visited the Cavendish Laboratory, the Eagle Pub, Eyam and the childhood home of Sir Isaac Newton where he invented calculus and his laws of motion while hiding from the plague in Cambridge.
When they weren't visiting historical locations with scientific impact, the group had the opportunity to travel to see other famous landmarks like Big Ben, the Tower Bridge, Buckingham Palace and many more. They even took TJ the Traveling Jaguar along for many of their stops.
"My favorite tourist attraction was visiting Stonehenge and Bath. Stonehenge was amazing in itself, but being able to walk around the city of Bath and roaming around the Roman Baths were something I will never forget. I was immediately transformed to a time where the Romans would come and relax in all of the hot springs and baths," Shreck said.
How to Study Abroad
Study abroad programs at South fall into one of four categories: faculty-led programs, exchange programs, partner programs and direct enroll programs. Pre-health travel opportunities take place throughout the year and are often faculty-led like the recent programs in Kenya and Great Britain.
"I would say go for it! If you are able to afford it financially and it coincides with your course work, then why not? You will have an amazing time if you allow the program to do what it is intended to do," Alexander said.
Students can learn more about degree-specific study abroad opportunities by talking to their academic advisors and visiting the Study Abroad website.




---
---