Student Spotlight: Israel Valenzuela
---
Posted on March 29, 2023 by CAHP
CAHP
---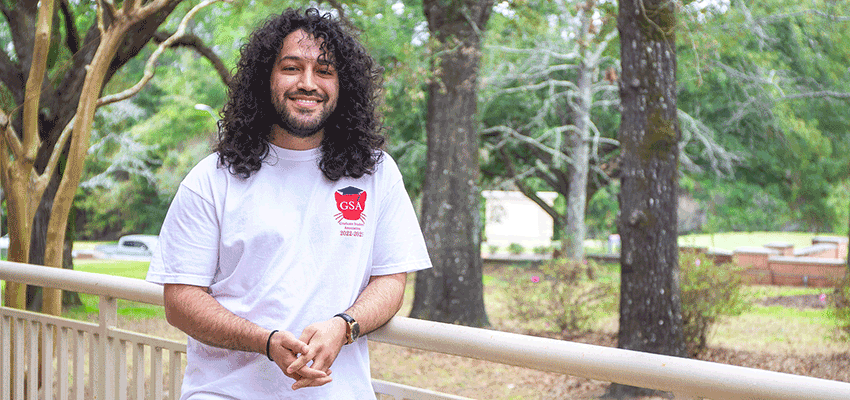 ---
Israel Valenzuela started at the University of South Alabama with a passion for music and wanting to help others. Moving from New Mexico to Ocean Springs, Mississippi, he picked South with his family's distance in mind. Family has been a key factor in Israel's life. Being the oldest of seven, he has learned the ropes of life and has had continuous support from both his siblings and his parents.
During his first four years at South, Israel pursued a bachelor's degree in music with a concentration in related sciences. After a gap year, Israel is now in his second semester with the biomedical sciences master's program on track to graduate in the fall of 2023.
Israel is within the first round of students that will complete the master's in biomedical sciences as it is a new program offered at South. Taking part in this huge accomplishment for both himself and the college has been a learning experience for everyone. However, Israel is excited to see himself and his peers succeed and continue to make history through their studies and work.
Music has always been a big part of Israel's life, and he credits his passion to his parents. Growing up, he learned to play the saxophone and piano and continues to practice them both today, playing piano at church every Sunday.
Israel's music major and related sciences concentration gave him the unique opportunity to live in his own element in both worlds of music and science. Israel was able to find a balance between the two different aspects, and there was an unexpected connection he found between the two. As part of their philanthropies, Israel volunteered with his music fraternity during undergrad at nursing homes.
"At one of the nursing homes we went to, the people didn't seem to want us there at first and were rolled out in this big lobby against their will," Israel said. "But after we did our set and sang, they all changed moods. They were really happy and a lot of them were saying how they felt very healed emotionally and spiritually."
It was then that he realized music is healing in its own way and made his decision to pursue a master's degree in biomedical sciences while continuing to pursue music.
Israel also considers himself to be an aspiring botanist and loves to take care of plants that he has nurtured and grown in his free time. Between his interest in music healing others, his interest in biomedical sciences and taking care of his plants, Israel can be described as someone who is always wanting to lend a helping hand to others.
"I did have an idea of wanting to go into some kind of healthcare field, but at that moment, I realized that music does have an emotional and spiritual healing, but I wanted more of a direct physical and hands-on impact so I thought this program was a very good segue into med school," he said.
Along with attending labs and classes, Israel works as a research assistant at the Mitchell Cancer Institute studying DNA repairment and assisting in additional research focused on cancer and treatment. After completing his master's degree, Israel hopes to attend medical school and continue his pursuit of a career where he can have impactful interactions with patients and model the research he has spent time assisting.
The Department of Biomedical Sciences educates students for successful health-related careers by providing instruction in core scientific content, encouraging critical thinking and providing active collaboration; it engages in hypothesis-driven research, embraces global diversity, and guides students to become life-long learners dedicated to enriching the scientific and healthcare community. To learn more about the Master of Science in Biomedical Sciences program contact the Department of Biomedical Sciences.



---
---