Student Spotlight: Courtney Weaver
---
Posted on July 18, 2022 by CAHP
CAHP
---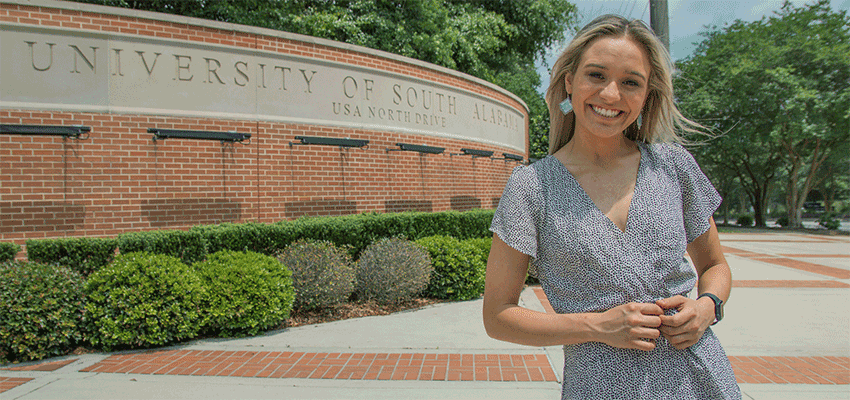 ---
With a love for people and communities close to home in Satsuma, Alabama, occupational therapy student Courtney Weaver wanted to attend college on the Gulf Coast. Growing up, she always knew the University of South Alabama was close by but really became familiar with campus in 2016 while taking a drama class for high school credit. A positive experience in that class and a desire to remain close to her family motivated her to learn more about South.
"It was going to be up to me to pay for school, and I wanted to make the best choice," she said.
Courtney began studying for her undergraduate degree in the Covey College of Allied Health Professions in the fall of 2017. For the longest time, she thought she hated science, but South's programs and the hands-on learning opportunities opened her eyes to new career paths in health care that quickly drew her interest. After working her way through school and graduating with a bachelor's degree in speech and hearing sciences, Courtney had to spend time deciding which direction she wanted to go next for graduate school.
As someone who has never met a stranger, Courtney had always been intrigued by the opportunity to travel, meet new people every day and serve communities through occupational therapy, so when she was presented with the opportunity to shadow an occupational therapist in the clinical setting, she happily accepted. It was that personal experience and the shared occupational therapy experiences of a close friend that solidified her love for the field, but acceptance into South's graduate program took extra work.
"During COVID, I took four classes to get my GPA up over the summer, so that I could get into the program," she said.
Encouraging words and support from faculty and academic advisors have motivated her every step of the way. She especially appreciates the guidance from one specific academic advisor, Brittney Day, who has impacted her since the beginning of her undergraduate studies, so much so that she recalls begging her to remain her advisor when she made the decision to change her undergraduate major.
"They don't leave you out to flounder. The academic advisors and counselors really do try to get students to where they want to be in careers they enjoy," she said.
When she's not studying or making new friends around campus, Courtney is passionate about sharing her story as a member of the MoWa Band of Choctaw Indians. The MoWa band originated along the Mobile and Washington County lines, and many still reside along the Mobile and Tombigbee rivers today. While she was not raised with the tribe, Courtney's father and uncles have always been connected, and she and her family often participate in tribe activities throughout the year. She is the twelfth of 14 children, so at a young age, she quickly learned the importance of being able to work well with others and strive for great things in life.
Courtney approaches every interaction with a friendly smile and a level of enthusiasm that often leads people to quickly feel comfortable around her, a skill that she says she got from both of her parents. Her evident appreciation for life overflows into everything that she does, including a recent poetic moment at the Alabama Head Injury Foundation's Bright Ideas Traumatic Brain Injury Camp where she wrote a custom tribute for a survivor attending the camp.
"The Bright Ideas TBI Camp gave me the opportunity to utilize the skills that I've accumulated throughout occupational therapy school. It gave me a peek into my future, and I discovered that it will be so much more than what I could have ever imagined. The impact I have on the lives of my clients will be nothing compared to the impact they have on mine. I am thankful that I got to be a part of this unique experience and that I was able to learn and grow with fellow occupational therapy students, as well as students in the speech, audiology and physical therapy departments here at South," she said.
With hours of coursework under her belt and more to come, Courtney will soon be heading into clinical rotations and fieldwork. By December of 2023, she will graduate with a Master of Science in Occupational Therapy degree and will be ready to meet the occupational needs of communities wherever life takes her next.
The Department of Occupational Therapy offers a Master of Science in Occupational Therapy degree that is designed to prepare graduates for professional practice through didactic, laboratory and clinical education in all facets of entry-level occupational therapy practice. Program graduates are highly sought and recruited by employers in a variety of healthcare and community settings. To learn more, contact the Department of Occupational Therapy at otdept@southalabama.edu.
What's your favorite place to study on campus?
"I can't stay in one space for long, so I like to study in different places. I'll study in the library on campus sometimes, but I really like to go to the Fairhope Pier, Greer's rooftop in Downtown Mobile or any coffee spots. A lot of those places have free wifi."
What is your best advice for incoming students?
"Say yes to experiences. If the reason you're saying no is fear, do it. Now is the perfect time to discover new things about yourself."
What is your favorite student activity/event at South?
"I worked a lot during my undergrad, but I always enjoyed intramural sports and USA Day."
What motto inspires you each day?
"You're the main character of your story, so don't make yourself miserable for someone when you're not even an extra in theirs. Be kind. Be honest. Even when it's tough. Make people feel important, but know you don't have to give your peace away. The trick is finding the balance and learning to say no. Most importantly, be yourself."
What is a fun fact about you?
"I don't eat anything that falls in the categories of both cooked and orange."
What is a hidden talent or skill that you have?
"I enjoy writing poetry and spoken word."
---
---