Welcome from the Director: A Pandemic Update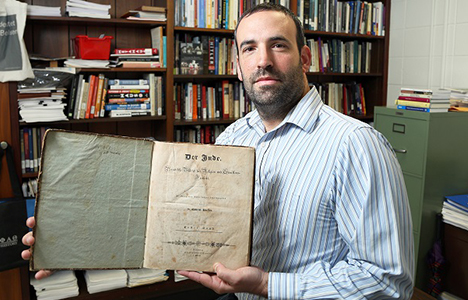 ---
As I sit here in April 2021 writing this message, I cannot but think of the past year and half and all of the struggles and hardships that so many of our students and community members have had. The global pandemic has reshaped the world - it has changed relationships, it has changed how companies do business, it has had a profound effect on politics in the United States and around the globe. It is hard to imagine that anyone has not been affected by what has transpired.
For us here at the University of South Alabama, teaching has been turned upside-down: relationships with students have changed significantly and how we deliver content has also transformed. Some of the changes need to go back from whence they came, others are here to stay. Nonetheless, education will be different going forward and how we think about education will also need to adapt to our new reality.
For the broader community, the continued systemic violence against persons of color is an issue that is necessarily again in the headlines. As I write, the trial of former Minneapolis police officer Derek Chauvin is ongoing, and his transgressions against George Floyd are being broadcast for all to see; but this is just the tip of the iceberg. For those not yet aware, the University of South Alabama has recently had its own issues with the publication of a 2014 photo from a party at the Mitchell College of Business, where three professors were either dressed up in Confederate garb and/or were holding nooses. This comes only two years after a noose was found tied up outside the dining hall and a swastika was found inside a classroom the morning after I had used that room. At our university, which has over 20% students of color, such actions (and the beliefs behind them) make our campus less inclusive and more hostile. That needs to change. Now! Overall, the oppression, subjugation, suspicion, denigration, and disenfranchisement of our black brothers and sisters needs to stop. It is the only way forward, and I hope changes are made expediently.
The question for us all is: how can we help, and how do we effect change within our own communities? Is education--my own profession--enough to bring changes to broader society? Need we do more with--not ask more of--our students in order to make a mark. Do we aim for a larger effect, or do we look for those small acts that have a cumulative effect?

As I think about everything going on, I have spent time over the past year an a half preparing for teaching my "Intro to Jewish & Holocaust Studies" course (JHS 101), and I cannot but see my role as having changed. Certainly, teaching Jewish history, antisemitism, and the Holocaust are central to my mission, but so too are the values that I have cherished my entire life - those values that we learn as kids and only really, truly understand when we have positions that can effect change. I am thinking about the concepts of Tikkun Olam and Tzedakah. The former, which means "repairing the world," and the latter, which means "righteousness, or justice (but is often mistranslated as "charity"), work in tandem with each other. It was those two concepts that certainly led Andrew Goodman and Michael Henry Schwerner to journey with James Earl Chaney to Mississippi to help Black Americans during the Freedom Summer in their struggle to overturn Jim Crow and segregation. It is these concepts that leads so many Jewish Americans to advocate for equality and equity then and now. It is in this spirit that I support my colleagues' effort to reform processes and the culture at USA, and will work with them to help effect change: both on campus and in the community. And it is these concepts that has led me to include a community engagement requirement in my JHS 101 course. But it is not just a requirement for them - I will also participate and do more to make our community a better place.

Yesterday evening (April 7, 2021), I took part in a Yom Ha'Shoah commemoration by the Mobile community, and teaching about the Holocaust, about its antecedents and consequences, remains as important as ever. As antisemitic incidents continue to trend upward--nationally , regionally, and locally--and as the Holocaust survivor community continues to dwindle, education and bringing knowledge of these atrocities (against Jews and others - Afro-Germans, Roma/Sinti, the mentally and physically disabled, communists, Jehovah's witnesses, etc.) to schools, universities, and communities is more important than ever. I am proud to support the push by the Alabama Holocaust Commission (of which I am a Gubernatorial appointee) to include Holocaust education as part of the state social studies standards. I look forward to helping communities -- and their teachers -- prepare and include this important information.
Another development in Alabama that is positive is the reception that I have had from other Jewish and German Studies professors in creating a state-wide seminar that will teach the history of Antisemitism. This seminar aims to bring upper-level students together to learn from five experts who will present conceptual, intellectual, and historical knowledge going back to the origins of many antisemitic myths, how these ideas are perpetuated today, and the relationship to other racisms. Students from all five campuses will be expected to convene with their professors to build a scholarly community and present their own research. Details are currently being worked out, but all of the professors--and their universities--are excited to offer such a course in Spring 2022.