Welcome from the Director: Why Minor in Jewish Studies?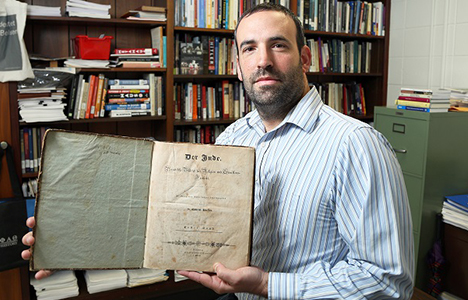 ---
Greetings y'all!
I would like to thank you for taking the time to peruse this page and for showing interest in our program. We are excited to be expanding program and course offerings at USA, and I am especially excited to bring both the history and culture of the Jewish people to USA students, the University community, and the greater Gulf Coast!
Having lived here in Mobile for nearly five years, I can tell you about the great enthusiasm that I have seen among students, faculty, and community members for this program and the programming that we anticipate bringing to town. We have already achieved many great things in the past three years (please see our past events page!) and we hope to put on more events in the near future.
This program, along with the support of the administration and the community, will hopefully become a "beacon upon the hill" that fosters tolerance, acceptance, understanding, friendship, cooperation, dialogue, and mutual respect. Along with my friends and partners in Gender Studies, African-American Studies, Religious Studies, and Native American Studies, my colleagues in the History Department, as well as my colleagues throughout the Arts & Sciences, we intend on making USA a great place for students to learn about diversity and the panoply of cultures that build the tapestry of our lives. Learning about Jewish history and culture, in combination with that of others, will hopefully be a first step in opening peoples' hearts and minds.
As I do in my own research, Jewish history is more than a lachrymose one beset by expulsions, violence, and death—it is also a story of many successes. My students in HY382 (Jewish Americans and Modern American Culture) learn of the many contributions of Jewish Americans to the entertainment world and to American culture as a whole. I have also been invited to speak in the Middle East Politics class, where I spoke about the development of Zionism and of the successful creation of the State of Israel in 1948.
However, these moments are also tempered by our dedication to educating students and the community about the injustices and violent genocides of people around the world—both in the past and today. Of course, as part of your studies here, students will take a required course on the History of the Holocaust—the slaughter of approximately six million Jews and hundreds of thousands of others (homosexuals, Roma/Sinti, and mentally and physically disabled)—and students can complement and further their studies by taking courses that tackle violence and Genocide, as well as other courses that will tackle the Holocaust from different disciplinary and thematic approaches. We are supported in our endeavor by a supportive community that has dedicated itself to Holocaust education, especially our partners at the Gulf Coast Center for Holocaust and Human Rights Education.
For the moment, we are concentrating on building our minor, which fits in well for those students throughout the humanities, as all of our current courses will draw from those faculty specialties. Who knows where this will lead? For those of you interested in pursuing a graduate degree (M.A.) in History with a focus on Jewish Studies or Genocide & Holocaust Studies, please inquire with me or with Dr. David Messenger, the Chair of the History Department. We would be more than happy to let you know about our program.
Please take a moment to look around, and please drop a line if you are interested in our program or any of our events.
Cheers,
Dr. David Meola
dameola@southalabama.edu