Furno Awarded New Mathematics and Physical Sciences Grant
---
Posted on December 12, 2022 by Arts and Sciences
Arts and Sciences
---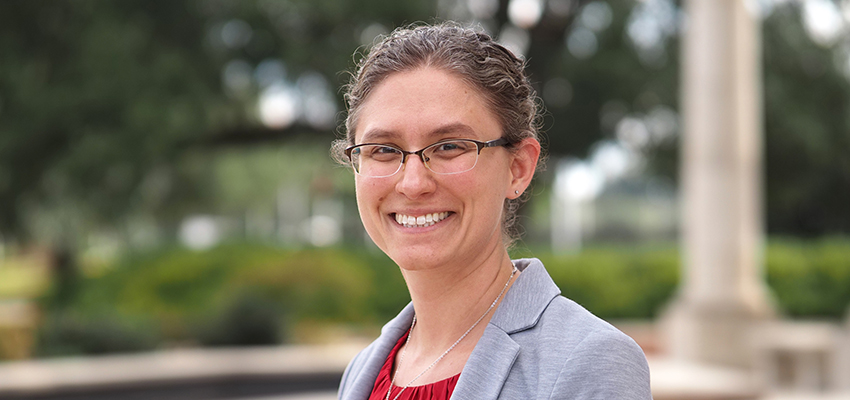 ---
Dr. Joanna Furno, assistant professor in the Department of Mathematics and Statistics at the University of South Alabama, was awarded a $248,979 National Science Foundation grant for a new project titled "Launching Early-Career Academic Pathways in the Mathematical and Physical Sciences."
"We are extremely proud of Dr. Furno, as she is the only recipient of this prestigious and highly competitive award in the state of Alabama," said Dr. Cornelius Pillen, acting chair of the Department of Mathematics and Statistics. "The grant will also allow her to grow an already impressive research program in the area of dynamical systems."
The award supports the research of pre-tenure faculty in the field of mathematical and physical sciences. Preference is given to minority-serving institutions, predominantly undergraduate institutions and high research universities.
"As part of the grant project, we also plan to bring minority students from Mobile middle schools to South's campus for a math enrichment program," Pillen said.
The department hopes to achieve excellence through diversity and aims to broaden participation to include members of all ethnic backgrounds, specifically those who are underrepresented in the field.
The grant project will also fund recruitment efforts to attract potential teacher candidates in the spring semester during the final semester of their bachelor's degree studies in a STEM (science, technology, engineering and mathematics) field.
"We have a master's program in the department, and this grant may be used to provide summer funding to do research and travel funding to go to conferences," Furno said.
Both undergraduate and graduate students will have the opportunity to participate in new research as part of the grant. A funded summer program, Math Corps, will also provide more opportunities for students and faculty members to engage with middle and high school students from underserved schools in Mobile County.
"I am excited for the opportunity to start a branch of the Math Corps at South," Furno said. "This enrichment and mentoring program for underserved students is especially relevant as we see the impacts of the pandemic on learning."
This early-career grant will allow Furno to work more hands-on with students and increase her research output. She also hopes to present her work at more conferences, which will increase her competitiveness for future grants.
"My students and colleagues are great people to work with," Furno said. "South has provided several professional development and funding opportunities that helped me get established here and successfully apply for this grant."
Furno earned a Ph.D. in Mathematics from the University of North Carolina Chapel Hill and a Bachelor of Science in Mathematics from Wisconsin Lutheran College in Milwaukee. Prior to starting her current job at South, Furno served as an assistant professor at DePaul University in Chicago, research associate and lecturer at University of Houston Houston, postdoctoral fellow at Indiana University–Purdue University Indianapolis, visiting assistant professor of mathematics at Wesleyan University in Connecticut, and visiting assistant professor at Dickinson College in Pennsylvania.
"Mathematics is exciting when concepts fit together, especially when you can come to the same conclusion through several different paths of reasoning," Furno said. "I decided to pursue a Ph.D. because my undergraduate courses showed me that what I was learning was a small part of a larger landscape. Now, I have the pleasure of guiding students through parts of that landscape in my teaching and exploring uncharted territory in my research."
---
---