Clinic Services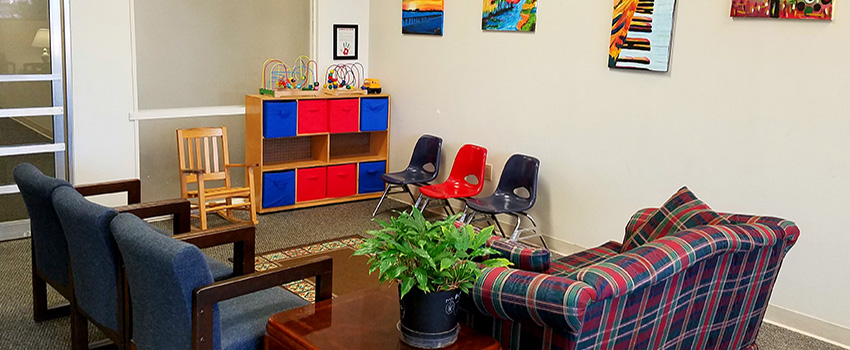 Therapy Services:
Individual Therapy (Adult and Child)
Individual therapy is best described as therapy that focuses on one individual's needs in the areas of behavior, emotion, growth, or skill development. Such services may include adjustment to work or life situations, coping with a loss, depression, anxiety, stress, anger, getting over a fear, managing a medical illness, learning positive thinking, or stopping self-injury. These services, while individual, may involve work with others, particularly when a child the individual with behavioral concerns (i.e., bedwetting, sleep problems, compliance issues, school-related concerns). These services are generally scheduled on a weekly basis (about 50 minutes), and typically last between 6 and 20 sessions.
Family Therapy
Family therapy is best described as therapy that focuses on the growth of a family based on each member's needs, or in the family group response to an individual member's needs. Such services may include adjustment to separation/divorce, coping with loss, behavioral and conduct problems, coping with a medical illness, effective parenting strategies, or responding to a family member's needs. These services involve all the members of a family. These services are generally scheduled on a weekly basis, and typically last between 6 and 20 sessions.
Couples/Marital Therapy
Couples and Marital Therapies involve partners actively working to address issues within their relationship. These services may involve both persons meeting together, as well as some individual sessions, and typically target relationship concerns and needs, as well as adjustment to life situations. These services are generally scheduled on a weekly basis (about 50 minutes), and typically last between 4 and 20 sessions.
Group Therapy
Group therapies tend to focus on a building a particular skill set, such as Social Skills for Children, Mindfulness Based Stress Reduction for Adults, or Coping with Depression. Generally, individuals participating in these groups are addressing specific goals, and may often also be involved in other therapies such as individual or
marital counseling. These services are scheduled weekly, and generally groups enroll together for an 8-10 week series.
Parent Child Interaction Therapy (PCIT)
The PCIT Specialty service serves children functioning between the ages of 2-6 years and their families. PCIT services have been found most effective in treating children with disruptive behavior problems (ADHD, Oppositional Defiant Disorder), but may also benefit children with Autism Spectrum Disorders, developmental disabilities, anxiety, or mood problems. PCIT works with the child and caregivers together to improve overall behavior and to reduce parenting stress. PCIT requires a 12-20 week commitment by the caregiver and child with one session per week.
For information about PCIT, please visit the Healthy Youth and Families website.
---
Evaluations and Assessments:
Autism Spectrum Disorder Evaluations
Autism Spectrum Disorder is a life long disability which affects daily functioning in multiple areas of a child's life. The USA Psychology Clinic conducts comprehensive evaluations for autism and other developmental disabilities, which may cover the areas of provide cognitive, academic, adaptive, and social functioning.
Psychoeducational Evaluations for Learning and Attentional Disorders (LD/ADHD)
We offer comprehensive evaluations and consultations for youth and adults who present with problems such as inattention, hyperactivity, impulsivity, and academic difficulties or underachievement. USA students are often referred from Disability Services or the Student Health Service in order to assist students with academic accommodations. The evaluation involves an extensive interview, formal testing, and a report summarizing testing results and recommendations.
Neuropsychological Evaluations
A neuropsychological assessment is a battery of tests designed to help us determine how your brain is functioning in multiple areas (e.g.,cognitive, motor/sensory, and emotional functioning). We integrate test results with current and past symptoms, clinical observations, medical information, and developmental and social history to discover your personal strengths and weaknesses and make accurate diagnoses and recommendations. Testing is comprehensive and will take several hours. Once we have identified specific areas that you may need help in, we meet to discuss findings, diagnoses, and recommendations
Gifted & Talented Evaluations
Gifted & Talented children have abilities, talents, and potential for accomplishments to an extent that they require special provisions to meet their needs.
Psychological Evaluations
Comprehensive psychological evaluations can help pinpoint social and/or emotional difficulties in youth and adults.
School or Family Observations
Observations are typically utilized to support other evaluations to ensure that results obtained in the clinic setting are reflective of the child's real-life difficulties