A Second Chance at Life Points South
---
Posted on August 28, 2018 by Joy Washington
Joy Washington
---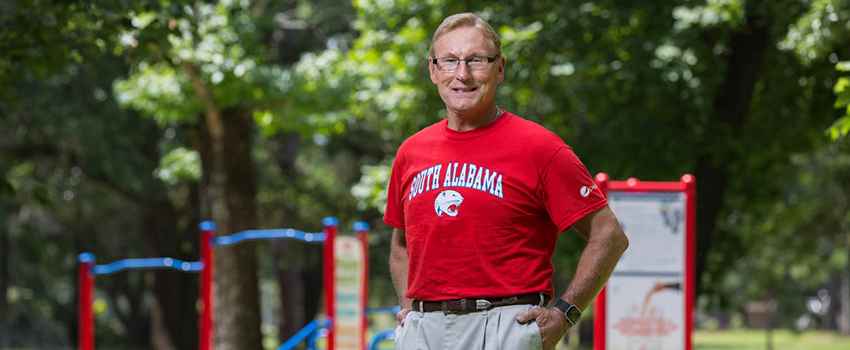 Fred Kelley turned to exercise to improve his life following a heart attack in 2000. This fall he enrolled at South and is taking online classes toward a college degree.
---
Fred Kelley is an inspiration and a celebrity to many in his home city of Monroeville, Ala. He's a longtime radio station announcer there, and he's gained notoriety by bicycling 90 miles to Mobile to raise money for cancer research. After having a life-threatening heart attack, he changed his lifestyle by exercising and eating healthier. Now he's ready to fulfill a lifelong goal to continue his education at the University of South Alabama.
Kelley, who holds an associate's degree, will start studying online this fall to earn a bachelor's degree in interdisciplinary studies in the integrative studies department of USA's College of Education and Professional Studies.
"I decided to make a complete lifestyle change by adding exercise and learning how to use food to help boost my energy and strength levels, which helped me feel better. I didn't plan to fundraise with a health focus, but I am so happy to have been able to help myself, while supporting my community," he said. "I think my life was spared to help others. I am trying to better myself by earning this degree at South. I am so glad they have welcomed me and been so kind and helpful. I have my t-shirt. I am an official Jaguar."
Dr. Paige Vitulli, chair of integrative studies and associate professor in the department of leadership and teacher education, said the college is more than teacher education. Two of the newest programs in the college are interdisciplinary studies and hospitality and tourism management.
"Our broad focus is giving students numerous course and career options," Vitulli said. "Our interdisciplinary studies program is individualized. It gives students like Fred an opportunity to pursue their interests. We allow our students to incorporate different disciplines and embark on an educational experience that is not limited to one major. And for working adults who are considering going back to college, this is a great option. This is a flexible degree program that helps our students receive the special attention they need to achieve a bachelor's degree."
A 1975 graduate of Thomasville High School, Kelley works for South Alabama Gas as a marketing director in Monroeville. After helping to raise his daughter, and seeking to get healthier after his heart attack, he longed to go back to college and earn a bachelor's degree. The memory of what he's been through to heal from his heart attack has helped him stay on track with achieving his health and life goals.
"In March of 2000, after eating a double cheeseburger and large fries for lunch, I started having chest pains," Kelley said. "I asked my co-worker to drive me to the Monroe County Hospital, where they determined I was having a heart attack. They prepared me for transportation to a hospital in Mobile, and I saw my daughter as they closed the ambulance door. I didn't think I was going to live to see her again. I made my peace with God. And I asked if he would help me to live, I would do my part to change my lifestyle. I can't believe 18 years later, I am still here, and I am about to start college at South. "
Before Kelley was able to focus on earning his college degree, he prioritized by trying to do his best to get healthier. He weighed 308 pounds at the time of his heart attack, which motivated him to lose 128 pounds. He started to walk, building up to more than 6,000 steps a day. He signed up and walked in the Azalea Trail Run. And from there, Kelley started supporting community organizations by helping to raise nearly $1 million to fight cancer by participating in a "Pedaling for a Cure" fundraiser. For more than 10 years, he and several of his friends bicycled from Monroeville to the USS Alabama Battleship Park in Mobile.
Kelley, who recently turned 62, reached out to South Alabama and connected with Diane Harvey, academic advisor and certified career and education advisor, and mentioned he wanted to earn his bachelor's degree.
"It's my pleasure as a graduate of this program to serve as a support system to Fred and all of our students. We have seven different concentrations. We ask our students 'What are your education and career goals?' This helps us better meet their needs," Harvey said. "Fred has that positive energy and great determination. During orientation, we got to share important information and give him a tour of campus. And this is just the beginning. Our goal is to make this a great educational experience for Fred, and all of our students."
---
---