One Last Breath, Then Resolute Steps Forward
---
Posted on September 6, 2019 by Joy Washington
Joy Washington
---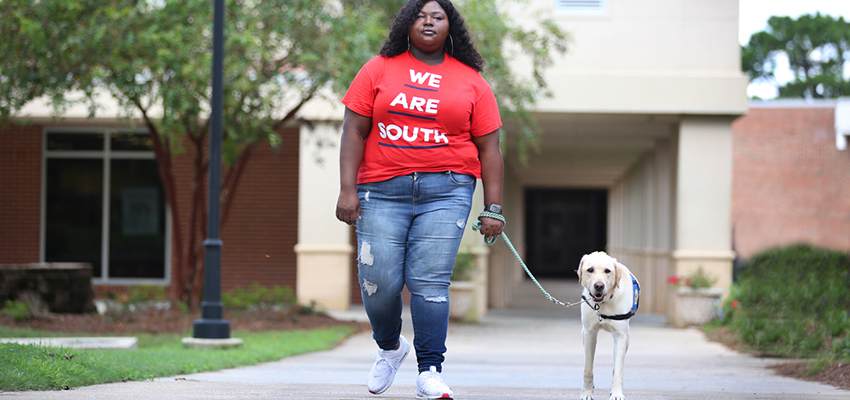 Kearria Freed, a transfer student pursuing a degree in interdisciplinary studies, uses Darling, her 2-year-old Labrador/Golden Retriever service dog, to navigate life after she was critically wounded in a shooting four years ago. "What I love most about Darling is that she doesn't judge me because of my disability. Instead, she gives me unconditional love and affection," Freed said.
---
With the will power to live and walk again after being shot at a Panama City Beach spring break party in 2015, Kearria Freed, 24, of Mobile is a walking miracle. She is taking on a new opportunity of continuing her college studies as a transfer student in the University of South Alabama's Pathway Program.
Pathway USA, which began in 2016, is a collaborative program between South Alabama and partnering regional two-year colleges. The program is structured to support a smooth transition for students who are transferring to South and have earned an associate degree. Freed just completed two years at Bishop State. This fall, she is at South Alabama majoring in interdisciplinary studies with a concentration in human services. Once she graduates, Freed hopes to become a rehabilitation counselor to assist individuals with various disabilities.
Freed's caring and loving college companion is Darling, a 2-year-old Labrador/Golden Retriever mix. She received Darling through the Canine Companions for Independence, a nonprofit organization, waiting two-and-a-half years before getting her service dog.
Darling joins Freed in class and around South's campus. She knows up to 40 commands to assist Freed with her daily needs. Darling retrieves items that she drops and gives them to Freed.
"Receiving Darling has made me more independent," Freed said. "I don't have to rely on my family to help me as much, such as picking up items I drop, opening doors, drawers and turning the lights on and off. What I love most about Darling is that she doesn't judge me because of my disability. Instead, she gives me unconditional love and affection. I will forever be grateful for her. Darling is my companion, and she is always there for me whenever I need her."
Since starting class at South this fall, Freed has received support from the University's Student Disability Services Office.
"Mr. Laventrice Ridgeway (Student Disability Services coordinator) has been excellent," she said. "He shared the different ways his office can accommodate my needs. One of my teachers changed the location of class because the table and chair didn't allow me to engage with other students. Being included when you are disabled is important."
Physical therapy was beyond challenging for Freed. She felt like a child going through the stages of physical development again, working to build her core strength. She was in a wheelchair for two years before she was able to move with a walker, where she learned to walk again.
"My determination to live with the support of my family helping me every step of the way has been a blessing," Freed said. "When I got shot, I was only 20 years old and was confident I had a long life ahead of me. Also, I know that God left me here for a purpose, which is to show his miraculous work through me. I can't fail him, so I put all I have into taking steps towards independence. Although I can walk now, I still face many challenges on a daily basis due to the partial paralysis on the left side of my body."
Freed said because of her mother, Madonna Burden, she has been able to gradually recover to be more independent. Burden advocated and supported her in getting better following the shooting incident, along with applying and securing Darling as a service dog.
"My mother has always been my biggest inspiration," she said. "My whole life I have watched her overcome every challenge that's been thrown her way. If something knocks her down, she gets back up like nothing has happened. Her faith and strength was the reassurance I needed."
Burden spent many hours researching and talking to health care professionals so that she could find the best rehabilitation hospital for her daughter.
"From the time that I received the call that Kearria was shot, I had to put my emotions aside to advocate and make sure she was going to get the very best care," Burden noted. "I told my daughter that from the moment this horrific incident happened to her, God started placing angels in our path to help. After Kearria was shot in the head, she took her last breath, and when the first responders arrived on the scene they gave her mouth-to-mouth resuscitation until the ambulance arrived."
To get Freed on her way to recovery, her mother found out about the Shepherd Center in Atlanta, which specializes in spinal cord and brain injury rehabilitation. She stayed there for about four months, after she had been in Panama City in the surgical intensive care unit for one month.
"It was the best place for my daughter. There were other young people there her age who were in rehabilitation for spinal cord and traumatic brain injuries. I had planned to bring her back to Mobile for therapy. I didn't know it existed. A health care professional at the hospital in Panama City was placed in our path that led us to the best place for Kearria to start rehabilitation."
Following the hospital stay, Freed had to learn how to sit up, lift her legs and balance herself again. "When she finally took her first steps, it was a blessing," Burden said. "Each year, Kearria makes a video of her progress. It's a reminder of how far she has come."
---
---