The First Step in Reaching My Goal Required that I Return to College
---
Posted on January 7, 2020 by Amber Day
Amber Day
---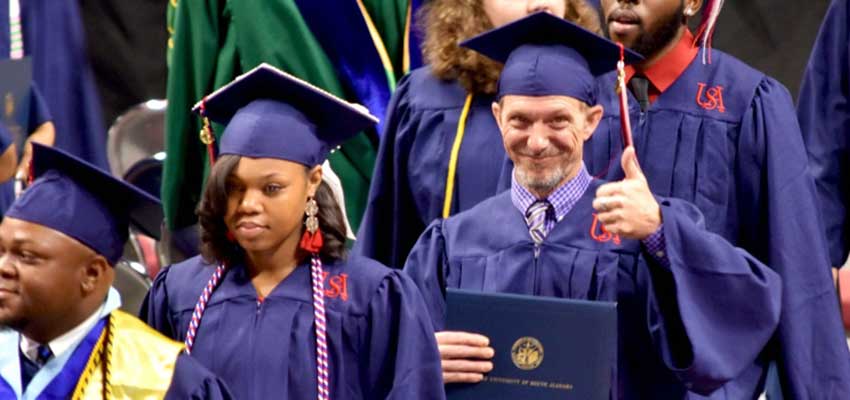 ---
Christopher Pritchett attended the University of South Alabama as a traditional student from 1992 to 1996 as a theatre arts major; however, he left without earning a degree. In the 20-plus years since, Pritchett built a successful career as a retail manager and always intended to one day return and finish his studies.
Pritchett graduated from the USA College of Education and Professional Studies in December 2019. He currently lives in North Carolina and earned an online bachelor's in interdisciplinary studies with a focus in applied arts.
"In January 2018, I was interviewing for a new position with Goodwill Industries in North Carolina and the interviewer asked what I enjoyed most about my most recent position," Pritchett said. "My response was that I really found immense joy in teaching soft skills, such as customer service, time management, conflict de-escalation, team building, etc., to the teenagers and young adults who comprised my associates and management teams. Afterwards, I realized that it was time for me to leave that career in retail behind and pursue my goal of having a career as a teacher. The first step in reaching that goal required that I return to college and complete my bachelor's degree."
While working full time as a sales clerk, Pritchett was able to successfully balance work life with his online coursework and help his 82-year-old grandmother, Margaret Pritchett, who lives with him in North Carolina.
"Initially, I did not know what to expect when considering completing my degree online, as online classes did not exist in the 1990s, and they were a foreign and intimidating concept," Pritchett said. "I began with an online class through my local community college in North Carolina and found that, although it was different in many aspects, the technical computer skills required were not dissimilar from what I used as a retail manager."
"Once I re-enrolled at South and began working on my degree online, I discovered that not only were the programs very user friendly, but the support system in place was outstanding. I also found that the classes were designed to both respect and make use of the flexibility of online classes, but they also still valued the interaction with classmates and instructors that is central to learning in many instances."
Pritchett praised the support system in place at South for the online degree program and encourages others to consider this route.
"I would tell others that it is not as difficult as it may seem and that is largely because 'you are not alone,'" Pritchett said. "The support system that I encountered, from the department secretary to the adviser and faculty, were nothing short of amazing. I truly felt and believed that everyone in the department and program was invested in me and willing to help however they could to aid me in achieving my goals."
Pritchett shared a personal experience with Diane Harvey, academic adviser and career counselor in the College of Education and Professional Studies for the interdisciplinary studies program.
"She was the one who first made me feel 'wanted' as a student and reassured me from our first phone meeting that my goal of completing my bachelor's degree online was not only possible, but was more easily attainable than I had presumed," Pritchett said. "Furthermore, she is the first person to ask if I wanted to walk across the stage for graduation.
"Participating in commencement was not something that I had even considered, and if I had, I would have assumed that it was not possible considering my degree was completed online. Once again, she dispelled my perceived roadblock and encouraged me to consider it. I will forever be grateful for that. Attending graduation and walking the stage to shake Dr. Vitulli's hand is a memory I will always cherish."
An interdisciplinary studies degree at the University of South Alabama exposes students to skill sets employers are looking for. As our world evolves to embrace change, our workplaces are changing and demand flexibility and critical thinking skills.
"A recent Forbes article cited the '10 most important jobs skills every company will be looking for in 2020,'" said Dr. Paige Vitulli, chair of the department of integrative studies. "Adaptability, flexibility, creativity, emotional intelligence, cultural intelligence and diversity, leadership skills, complex decision-making, collaboration and a growth mindset were all listed as sought after skills among future employers.
"Our Interdisciplinary Studies program at USA can be completed completely online and engages learners in courses such as 'Interdisciplinary and Critical Thinking,' 'Cultural Competency,' 'Analytical & Information Literacy,' and 'Community Development & Leadership,' to name a few."
The department of integrative studies serves a diverse student body, including traditional students, non-traditional students, student-athletes, veterans, first-generation college students, full-time professionals, parents and retired citizens.
"Making quality higher education accessible for all students who desire a college degree is our goal," Vitulli said. "It is especially rewarding when students like Christopher Pritchett share personal anecdotes and the impact earning a college degree makes on their lives. Christopher's journey from apprehension to graduation epitomizes the reason faculty and staff in the integrative studies department do what they do. It is a joy to teach, advise and mentor our students and then see them on our list of graduates and watch them walk across the USA Mitchell Center stage."
Many adults who are leading busy lives would like to go to college or finish getting the education that they postponed. The University of South Alabama has created the Office of Adult Learner Services, OALS, to better support those students who have unique circumstances.
OALS will host an open house for those interested in meeting with the faculty and staff about OALS from 4-7 p.m. on Tuesday, Feb. 11, at University Commons.
OALS provides a multitude of assistance for adult learners: navigating admissions, exploring financial aid, online learning, accessing, learning supports for writing, using the library, finding buildings, getting connected with the university community, and finding a job.
Learn more about OALS at https://www.southalabama.edu/departments/admissions/adultlearner/.
---
---