Veterans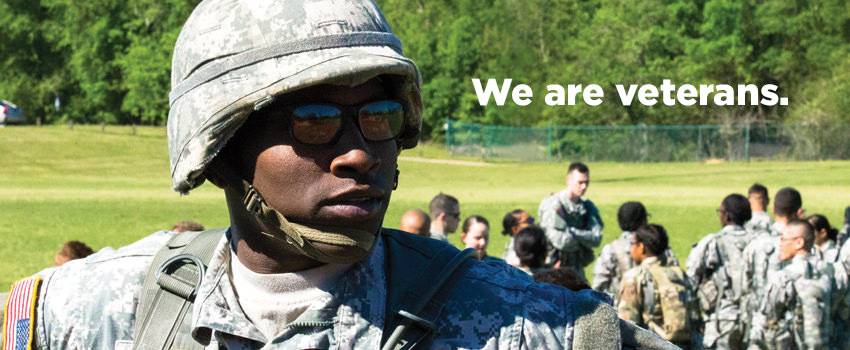 Attention veterans! Graduation may be closer than you think! The Interdisciplinary Studies program at the University of South Alabama is designed to assist veterans of the armed forces who are new undergraduate students or who have some undergraduate coursework and want to complete their degree. It's a completely customizable program geared toward veterans who are seeking a career change, pursuing a promotion, embarking on a first-time career, or preparing to enter graduate study.
Interdisciplinary Studies encourages students to draw from multiple perspectives to analyze problems and to find creative solutions to real-world problems. A bachelor of arts or bachelor of science in Interdisciplinary Studies offers maximization of existing college credits and online flexibility for students with busy schedules.
Students in the Interdisciplinary Studies program at USA may select from seven concentrations:
Administrative Sciences
Applied Arts
Applied Sciences
Professional Development
Community Services
Human Services
Liberal Studies
At ease! Our team of advisors has the situational awareness to guide you in building a cohesive degree plan built on various courses from different academic areas. We provide the personal attention you need for academic success.
Why Major in Interdisciplinary Studies?
The interdisciplinary approach allows students to become skilled in multiple fields, gain the competitive advantage and obtain the career of their choice. Characterized by high levels of personal attention and commitment to student success, the Interdisciplinary Studies program at the University of South Alabama provides students with skills that translate to on-the-job success. Interdisciplinary Studies is a custom program which enhances capabilities in communication, cultural competency, analytical thinking, leadership, and teamwork.
"Veterans should strongly consider an Interdisciplinary Studies academic path because of the multiple areas of study. Our Armed Forces are some of the most highly trained and versatile people in our nation. The degree would allow them to direct their multitude of skill sets toward a flexible college degree path. The program would not only help them succeed academically, but give them the tools they need to apply their skills and do well in all aspects of life."
— PAUL KASPER, IST CLASS OF 2016 & E-8 / SMSGT, USAF
"As a veteran, I greatly appreciate the ability to approach problem-solving from many different angles. Interdisciplinary Studies allows me to do that and much more. I have an avenue to directly apply the skills I developed during my 20 years of service, both professionally and personally. I can say, without a doubt, the faculty and staff in the Department of Integrative Studies are truly dedicated to assisting veterans in getting the most from the experiences they gained from their military service and in setting them on the road to success."
— DR. ERIC M. MOODY, INGS ASSISTANT PROFESSOR & O-5 / LT COL (RET), USAF