Expansion Diversifies Honors College
---
Posted on June 7, 2018 by Joy Washington
Joy Washington
---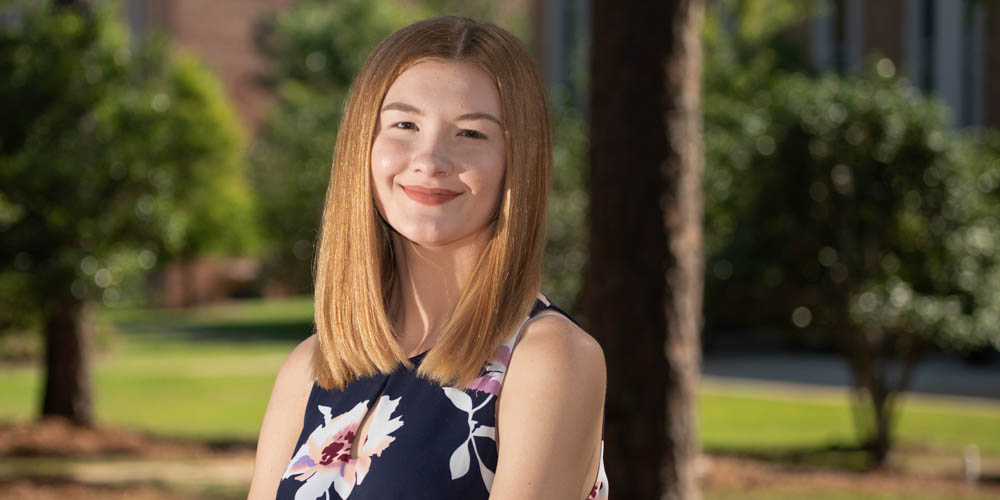 Sara Boone is a junior in South's Honors College. "The College is not just for future doctors or engineers. It's also for students like me," she said.
---
It's been almost a year since the honors program at the University of South Alabama became the Honors College. The college's first dean, Dr. Kathy Cooke, says her students are as varied as the projects they tackled this year.
"We are pleased that Honors brings together all different majors to have an interdisciplinary experience," Cooke said. "And as we approach our first year of being an Honors College at South, our students have had a successful year involved in research, academic coursework, community engagement and off-campus experiences."
One of her students is Sara Boone. A junior, Boone grew to love graphic design after serving as the photographer and then editor for her yearbook staff at D'Iberville High School in Biloxi, Miss. Once she applied to South, she wanted to major in strategic communications. Since arriving, Boone has been able to share and grow as a student in the Honors College.
"I really enjoy having an interdisciplinary experience in the Honors College," Boone expressed. "The College is not just for future doctors or engineers. It's also for students like me who are majoring in strategic communications or English. Basically, students from different majors are benefiting from this opportunity. It's more than what I expected. I am having an amazing experience learning and engaging with other students."
For example, as social chair for the USA Honors College Association, Boone met with Cooke and received approval to plan, organize and host a formal event for the Honors College. From there, Boone worked to blend the USA and Honors College brand to highlight its community and values along with showcasing how the Honors College is competitive and attracts the best and brightest students.
Boone also added a twist for the students who attended. She created a murder mystery game where one winning student won a prize. To top it all off, she later presented her research surrounding the branding and strategic planning of her social event in a poster format while attending the Southern Regional Honors Council in Washington, D.C. Boone's poster project was "Puzzling Through Honors Branding: Putting Together the Pieces for the Honors Vision." In all, six Honors students presented posters at the event.
"This was a great experience," Boone said. "In my poster, I provided an introduction, methods, results and conclusions regarding my research. It was a great opportunity to present my work at the regional conference along with other students from South and around the country. I also enjoyed touring and seeing all the monuments and museums in Washington, D.C. The city is fantastic."
Boone is currently interning with Devin Ford Photography as a communications assistant.
Cooke is pleased the USA Honors College students have experienced many different ways of thinking and learning. They also participated in this year's Selma Bridge Crossing Jubilee in memory and honor of those who were fighting for voting rights during the "Bloody Sunday" event of March 7, 1965. In addition, they toured the Dexter Avenue Baptist Church and other monuments and historical museums in Montgomery.
In April, the students participated in a "miniature conference" for the campus and community called "Chasing Phil in Alabama: An Interdisciplinary Conversation about Writing, Research, and the FBI's First Undercover Mission." The Honors College opened the event to students, prospective students, the campus, and the larger community, where participants met David Howard, the author of "Chasing Phil," as well as local FBI agents and judges. The conference addressed a fascinating combination of criminal justice, creative writing, psychology, journalism, forensics, publishing and weather phenomena.
"This has been a great year of discovery for our Honors students," Cooke noted. "We have remarkable students who are solving today's greatest challenges and learning new things."
---
---