Music Business Advising Guide
Department of Music Business

What is Music Business?
A degree in music with elective studies in business is a broad-based degree that allows the student to pursue a variety of music business oriented careers depending upon their interests.

Career Opportunities in Music Business
Composition/Commercial Writing/Arranger/Orchestrator
Songwriter
Film/Video Game Composer
Music Editor
Instrument Maker
Instrument Repair Technician
Piano Tuner
Music Dealer, Sales
Music Distributor
Copyright/Licensing Administrator
A & R Representative
Artist Manager
Music Attorney
Webmaster
Digital Marketing Manager
Booking Agent
Tour Coordinator/Road Manager
Concert Hall Manager
Stage Manager
Sound Technician/Engineer
Salary Trends in Music Business

Composition/Commercial Writing/Arranger/Orchestrator – ($20,000-$75,000+; often paid by project)
Songwriter – ($250-$100,000)
Film/Video Game Composer – ($1,000-$100,000+)
Music Editor – ($1,000-$5,000 per week)
Instrument Maker – ($15,000-$65,000)
Instrument Repair Technician – ($9-$55/hour)
Piano Tuner – ($75-$185 per tuning)
Music Dealer, Sales – ($13,000-$50,000)
Music Distributor – ($19,000-$75,000)
Copyright/Licensing Administrator – ($20,000-$60,000)
A & R Representative ($27,000-$85,000+)
Artist Manager – (10%-50% of artist's earnings)
Music Attorney – ($70,000-$150,000)
Webmaster – ($28,000-$150,000+)
Digital Marketing Manager – ($24,000-$55,000)
Booking Agent – ($20,000+; commission 10%-20% of gross income per show)
Tour Coordinator/Road Manager – ($25,000-$175,000)
Concert Hall Manager – ($26,000-$90,000+)
Stage Manager – ($24,000-$75,000)
Sound Technician/Engineer – ($27,000-$75,000)
Unlike more vocationally-oriented majors, such as majors in business, engineering, or the health professions, A&S majors tend to study a greater range of topics outside of their immediate major area. This greater breadth provides an interdisciplinary perspective that complements the more linear education in the student's major area.
As a result, A&S majors are compatible with a wide-range of career options. A large 2012 survey of employers found that 81% of employers will consider any degree, so most employers do not require a specific degree. So A&S majors typically find post-graduate employment at rates comparable to more vocationally-specific degrees, Furthermore, longitudinal studies which have followed college graduates over time have shown that Arts and Sciences graduates' rates of salary growth often exceed those of more vocationally-specific majors. For example, a 2010 longitudinal survey of college majors after graduation found that:
"Occupationally specific degrees are beneficial at the point of entry into the labor market but have the lowest growth in occupational status over time. Students earning credentials focusing on general skills, in contrast, begin in jobs with low occupational status but subsequently report the greatest growth."
Another longitudinal study concluded that:
"Employment across educational fields is almost identical for individuals aged 35-44, and beyond age 45, humanities graduates actually have higher rates of employment than those in other fields. After age 45, humanities and social science majors' salaries overtake those of counterparts in other fields."
Finally, A&S majors have on average the highest rates of increase from starting to mid-career salary, with Math, Philosophy, International Studies, Physics, Political Science, Chemistry, and Journalism all scoring in the top 10 among all majors in rate of salary growth to mid-career.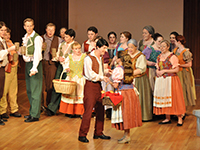 High School Preparation
Experience in band, choir, or orchestra
Must be able to read music (at least one clef fluently)
How to Major in Music Business
A student must audition on their instrument/voice for admission to the music business program.
Special Programs, Internships, and Directed Studies
Music business majors have opportunities to participate in industry internships in areas of interest.

Music Business Highlights
Opportunity to participate in a variety of ensembles.
Opportunity to participate in various music production and music business activities on a weekly basis.
Study Abroad Opportunities
Studying abroad is an exciting and meaningful experience that will contribute to your academic and personal development. Participating on a study abroad program can be one of the most profound decisions of your college life, and can lead to many new and interesting opportunities. It can help develop your critical thinking skills, sense of independence, and confidence. When you depart on your study abroad program, you will go with excitement, trepidation, and uncertainty about the world and your place in it. When you return home, your deep connection and affection for your host culture will be overwhelming, and will only be matched by a newfound respect and appreciation for your home.
Study abroad is the opportunity for USA students to spend time in a different country while earning credit towards your degree through taking classes, interning, volunteering, and more. There are many different types of study abroad available to you at USA. They include faculty-led programs, international exchange programs, and direct-enroll and affiliate programs.
Students on faculty-led programs will travel as a group led by USA professors and take classes in various locations. All courses taken on these programs are USA courses and offer USA credits that will apply to your degree. International Exchange programs are partnerships with specific universities around the world with which USA has a special, reciprocal relationship. Students enroll directly at the host university, and students from the host university attend USA. USA affiliate programs allow students to enroll at a partner university or program through a third-party provider. GPA requirements vary by program.
You should think of the Study Abroad Office as a one-stop shop for information related to your study abroad experience. The Study Abroad (http://www.southalabama.edu/studyabroad/) team is excited to assist you as you navigate through the process of choosing a program, and will help you from the advising stage until you return from your program. You can get started by coming to meet with an advisor during Walk-In Advising hours. During an advising session, you can gain general information about the many programs available, how the application process works at USA and general guidance on where to begin.
Be sure to visit the OIE Study Abroad website at http://www.southalabama.edu/studyabroad/ to begin your research. The website contains information on how to get started, financing your program, and a comprehensive list of pre-approved study abroad programs and partners. While researching a passport or visa programs, consider the following: eligibility requirements, location, course offerings, and costs. You should also meet with your faculty advisor for assistance in selecting a program based on courses related to your degree.
Studying abroad can be one of the highlights of your university career, giving you wonderful and challenging experiences that will allow you to grow both academically and professionally. Where will you study abroad?
Academic Plan
Following an academic plan will help you stay on track to graduate in four years.
To see a sample academic plan for this major, please click here. Degree plans provide only a suggested schedule; make sure to meet with your academic advisor to find the actual schedule that is right for you.
For additional degree information, visit the undergraduate bulletin.
For More Information
For more information on this program, contact the department chair, Dr. Greg Gruner, at (251) 460-6136 or ggruner@southalabama.edu
You can find us on campus at:
Department of Music
USA Drive S., Room 1072
Mobile, AL 36688