Dr. Tyler Sexton, Bettye R. Maye to Address Graduates at Spring Commencement
---
Posted on May 1, 2018
Alice Jackson
---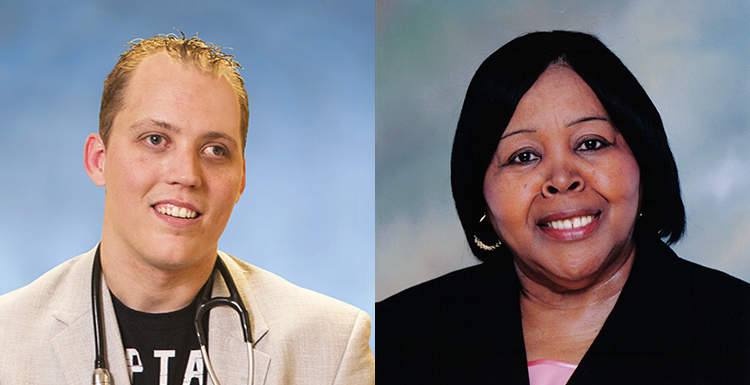 Dr. Tyler Sexton, who overcame a childhood diagnosis of cerebral palsy, and Bettye R. Maye, an educator, civil rights activist and longtime University of South Alabama Board of Trustees member, will address USA graduates during Spring Commencement ceremonies.
---
Dr. Tyler Sexton, who overcame a childhood diagnosis of cerebral palsy to become a successful pediatrician and internationally recognized motivational speaker, and Bettye R. Maye, an educator, civil rights activist, civic leader and longtime University of South Alabama Board of Trustees member, will address USA graduates during separate Spring Commencement ceremonies inside the Mitchell Center on Saturday, May 5.
Sexton will address the 9:30 a.m. ceremony and Maye will speak to graduates at the 2 p.m. event.
A total of 2,286 spring and summer graduation students are candidates to receive a variety of degrees, including nine candidates who are seeking dual degrees. The students expected to graduate with honors include: 4.0 GPA, 25; summa cum laude, 86; magna cum laude, 178; cum laude, 168. Thirty-eight students are expected to graduate from the University Honors College and three with departmental honors.
Degree candidates in the morning include students in the College of Arts and Sciences, College of Education and Professional Studies, School of Computing, Graduate School, and the College of Medicine. Afternoon degree candidates will be from the College of Engineering, College of Nursing, Mitchell College of Business, and the Pat Capps Covey College of Allied Health Professions.
Sexton, who completed his pediatric residency at the University of South Alabama in 2010, earned his medical degree from the University of Sint Eustatius in Barbados.
At age 4, Sexton's mother was told he would never walk, talk or even see and that he needed to be placed in a special school because, at the time, public schools didn't have resources for his special needs. However, defying those odds and after undergoing 16 surgeries, Sexton took and passed his test to receive his driver's license. He also pursued his passion for scuba diving and has climbed the ranks of recreational scuba diving to turn that passion into his career as a hyperbaric physician.
Sexton is known for mentoring children with disabilities and working with numerous special interest groups to educate them about hyperbaric medicine and its medicinal effects in many clinical applications. He uses his knowledge to treat individuals suffering from decompression illness and other illnesses where hyperbaric clinical applications can make a difference in lives. He has volunteered his knowledge for treatment of people in both the United States and abroad for anyone in need of it. He also holds numerous certifications in wound care and hyperbaric healing and is active in many professional medical organizations.
He has been the subject of interviews or stories by ABC-TV's "20/20," "The 700 Club," "The God Squad," "Hour of Power," "The Helpline," and "Focus on the Family."
Sexton and his mother, Lisa Sexton, are the authors of "God Bless Those Little Legs," which tells his personal story as well as outlining his belief system and philosophy for overcoming adversity.
Currently, he is chair of pediatrics, wound care and hyperbaric medicine at the Singing River Hospital System, headquartered in Pascagoula, Miss.
Maye, who joined the University's Board of Trustees in 1993, completed the second of two 12-year terms in 2017. During her more than two decades of service, South experienced robust growth with the addition of a football team, construction of additional residence halls to meet ever-increasing student enrollment, the building of Shelby Hall, construction of a new student dining facility, the renovation and revitalization of the Student Center and the construction of Moulton Tower and Alumni Plaza, among many others.
According to Maye, the experience led her to "develop a love for South that will never die." As a result, many high school seniors from the district Maye represented both attended and graduated from South.
The Sumter County native taught in the public school system there for 38 years, and she describes herself as "a born educator who loves children and loves teaching."
As an example of her commitment to all things education-related, Maye has been a devoted member of the Alabama Education Association, where she served two terms on the association's board of directors. In addition, she has been president of the AEA's Association for Classroom Teachers as well as treasurer of the Southeast Region Association of Classroom Teachers and president of the Sumter County Association of Retired Educators. Presently, she serves as chairperson of the Sumter County Department of Human Resources. She is also secretary of the Les Femmes Social Club and a member of the Alpha Kappa Alpha Sorority, having joined the Beta Phi Chapter at Alabama State University in 1958.
Maye earned a bachelor of science in English from Alabama State University and a master's of education with a focus in English from Livingston University. She completed additional studies at Tuskegee University and Simmons College in Boston, Mass.
As a trailblazer, Maye became the first African-American to be hired as an associate professor at Livingston University – now the University of West Alabama – in 1973.
And, she has always been active in the political arena at the local, state and national levels. An elected member of the Alabama Democratic Executive Committee, she has been elected as an alternate delegate to the National Democratic Convention.
In 2006, Maye was a candidate for the Alabama House of Representatives. Despite an unsuccessful outcome, she continued to support and work in favor of education and civil rights by remaining a community and political leader. "I believe in helping others and doing whatever I can to help make this world a better place in which to live," Maye said.
Parking Information
The Mitchell Center will be open to the public at 8:30 a.m. for the morning ceremony. Following that ceremony, the building will close to the public, then re-open at noon for the afternoon ceremony.
Parking signs will be posted throughout campus, and shuttle service will be available for guests who park in these areas. The shuttle service will run from 8 a.m. until 6 p.m. Pick-up and drop-off points for the shuttles will be in the following parking lots: University Commons, Gamma Dorm, Humanities Building, Whiddon Administration Building, Student Services Drive (past the HKS East Entrance and Old Shell Road) and the Computer Services Center.
---