Main Campus Exclusive Caterer

The University of South Alabama exclusive caterer on Main campus is Aramark catering. Learn more about their catering services online.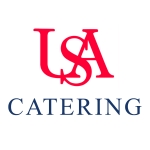 Off Campus Catering
In rare circumstances, a waiver for off campus catering will be granted. Please complete this form and submit it to the Vice President of Student Affairs/Dean of Students office. In the subject line, please write " Request for Food Waiver."
The use of outside catering without this approval is strictly prohibited.
Below are some examples of when a waiver is not needed:
Your product is 100% donated
You receive permission from Vice President of Student Affairs/Dean of Students, Dr. Mike Mitchell to use an external caterer
Your event is at an offsite venue
Your event is at the Mitchell Cancer Institute