Majors and Minors Home
About the Major
Students learn about normal human communication, the development of communication and communication disorders. The program prepares students to think critically and work in teams. It exposes them to interprofessional research and collaboration, and cultural competency.
Jobs in Speech and Hearing Sciences
Audiologist
Speech-language pathologist
Speech-language pathology assistant or audiology assistant
Activities coordinator in nursing home or assisted living facility
Hospital unit coordinator or healthcare administrator
Related Programs
Student Knows Firsthand the Value of a Speech-Language Pathologist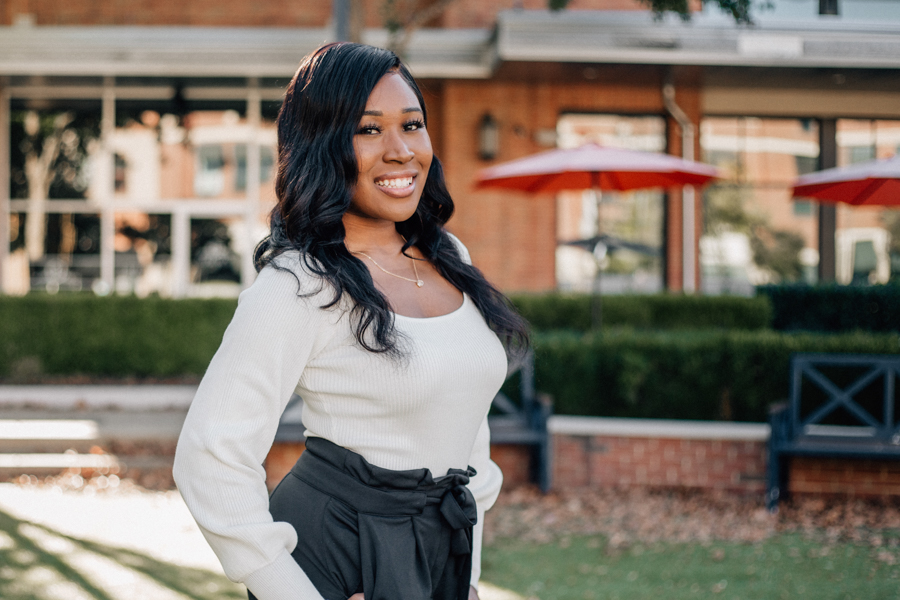 For Eshaun Wray, the decision to major in speech and hearing sciences was deeply personal. As a teenage tennis player in Helena, Alabama, she began having trouble breathing, to the point that she would sometimes pass out.
A pediatrician diagnosed asthma and prescribed an inhaler. It didn't help. A pulmonologist ran tests and found no sign of asthma. "She referred me to a speech-language pathologist, who then diagnosed me with having vocal cord dysfunction," Wray said.
Normally, your vocal cords open when you take a breath. With vocal cord dysfunction, they don't open properly, and sometimes even close. "It has similar symptoms to asthma," Wray said. "It causes me to have that choking feeling and raspiness."
The speech-language pathologist, or SLP, gave her breathing exercises. They worked. Wray could play tennis again. And she had found her calling in life. "I wanted to be able to impact other people as much as that SLP impacted my life."
"I wanted to be able to impact other people as much as that SLP impacted my life."
At South, Wray learned, "There are SLPs who are researchers, clinicians, professors, advocates, leaders in all communities. This field is so broad, you'll never get bored in it."
She volunteered at the USA Autism, Pediatric Language and Literacy Lab and worked on a speech-related research project comparing the prosodic awareness skills of children with and without autism spectrum disorder. She reported her findings at a symposium presented by South's Summer Undergraduate Research Fellowship (SURF) program.
She moved on to Hampton University in Hampton, Virginia, to study for a master's in communicative sciences and disorders. She said she plans to pursue a doctorate with a goal of becoming a college professor, maybe even back at South.
"I want to teach the next generation of SLPs," Wray said. "And I really want to expand this career field. There are not that many SLPs who are members of minorities. I really want to grow and diversify this field."
Did You Know?
---
Speech and hearing sciences majors take a number of social science courses, making it easy to incorporate a minor into their degree plans.
Students who complete research projects in the major may be eligible for departmental honors (designated at graduation and on transcripts).
Students have hands-on experiences, including observation of therapy sessions, that introduce them to the clinical setting.
Contact:
Dr. Victoria Henbest
Assistant Professor and Program Recruiter
or
Dr. Kimberly Smith
Associate Professor and Program Coordinator
Department of Speech Pathology and Audiology
(251) 445-9596