Covey College of Allied Health Professions Initiates Doctor of Occupational Therapy
---
Posted on August 24, 2023 by CAHP
CAHP
---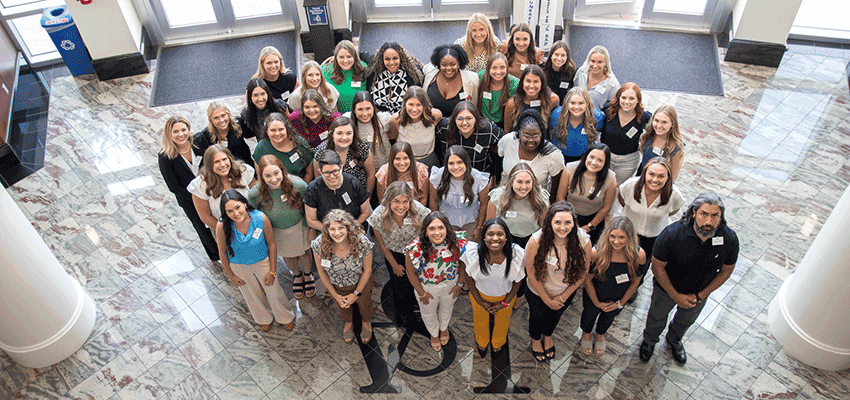 ---
The Department of Occupational Therapy in the Pat Capps Covey College of Allied Health Professions launched a new Doctor of Occupational Therapy (OTD) program in Fall 2023. The program's first cohort of students entered the program in August 2023 and will graduate in May 2026.
The 40-member, entry-level class includes students from Alabama, Florida, Louisiana and Mississippi.
"These students worked very hard to get into this program, and we are excited to welcome them into the College as our first doctoral cohort in the Department of Occupational Therapy," Dr. Susan Gordon-Hickey, dean of the Covey College of Allied Health Professions, shared.
Dr. Donna Wooster, chair of the Department of Occupational Therapy, shared many factors that lead to the change from a master's program to an entry-level doctorate program related to the medical and psychosocial complexity of clients, the unmet needs of surrounding communities and the diversity of nearby vulnerable and underserved populations. The new program will also prepare students to be ready to expand services and evaluate and document the outcomes of OT services in changing environments.
"Traditional occupational therapy settings may want a doctoral student to help develop new programs, to improve existing programs utilizing evidence-based research, or assist with researching outcomes of newer interventions," Dr. Wooster said.
The program consists of 114 semester hours and is eight consecutive semesters long, 19 hours and one semester longer than the master's program. The new program also includes a required 14-week doctoral capstone project. Students often utilize the capstone to demonstrate the value of occupational therapy by providing services in new expanded areas or conducting research on the effectiveness of occupational therapy interventions.
"One exciting aspect for our Gulf Coast community is that many students will choose to complete their doctoral capstone experience in community-based programs," Dr. Wooster shared. "We highly encourage service learning during the program and know there is much potential for occupational therapy to branch more into providing OT services to address the occupational needs of our community."
As of Fall 2023, all occupational therapy student admissions will be for entry into the doctoral program, and the department will no longer be admitting students into the master's program. The University of South Alabama received accreditation for its master's program in occupational therapy from the Accreditation Council for Occupational Therapy Education and has begun its candidacy for the doctoral program.
---
---