Student Spotlight: Madeline Mackey
---
Posted on October 13, 2022 by CAHP
CAHP
---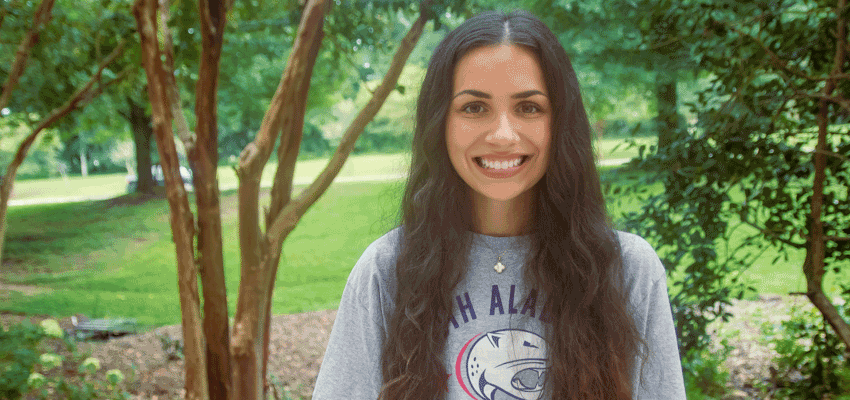 ---
When Madeline Mackey transferred to the University of South Alabama in the spring of 2020, she was planning to pursue medical school, but things began to change after a conversation with her mother and her academic adviser. The following fall semester, she decided to change her minor from chemistry to speech and hearing sciences, a decision that has changed her path.
One day her mother, South alumna and nurse practitioner, sat down with her to talk about a few of their family members who were able to reduce their stuttering through speech therapy. Feeling inspired, Madeline decided to take some extra time to really get to know the fields of speech pathology and audiology and to learn how she could make a difference.
What she found has encouraged her to pursue a graduate degree in speech-language pathology instead of her initial plan of medical school. The care and kindness from faculty in the Department of Speech Pathology and Audiology has made the decision even easier.
"Dr. Smith, Dr. Beverly and Dr. Choi are amazing! I feel like learning more about them has made me learn about the type of person and the type of clinician that I hope to be in the future. They genuinely care about people, and it's special. You don't see it a lot," Madeline said.
Coming from the small town of Centre in northeast Alabama, Madeline did not know much about Mobile, but she did know that she was looking for a place that offered diverse opportunities and a sense of community. She eventually found that on South's campus more than 320 miles away from home, and her classroom experience was different than any she had before.
"There's a shift in how they (professors) treat their students and how they value the opinions that their students have. No one is shot down for being different. We also have smaller class sizes. There's more of an ability to be able to talk," she said.
Madeline is on track to graduate with a bachelor's degree in biology and a minor in speech and hearing sciences in December, and she hopes to get accepted into South's speech-language pathology master's program by Fall 2023.
"I've heard very positive things about the program here. I was in class with graduate students who were completing their prerequisites, and they had a lot of positive things to say about the opportunities that South presents, post-grad specifically. The job outlook is amazing after you graduate," she said.
The Department of Speech Pathology and Audiology offers a minor degree in speech and hearing sciences for students across the University community with an interest in learning about communication sciences and disorders. To learn more about the Minor in Speech and Hearing Sciences program contact the Allied Health Advising Office.


What do you like to do outside of class and studying?
"Working, walking my dogs, I study a ridiculous amount, and I just got done taking my last Graduate Record Examination, so I was studying for that all summer. I love nature, obviously with biology. A lot of hiking back home."

What's your favorite place to study on campus?
"The outside area of the library because I like to people watch and a lot of people walk by there."

What is your best advice for incoming transfer students?
"Do not start studying for a test the night before it. If you start studying the night before a test, your grade is going to reflect that."

What is your favorite student activity/event at South?
"Football games! I have not been to a basketball game yet, but I want to. That is on my list of to-dos."

What mantra/motto inspires you each day?
"It's a Scarface quote, 'Every day above ground is a good day.' That's a really profound thought."

What is a fun fact about you?
"I can recite the entire Preamble to the Constitution. I still remember the Schoolhouse Rock song."

Do you have any hidden talents or skills?
"I can sit in criss-cross applesauce with my legs twisted the opposite way, and as a kid I would do that and walk around on my knees like a crab."



---
---